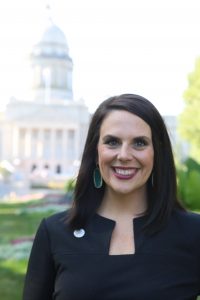 By Jacqueline Pitts, The Bottom Line
FRANKFORT, Ky. — The Kentucky Chamber of Commerce has named Ashli R. Watts of Frankfort as president and CEO of the state's largest business association after an eight-month national search.
She will take office on Nov. 1, succeeding Dave Adkisson, 66, who is retiring after serving 15 years in the position.
Watts, 37, currently is senior vice president of public affairs for the chamber, where she has led the organization's successful advocacy efforts on behalf of initiatives ranging from workers' compensation reform to right to work legislation to felony records expungement that helps people return to the workforce.
Her selection as the state chamber's first woman president and CEO follows a search that attracted a broad, competitive field of in-state and out-of-state applicants.
"We are so excited to have Ashli as our new chief executive," said Paul W. Thompson, CEO of LG&E and KU Energy and current chair of the chamber board of directors. "We know she will provide strong, forward-looking leadership that will move the chamber to even greater accomplishments on behalf of our members, their employees, and benefitting the entire commonwealth."
Watts, a native of Elizabethtown, holds a bachelor's degree in political science and history from Campbellsville University and a master's degree in public policy and administration from the University of Louisville. Prior to joining the chamber in 2012, she worked at the Kentucky Bar Association and the Legislative Research Commission.
"It is an honor to have been selected as the chamber's president and CEO and to have the opportunity to continue the progress the chamber has made for employers and citizens across the state," Watts said. "As a lifelong Kentuckian, I look forward to working with the chamber board, staff and members to continue the aggressive and bold advocacy as the united voice of Kentucky's business community."
Watts was a member of the chamber's leadership team when the organization was named the National State Chamber of the Year in 2017. She is active in the national Council of State Chambers and will soon graduate from the U.S. Chamber's Institute for Organizational Management. She was awarded the Algernon Sydney Sullivan Award by Campbellsville University last May, when she was commencement speaker, and is a board member of Prevent Child Abuse Kentucky. She and her husband, Ryan, have two children.
"Ashli is an exceptional and talented leader," Adkisson said. "I've observed her work for seven years, and I know the great respect she has earned among business leaders and legislators. Ashli will take the state's leading business association to new heights, and Kentucky will be better for it."
The Chamber's search committee, in addition to Thompson chairing it, included:
• Joseph Craft III, CEO of Alliance Resource Partners, Lexington
• Jean Hale, chairman, president and CEO of Community Trust Bancorp, Inc., Pikeville
• William M. Lear Jr., chair emeritus of Stoll Keenon Ogden, Lexington
• Elizabeth McCoy, CEO of Planters Bank, Hopkinsville
• Candace McGraw, CEO of the Cincinnati/Northern Kentucky International Airport, Hebron
• Diane Medley, executive chairman of MCM CPAs & Advisors, Louisville
• Nick Rowe, president of Kentucky American Water and chair-elect of the Chamber board, Lexington
---