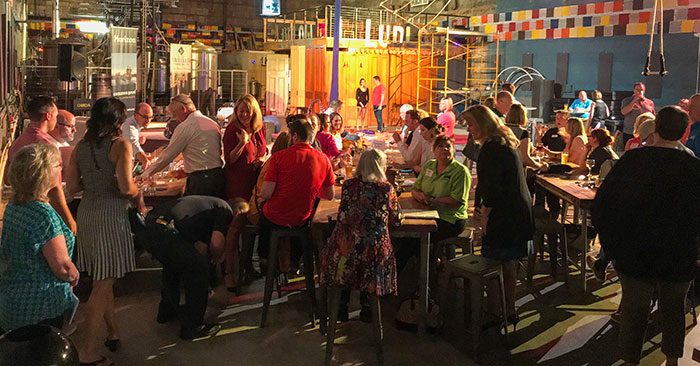 LUDLOW, Ky. — Nearly 60 strangers and friends alike joined together at Bircus Brewing recently to give $6,000 to a local charity in a process that took less than an hour. Member votes resulted in a tie, with Covington's Dolly Parton Imagination Library (through the Notre Dame Urban Education Council) and Lucky Tales Rescue coming out on top.
Give Where You Live NKY, in its third year, is a joint initiative presented by Horizon Community Funds of Northern Kentucky and Mueller Financial Inc. Its format lends itself to busy community members who are looking for an easy way to give back to nonprofits that serve Boone, Campbell and Kenton counties.
"We are so excited about the funding Lucky Tales will receive from Give Where You Live," said member Matt Kramer. "This will be critical to helping their efforts in getting animals medically healthy, neutered or spayed, and ready to be moved out of shelters and into loving forever homes!"
"The Covington Dolly Parton Imagination Library founders began their efforts with their own money to address a crucial need in our community — kindergarten readiness," said DPIL co-founder Everett Dameron. "Thank you so much to Give Where You Live NKY donors for investing in Covington's children and families; together we can give them hope and the ability to achieve."
The community is encouraged to join the giving circle at www.nkygives.org.
"We really enjoy bringing Give Where You Live to different spaces across Northern Kentucky, where members celebrate and learn about new nonprofits," said Horizon Community Funds President Nancy Grayson. "Our Give Where You Live NKY members have truly embraced this uncommon way of raising money for nonprofits that serve Northern Kentucky, and we're excited to see this next project come to life."
The giving circle runs on a tight schedule at each meeting. Participating members nominate a nonprofit of their choice, and three names are randomly selected and briefly discussed by the group. The members then vote on their favorite of the three organizations, and each member contributes $100 for the grant to the winning organization. All takes place in under an hour, just four times per year.
"In a first-ever for Give Where You Live NKY, we had a two way tie for the winning nonprofit," said Mueller Financial partner Woody Mueller. "This made things even more exciting! We look forward to the great things that will be done with these funds."
The remaining 2019 Give Where You Live NKY meeting will take place Dec. 12 from 6-7 p.m. at BLDG in Covington, Ky. The 2020 meetings will be held March 19, June 18, Sept. 17 and Dec. 10 (all Thursdays).
The format of Give Where You Live NKY also provides a way to connect funds to nonprofits without the need for nonprofits to expend financial resources and staff time on fundraising. The previous two winners of the Give Where You Live grant were The Scheben Care Center in Florence and The Gateway Foundation, which has campus sites across Northern Kentucky. The Scheben Care Center used the funds to build an ADA compliant walking path for adults they serve who have limited mobility. The Gateway Foundation used the funds to launch free childcare for students enrolled in their programs.
The community can get involved by reaching out to Woody Mueller at [email protected] or (859) 992-4153, or by visiting www.nkygives.org.