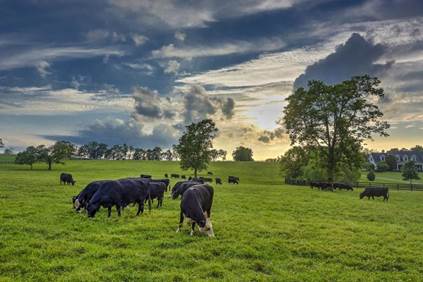 LEXINGTON, Ky. — Midwestern livestock producer who attend The Heart of America Grazing Conference in Burlington, Ky., will get advice from University of Kentucky experts on how to extend their grazing season and reduce hay use.
The UK College of Agriculture, Food and Environment and the Kentucky Forage and Grassland Council will host the conference Oct. 29-30 at the Boone County Extension office in Burlington.
Jim Gerrish is the conference's keynote speaker. A graduate of the University of Illinois and UK, Gerrish is an internationally renowned independent grazing lands consultant with clients across five continents. He is also an instructor at the University of Idaho's Lost River Grazing Academy. Prior to these positions, Gerrish worked for 22 years as a beef-forage systems grazing specialist at the University of Missouri's Forage Systems Research Center. He will speak about how producers can implement extended grazing systems to reduce their hay costs and maximize their operation's profitability.
During the two-day conference, participants can learn about livestock genetics, fencing innovations, hay and storage feed, summer stockpiling, forage research, baleage and extended grazing systems. In addition to Gerrish, presenters include UK specialists, industry representatives and Kentucky producers.
The regional conference rotates annually between Kentucky, Indiana, Ohio, Illinois and Missouri. Kentucky last hosted the conference in 2016.
Early bird registration is $85 for the full conference or $50 for one day. Producers can receive this rate until Oct. 15. After that date, registration will be $100 for the entire conference or $75 for one day. Online registration, more information and directions are available at https://2019hoa.eventbrite.com.
Additional conference partners include the UK Grain and Forage Center of Excellence, Master Grazer Program, Kentucky Agricultural Development Fund and the Kentucky Beef Network.