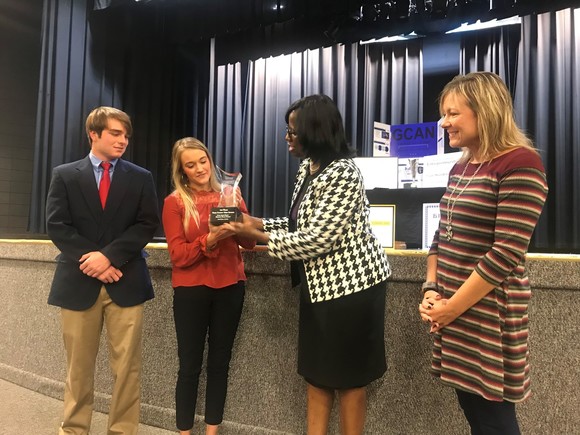 CADIZ, Ky. — Trigg County High School on Thursday won the 2019 Lt. Gov.'s Entrepreneurship Challenge. The team, G-CAN, comprised of students Grace Knight and Cade Bleidt, was advised by teacher Lori Ricks. Each student won $15,000 in scholarships to be used at any in-state post-secondary school or program.
G-CAN pitched a bracelet that automatically summons aid in the event of a medical emergency, even if the wearer is unconscious, immediately notifying their emergency contact or 911. The device is programmable for specific parameters, helping those with seizure disorders, Alzheimer's disease or dementia.
"We saw several amazing ideas this year, and G-CAN was a standout," said Lt. Gov. Jenean Hampton. "Kudos to Ms. Ricks for her coaching."
The Lt. Governor's Entrepreneurship Challenge is a business pitch competition Lt. Governor Hampton created three years ago to introduce Kentucky high school students to the start-up world. It promotes creative problem solving, networking, and mentorship with local businesses. Lt. Governor Hampton has already awarded a total of $250,000 of in state scholarship funds to the top winning teams. The competition has been permanently transferred to Northern Kentucky University, which will announce details of the 2020 contest soon.
For more information please visit www.kylgec.com.