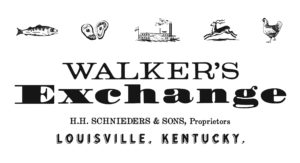 LOUISVILLE, Ky. — A piece of Louisville culinary history has been reinvented for a modern palate with Walker's Exchange, Louisville's newest culinary destination, now open inside The Galt House Hotel. Overlooking the scenic Belvedere and River Walk, Walker's Exchange pays homage to Louisville's early days as a bustling port city and is named for a restaurant that opened in the same site nearly 200 years ago.
Walker's Exchange and the adjacent Jockey Silks, which also opened to the public last week, is just one component of the Galt House's multi-year, $80 million renovation that will touch nearly every corner of the property.
"We have been waiting a long time to introduce this new culinary gem to the city," said Scott Shoenberger, president and CEO of The Al J. Schneider Company, parent company of The Galt House. "Walker's Exchange and the reimagined Jockey Silks will put the Galt House on the map as a culinary destination in the River City, both for our hotel guests and for locals."
The polished yet casual destination restaurant will boast a "Kentucky brasserie"-style menu of American and French dishes with a homegrown, locally sourced, Bluegrass-state twist. Menu items include pasta, poultry, steak, seafood, and flatbreads served fresh from a 6,800-pound brick oven in the heart of the restaurant. Open daily from 6:30 a.m. to 11 p.m., the restaurant will serve breakfast, lunch, and dinner, plus Sunday brunch from 9 a.m. to 2 p.m.
Behind the brick oven is Chef de Cuisine Allan Rosenberg, who brings with him more than 20 years of industry experience. Rosenberg has owned and operated popular restaurants all over the city of Louisville, including Papalinos, Fontleroy's and Butchertown Pizza Hall. Alongside Chef Rosenberg is newcomer Amanda McClure, a Louisville native who recently graduated from the Culinary Arts program at Sullivan University.
Front-of-house operations are led by Lexi Hartman, general manager of Walker's Exchange. Hartman brings with her more than 25 years of management experience from some of the biggest names in the industry, including Darden Restaurants, where she led the regional certified training program for seven years, and was a consistent top performer. She will work in tandem with Latina Haley, sales manager for Walker's Exchange, who will oversee group reservations and events. Haley has worked in the hospitality industry for more than 20 years and is skilled at planning and coordinating events from intimate dinners to receptions with more than 5,000 guests.
The new Walker's Exchange harkens to some of the River City's earliest days as an active port and trading center on the route down the Ohio to the Mississippi, and onward to New Orleans and the Gulf of Mexico. William H. Walker opened Walker's Coffee House in1834 on the current site of The Galt House Hotel, and by 1845 the popular gathering place became known as Walker's Restaurant Hotel, advertising "all the substantials and delicacies of this and all other markets."
In 1851, the restaurant moved to a newly constructed building on Third Street between Main and Market streets and took on the name Walker's Exchange. Walker's Exchange continued to thrive throughout the 19th century, as the Walker family expanded their mercantile and provisions business by becoming bourbon distributors and creating their own brand of bitters.