By Lorie Hailey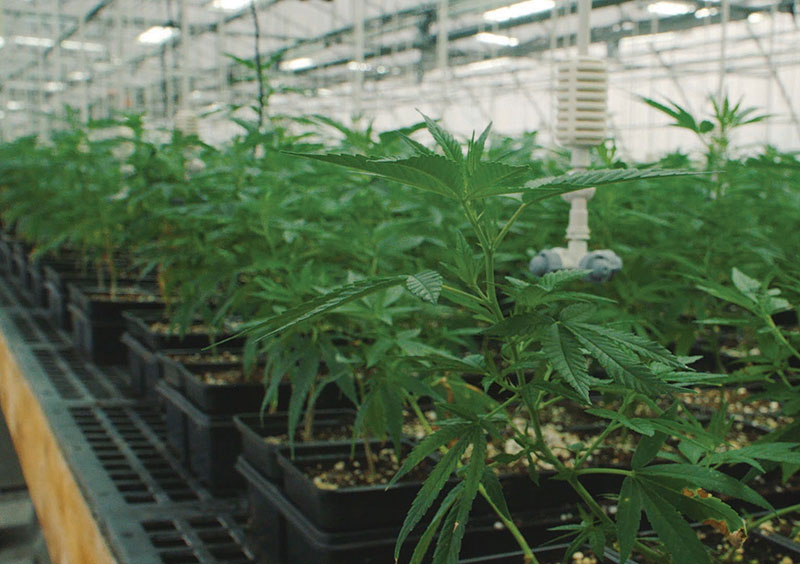 Central Kentucky is often recognized for its good bourbon, fast horses and automobile manufacturing, but another sector is making its mark on the area's economy: industrial hemp.

In the past couple of years, many hemp growing and processing operations have made the Bluegrass their home. It makes sense: Kentucky has the ideal climate and soil to grow the versatile plant, which can be used to make an array of commercial and industrial products, including rope, clothing, paper and textiles. Its oil also has many uses, from creating fuel and foods to bolstering health supplements.
The popularity of cannabidiol (CBD) oil, which users say has many health benefits, has been a boon for hemp producers. The 2018 Farm Bill, which legalized hemp production in the United States, further fostered economic activity in the sector. 
In 2018, sales of hemp products in Kentucky were 3.5 times higher than the previous year. Hemp processors reported $57.75 million in gross product sales last year, according to a Kentucky Department of Agriculture (KDA) review of 2018 hemp licensed processor reports. That compares with $16.7 million in gross product sales in 2017.
The only states with more hemp production than Kentucky are Colorado and Oregon. Clearly, Kentucky is a good place for hemp-related companies to hang their shingles. Hemp is now growing in 101 of Kentucky's 120 counties.
"Kentucky is quickly establishing itself at the forefront of the hemp industry, as this agricultural product begins to take root nationwide," Gov. Matt Bevin said in December 2018.
In the past year, several major players have announced they are opening new manufacturing facilities in Central Kentucky or expanding the ones that already are here.
GenCanna, a company that grows and processes industrial hemp-derived products for wholesale to clients throughout the world, located its headquarters in Winchester in May 2014 as inaugural members of the Kentucky Industrial Hemp Pilot Program.
The company has been at the forefront of developing the rapidly expanding hemp industry. GenCanna produces hundreds of acres of hemp biomass each year that are processed for CBD.
In late 2018, the company announced plans for a fourth facility in Kentucky, which will significantly expand GenCanna's capacity, debut new processing technology and create 80 new jobs. It employs 150 at its Winchester HQ.
Winchester is also home to Atalo Holdings – one of the largest permitted hemp growers and processors in the U.S. In July 2019, Atalo opened a second facility in Winchester, a 50,000-s.f. hemp processing plant that will employ 130.
In late 2018, GenCanna and Atalo entered into a strategic partnership that aligns the companies' cultivation operations. The partnership created the largest vertically integrated hemp-derived CBD production, processing and distribution alliance in Kentucky.
Another hemp processor, Curaleaf, announced plans in April 2019 to open a new hemp-derived CBD processing, sales and distribution facility in Lexington. The Massachusetts-based medical and wellness cannabis operator is investing $9 million and creating 150 new jobs with an average hourly wage of $17.
A large-scale greenhouse in Paris called ColorPoint transitioned in 2019 to a hemp-only company and merged operations with AgTech Scientific, another Paris hemp operation. AgTech broke ground on its facility in late 2018 and plans to create more than 270 jobs. The company is a fully vertically integrated hemp company specializing in outdoor and indoor grown hemp products.
Other hemp investments in Central Kentucky over the past year include:
• Kentucky Industrial Hemp is investing $5.6 million to establish a facility in Georgetown where it will produce hemp-related health and wellness products and high-performance textiles, the company announced in March 2019. The project created 30 new jobs.
• In June 2019, International Farmaceutical Extracts announced that it is investing more than $6 million to open a manufacturing plant in Danville that will employ 34. The company, which specializes in CBD oil extraction and distillation, said it plans to buy an 11,750-s.f. facility on Roy Arnold Boulevard to house the manufacturing operation. Positions at the new operation include management, production, maintenance and shipping. At full capacity, the facility will use hemp flowers from approximately 15,000 acres of local farms.
• In August 2018, large-scale hemp oil extractor Zelios invested $2.1 million to expand its CBD extraction facility in Lexington and double its production capacity. The investment created 44 jobs.
Prolific auto manufacturing community continues to grow
Automobile and automotive parts manufacturing continues to be a big player in Central Kentucky.
Toyota Motor Manufacturing Kentucky (TMMK), which employs more than 8,000 at its Georgetown plant, continues to thrive and grow in Central Kentucky. TMMK is a $7 billion operation, and in a year, can produce as many as 550,000 vehicles and more than 600,000 engines.
In March 2019, TMMK announced a $238 million investment to add production of two models at the Georgetown plant – the Lexus ES Hybrid and RAV4 Hybrid. Production of the Lexus ES Hybrid began in May with a capacity of 12,000 units. RAV4 Hybrid assembly is expected to ramp up in January 2020 with a capacity of approximately 100,000 units per year. (TMMK also manufactures the Camry and Avalon.)
The investment came on the heels of a 2017 announcement that Toyota would spend $1.33 billion at TMMK to make it the first plant in North America to begin producing vehicles using Toyota New Global Architecture, a new approach to the design and manufacture of vehicles. The investment also replaced equipment and added new technology.
Kentucky's automotive industry includes about 500 facilities, employing more than 95,000 people full-time. Since it opened in 1985, the Georgetown Toyota plant has been a major player in Kentucky, attracting nearly 200 Japanese-owned manufacturing, service and technology-related facilities, located throughout the state. Those Japanese-owned facilities employ nearly 47,000 people full-time.
"There is no question of the positive impact Toyota has had on Kentucky over the past three decades. From the growth of the commonwealth's automotive sector to the company's efforts to give back to the local community, we in Kentucky could not ask for a stronger relationship than the one we share with Toyota Motor Manufacturing Kentucky," said Terry Gill, former secretary of the Kentucky Cabinet for Economic Development (KCED).
Kentucky is ranked third in the nation for U.S. car and truck production. Over the last five years, Kentucky's automotive industry has announced $6 billion in investments and more than 20,000 new jobs, according to KCED. Central Kentucky is a hub for auto parts manufacturers, and over the past year, several companies have reported expansion plans.
In June 2019, Central Motor Wheel of America (CMWA) said it will spend nearly $112 million to expand its automotive wheel manufacturing facility in Paris, creating 145 new jobs. The company plans to add 270,000 s.f. onto its existing 330,000 s.f. facility on Wheat Drive. The project will double CMWA's production.
In a two-year project announced in the fall of 2018, sunroof supplier Webasto Roof Systems is adding a new production line at one of its Lexington manufacturing facilities, creating 183 new jobs and investing $15.2 million. Sixty new jobs were created when YS Precision Stamping invested $3 million in its Georgetown manufacturing facility.
Other big auto parts manufacturing investments include:
• Meggitt Aircraft Braking Systems (Danville), carbon disc brakes – 45 new jobs; nearly $8 million investment
•  Adient US (Georgetown), automotive seats and interiors – 42 jobs; $6.5 million investment
New investments, expansions strengthening the economy
Companies choose Central Kentucky because it has an educated workforce, a central location, low business costs and high quality of life.
In 2019, U.S. News and World Report ranked Lexington the 29th best place to live in the United States and Livability Magazine named Lexington No. 36 in its list of Top 100 Best Places to Live. Those are just two of the many lists that have ranked Lexington a top place to live and work.
Companies from around the globe are taking notice.
From August 2018 to July 2019, 67 manufacturing and service companies announced new locations or expansions in Central Kentucky, an investment of more than $784 million that will create 2,360 jobs when full employment is attained.
One of the biggest job announcements came from Faneuil Inc., a Virginia-based national customer service outsourcing company. In July 2019, Faneuil said it is establishing a new call center in Lexington, investing more than $12 million and creating 450 full-time jobs over the next two-and-a-half years. Faneuil provides a broad range of business process outsourcing, including customer care, back office and technical support.
Some other large job creation announcements include:
• Jewelry manufacturer Tiffany and Co. Jewelers is investing $500,000 to create 130 new jobs at its Lexington plant.
• Communications and security product distributor Anixter Inc. announced in December 2018 that it was creating 103 new jobs at its Lexington facility, investing $4.2 million.
• More Than a Bakery is investing $20 million in its commercial bakery operation in Versailles, creating 90 new jobs.
• Craft distillery Castle & Key, which spent four years renovating the former Old Taylor Distillery Co. in Woodford County, announced a $6.5 million investment and 80 new jobs.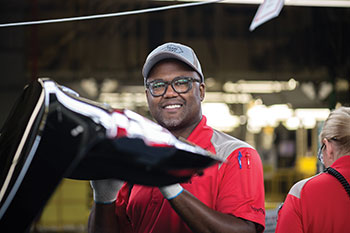 After 30 years, Toyota's commitment to the Bluegrass remains strong
Since 1986, Toyota has been proud to call the commonwealth home to its largest vehicle manufacturing plant in the world.
The 8,000-plus team members at its Georgetown plant are responsible for building some of the safest, highest quality and best-selling vehicles on the road. In fact, about every minute, a new vehicle is born on one of the plant's three assembly lines, including some of the brand's biggest names: Avalon, Avalon Hybrid, Camry Hybrid and America's best-selling car for 17 years in a row – the Toyota Camry.
Driven by the company's commitment to continuous improvement, Toyota has continued to invest in the capabilities and capacity of the facility. Since 2013, Toyota has invested $2 billion in its Kentucky operation, capping it off with a recent investment of $238 million. This brought the total lifetime investment in the plant to over $7 billion.
These new investments have created excitement and new opportunities for the Kentucky team, including the production of the first Lexus vehicle in the United States, the ES 350 and its hybrid counterpart, the ES 300h. In addition, starting in 2020, the manufacturing plant will add the RAV4 Hybrid to its production lineup.
Toyota's commitment to its Kentucky home is evident, but it doesn't end there. It has also equipped the facility with the latest advanced manufacturing technologies, including refitting the entire production line with Toyota's New Global Architecture (TNGA), a global vehicle manufacturing platform that has increased the plant's ability to rapidly respond to market changes. This specific investment positions the facility for the next 30 years of manufacturing Toyotas in the Bluegrass.
Toyota's visitor center in Georgetown is open Monday through Friday. Free tours of the auto manufacturing facility can be scheduled by visiting tourtoyota.com/Kentucky.
Here are some more manufacturing facilities in Central Kentucky:
3M
Post-It Notes, office supplies, stationery office products
Cynthiana – 3M.com
Adient US
Auto seats and interior components, foam pads for seating
Georgetown – adient.com
Adkev (formerly Catepillar)
Automotive HVAC, electronic and trim components
Danville – adkev.com
Ale-8-One Bottling Co.
Soft drink beverages
Winchester – ale-8-one.com
Alltech
Natural animal feed additives; corporate headquarters
Nicholasville – alltech.com
Alltech Lexington Brewing & Distilling
Beer, whiskey distillation and packaging
kentuckyale.com
Beam Suntory
Distilled spirits; production and value-added packaging for spirits
Frankfort – beamsuntory.com
Big Ass Solutions
Fans and lights for industrial, agricultural, commercial and residential settings
bigasssolutions.com
Buffalo Trace Distillery
Distiller of bourbons and American whiskeys
Frankfort – buffalotrace.com
Carhartt Inc.
Dungarees
Irvine – carhartt.com
Catalent Pharma Solutions
Pharmaceutical processing
Winchester – catalent.com
Clark Material Handling
Forklifts
clarkmhc.com
CMWA
Automotive wheels
Paris – cmwa.com
Coca-Cola Bottling Co. Consolidated
Coca Cola bottling
cokeconsolidated.com
Cooper Standard
Molded and extruded rubber products for auto parts
Mt. Sterling
Corning Inc.
Thin, durable, scratch resistant glass
Harrodsburg – corning.com
E.D. Bullard Co.
Safety hard hats, fire helmets, face masks, hoods
Cynthiana – bullard.com
Essity (formerly Wasau Paper)
Paper towels, toilet paper, tissue
Harrodsburg – essity.com
Four Roses Distillery
Distilled spirits, bourbon
Lawrenceburg – fourrosesbourbon.com
Florida Tile
Ceramic and porcelain tile
Lawrenceburg – floridatile.com
Highbridge Spring Water
Bottled water
Wilmore – highbridgesprings.com
Hitachi Automotive Systems Americas
Brake and suspension systems
Berea – hitachi-automotive.us
Hitachi Automotive Systems America
Auto electronic control units, sensors, actuators, fuel systems and components
Harrodsburg – hiams-am.com
International Paper
Corrugated boxes
internationalpaper.com
Jif Plant
Peanut butter production
jmsucker.com
Kyosan Denso Manufacturing Kentucky
Automotive fuel systems and pumps
Mt. Sterling – densocorp-na.com/locations/kdmk
Lectrodryer
Liquid dryers
Richmond – lectrodryer.com
LEDVANCE
Fluorescent lamps; glass tubing for auto lighting industry
Versailles – ledvance.com
Lexington Dixie Plant
Plastic lids, plates, bowls and paper cups
dixie.com
Link-Belt Construction Equipment Co.
Design, manufacture, market, sell and service cranes
linkbelt.com
Lockheed Martin
Military operations logistics support
lockheedmartin.com
LSC Communications
Print, bind and ship/mail magazines and catalogs
Danville  – lsccom.com
Montaplast North America
Plastic injection molding automotive supplier
Frankfort – montaplast.com
Neogen Corp.
Diagnostic veterinary instruments, pharmaceuticals, nutritional supplements, disinfectants
neogen.com
Nestle Prepared Foods
Hot Pockets
Mt. Sterling – nestleusa.com
Okonite
Insulated electrical cable
Richmond – okonite.com
Piramal Pharma Solutions
Formulation, analytical development and pharmaceutical development of sterile injectables
coldstreamlabs.com
Rebecca Ruth Candy
Frankfort – rebeccaruth.com
Richmond Auto Parts Technology (RAPT)
Richmond – raptech.com
Sherwin-Williams Co.
Auto coatings and finishes, Thompson's Waterseal woodcare products
Richmond – sherwinwilliams.com
Tiffany & Co. Jewelers Inc.
Jewelry
tiffany.com
Toyota Motor Manufacturing Kentucky
Automobile assembly (Avalon, Camry, Lexus)
Georgetown – toyotageorgetown.com
Toyota Tsusho America
Steel processing
Georgetown – taiamerica.com
Vermont Castings
Fireplaces, wood-burning stoves
Paris – vermontcastings.com
Webasto Roof Systems
Automotive sunrooms
webasto.com
Wild Turkey Bourbon
Distilled spirits and visitor center
Lawrenceburg – wildturkeybourbon.com