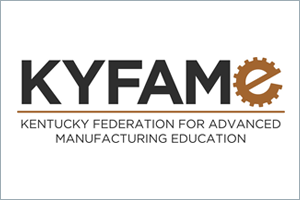 FLORENCE, Ky. — Between ever-changing technology and the retirement of a substantial portion of the skilled manufacturing workforce, the region is experiencing a shortage of qualified workers in manufacturing. The Northern Kentucky Federation for Advanced Manufacturing Education (NKY FAME) is helping to close the skills gap.
NKY FAME is a partnership of regional manufacturers and Gateway Community & Technical College whose purpose is to implement career pathway, apprenticeship style educational programs that will create a pipeline of highly skilled workers.
One company, DESMA USA, operating out of Boone County, started seeing many of its longtime employees announce their retirement plans and turned to NKY FAME for help.
"For years, we were fortunate with a stable workforce as tenured technicians, and experienced technologists established our company as a service-oriented organization," said DESMA USA President and CEO Scott Early. "But now, the average age of a DESMA USA employee is 48 years old."
DESMA USA joined NKY FAME in December 2017 and, in the spring of 2018, a team of managers agreed to sponsor a graduating high school student as an NKY FAME apprentice. In sponsoring a high school graduate, a company agrees to provide specific on-the-job, hands-on training within a part-time position, Gateway reinforces skills with classroom experience chosen by employers. The participating company commits to providing a competitive manufacturing wage for part-time work while the student is enrolled in the program, and the company pays the student's tuition at Gateway.
"NKY FAME is an amazing opportunity for local students," said Gateway President Dr. Fernando Figueroa.  "The combination of Gateway classes with hands-on practical application of skills helps our students prepare for rewarding careers."
Stephen Morrison is the first NKY FAME student that DESMA sponsored.  Morrison is just over a year into the program.
"I've worked in DESMA's rebuild and project departments, and I've been able to work hands-on with coworkers on projects such as rubber mold testing and tearing down machines that are a decade or two old to rebuild them for resale," said Stephen Morrison, DESMA's first NKY FAME student. "With the free education and the work experience, it is a good set-up that can lead to a path of success."
To find out how you can be part of the NKY FAME program go to gateway.kctcs.edu/NKYFAME.