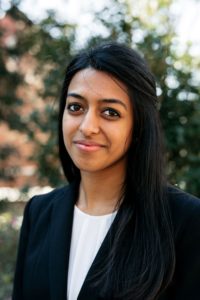 LOUISVILLE, Ky. (May 20, 2020) – For most high school seniors around the globe, this academic year hasn't turned out  as planned due to the COVID-19 pandemic. For a senior at Kentucky's North Oldham High School, though, there has been some good news.
Riya Shah, founder and president of Fetal Life LLC, received her first patent. Her specialized technology company is dedicated to addressing the challenges around pregnancy by the integration of medical expertise, artificial intelligence and technological solutions.
In March, Shah learned the portable smart uterine contraction monitoring device she designed and developed had been awarded a patent from the US Patent and Trademark Office. The device is already clinically approved in India and has successfully completed U.S. bench validation testing in a controlled environment at the University of Louisville School of Medicine Simulation Center. In addition, Fetal Life has begun the US Food and Drug Administration approval process.
"From the start, our goal has been to create a portable and affordable contraction monitoring device that can be used in clinical and non-clinical settings by expecting mothers to manage their pregnancy outcomes," Shah said. "Our telemonitoring platform is already a game-changer for expecting mothers who geographically require remote care, but what we didn't anticipate was that telehealth would become the global norm this spring in the face of the COVID-19 crisis. In these days of self-quarantine and social distancing when most OB/GYN offices are trying to provide as much care as possible via telemedicine, we can engage our Nurse Telemonitoring feature in the myFetalLife application, along with effective use of artificial intelligence (AI) algorithms, to provide further guidance and help monitor expectant mother health."
Since late 2018, Fetal Life has partnered as a collaborator with the American Pregnancy Association (APA) when Riya launched the innovative myFetalLife smart pregnancy tracking app. Today, the app has been endorsed by the APA and has registered over 30,000 users from 140 countries, offering key features and information about telemonitoring and self-management of health using features like weight monitoring, gestational diabetes, blood pressure and fetal heart rate within the mobile app. It also has educational materials like weekly baby growth information and an AI chatbot that uses patent-pending algorithms.
APA President Lynn Handley added, "As more women wait until their mid-to-late thirties to have children, these pregnancies are now a considered high-risk. Remote nurse monitoring, like the myFetalLife app, is a great addition to a pregnant mom's care protocol, especially for those who are high-risk. The registered nurses can answer specific questions regarding an individual's case and help monitor their baby's wellness. It's quality care plus peace of mind."
Shah founded Fetal Life as a 15-year old freshman in high school with an idea. After hearing more than once the story of her mother's false contractions before her birth, sending her parents back and forth to the doctor and even the hospital multiple times before she was born, she wanted to create a device, paired with a mobile app, to help women measure their contractions and make better informed decisions. She subsequently filed for multiple patents for related medical devices, including the recently approved tracker as well as a smart fetal heart rate monitoring device, and raised funding from several angel investors.
Active in Future Problem Solving and academic science-based competitions but also passionate about art and design, during her high school years Riya was selected to participate in the University of Louisville's LaunchIt Entrepreneurship Training program, a 10-week lean start-up training course with coaching to help develop her pitch and validate customer interest, and the Governor's School for Entrepreneurs, a highly competitive summer program where 72 Kentucky high school students focus on product innovation and business model design. After working with XLerateHealth coaches at LaunchIt, Fetal Life was accepted into the Louisville-based healthcare accelerator XLerateHealth which has been working with Riya since 2018 as part of its "Intersession Program."
Since launch, Fetal Life has received state funding including a KY Innovation Investment Program (KIIP) micro grant to support growth initiatives and a State Trade Expansion Program (STEP) award to help establish and grow its international presence. The Company has recently been named one of ten semi-finalists for the Parkview Health and MATTER "2020 Healthy Mom and Baby Innovation Competition" which could result in not just additional funding but the opportunity to participate in a three-month business accelerator to further build and test Fetal Life solutions for the market.
What's next for Shah? She is excited to have been named one of approximately 40 students to receive Georgia Tech's prestigious four-year, full-ride Stamps President's Scholarship, a scholarship offered annually to the top one percent of Georgia Tech's first-year students. At Georgia Tech, she plans to keep her business running and growing.
"Based on the strong customer response," Shah said, "we are excited to continue to introduce new features to help pregnant mothers better manage their health during pregnancy. To meet telehealth and other changing needs, we are committed to keeping the app relevant and always at the forefront of the market."
Fetal Life LLC is a specialized technology company dedicated to addressing the challenges around pregnancy by the integration of medical expertise, artificial intelligence (AI) and technological solutions. To help pregnant moms during this critical time, Fetal Life is dropping its monthly monitoring fee from $9.99/month to $2.99/month. Download the myFetalLife app or learn more by visiting FetalLife or following @fetallife_ on twitter.
Contact Shah via [email protected]