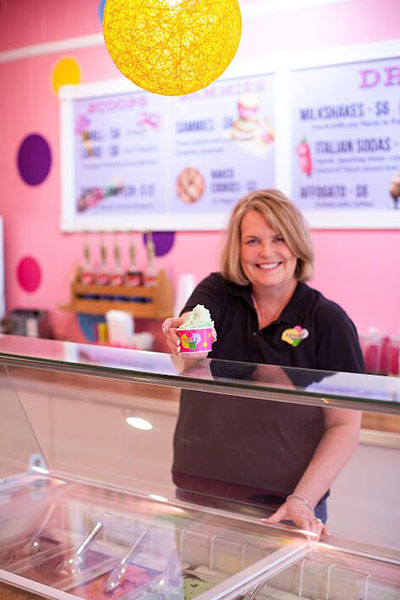 SHELBYVILLE, Ky. — Spotz Gelato will open its third brick-and-mortar in Kentucky June 26 on Shelbville's historic Main Street. Georgetown and Versailles locations opened in 2019.
The downtown Lexington location of Spotz Gelato closed during the COVID-19 pandemic and is not expected to reopen. A new Lexington location for a recurring Spotz food truck will be announced soon.
To be located at 545 Main Street beside Sixth & Main Coffeehouse, the brightly-colored sweet shop comes at the right time to boost summer tourism.
"We all need and deserve positive news, which the Spotz Gelato team is more than happy to deliver," said Spotz Gelato owner Beth Richardson. "Our Kentucky-proud treats pair perfectly with offerings from the other locally owned businesses on historic Main Street. We look forward to being part of the movement to encourage people to embrace small towns and small businesses."
A Charity Preview Night will be held 6-8 p.m. June 25 with all proceeds benefitting Tyson' Chance Animal Foundation. Richardson partners with charities local to each shop. The grand opening is noon-9 p.m. Friday, June 26.
Spotz Gelato Shelbyville will feature a delightful menu for dining inside, take out or curbside including Sammies, cones, milkshakes, floats, sundaes and sundae boards, Italian Sodas and Affogato (gelato with coffee). Additionally, pints of gelato can be taken home or ordered online for curbside pickup. Ten flavors will be offered on a rotating basis, including customer-favorite Cookies and Cream.
Richardson took a hobby of farming and turned it into a business when she and husband Philip Enlow created Spotz Gelato in 2013. Initially sold solely from a food truck, the small-batch gelato is made by hand in a commercial kitchen on Richardson's and Enlow's farm outside of Midway.
The Shelbyville scoop shop will be open seven days a week from noon-9 p.m. The same schedule is observed at the Versailles shop, 148 Court Street, and the Georgetown location at 135 West Main Street. Not to be left out, the fleet of hot-pink, vintage trucks and indoor mini-bars may be rented for events, weddings and private parties throughout Kentucky.