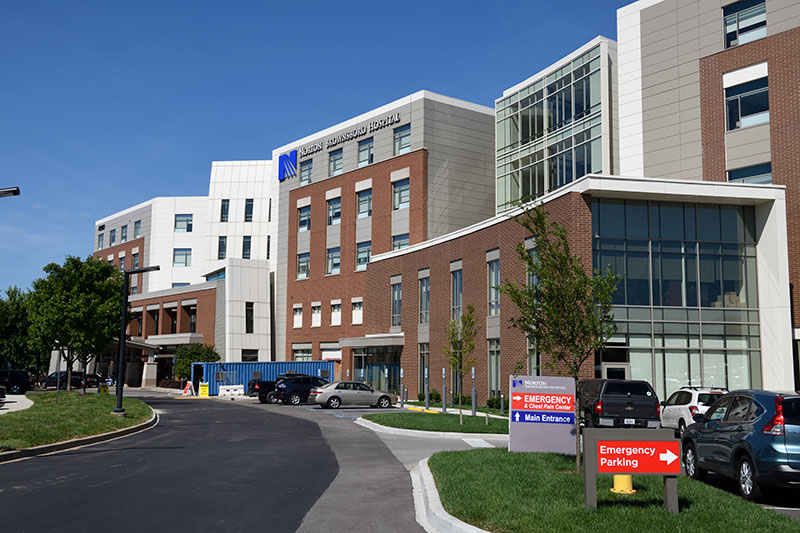 Phase one of a project to expand and renovate Norton Brownsboro Hospital is now complete. As part of the $167 million project, about 172,000 new s.f. were added to the hospital.
Norton Brownsboro Hospital opened its new bed tower this week, adding 70 new private patient rooms. The expansion includes a new emergency department, equipped with 39 treatment areas. The new space also includes six additional operating rooms, two of which are new bi-plane rooms.
The bi-plane rooms will be used for neurological procedures, including stroke and aneurysms. The rooms are outfitted with the latest imaging technology, which recently received FDA approval, making Norton Brownsboro Hospital one of only 12 hospitals in the nation to have it.
"Something we do especially well here at Norton Brownsboro Hospital is deliver the highest level of stroke care," said Andrew Strausbaugh, Norton Brownsboro Hospital chief administrative officer. "We are a certified Comprehensive Stroke Center. With the addition of our two new bi-plane rooms, we will now be able to deliver an even more advanced level of care, utilizing the best technology for our patients."
That care spans the region. While situated in East Louisville, Norton Brownsboro Hospital serves patients across various communities, from South and West Louisville to southern Indiana and beyond. The expansion helps to better meet the needs of the rapidly growing demand of patients Norton Brownsboro Hospital has been faced with since its 2009 opening.
"This project is one with great impact, because this hospital does serve so many folks across our community," said Russell Cox, Norton Healthcare president and CEO. "This is one piece of a bigger picture at Norton Healthcare. We are constantly growing and innovating, and we look forward to future projects that will accelerate our life-saving ventures, leading to a healthier community."
The bed tower also contains a new and larger epilepsy monitoring unit (EMU), which helps establish a diagnosis, including the exact kind of epilepsy a patient has. The EMU also assists with the surgical planning process.
Prior to construction, Norton Brownsboro Hospital had 127 licensed beds, 14 operating rooms and 22 treatment areas in its emergency department. Additional phases of construction will include the renovation of 44,000 square feet of existing space. Construction began in 2018 and is set to be completed by 2022. Messer Construction is carrying-out construction on the project.