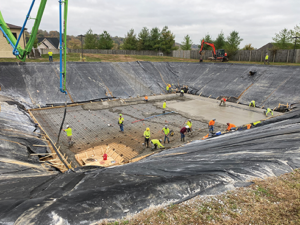 As their trucks rumble toward winter and the end of a year that won't be forgotten soon, wary construction contractors throughout the state generally agree they have more work now than they expect but no reliable assurance that it will continue.
Construction executives say the industry has remained surprisingly busy for much of the year at a time when millions of U.S. businesses either drowned in debt or struggled to stay afloat because of the COVID-19 pandemic.
But contractors also agree there are no certainties about continued success in 2021 because the pandemic could yet slice and dice every U.S. business that doesn't manufacture face masks or hand sanitizer. Several also cite the November presidential election as a critical event that could have a resounding impact on the economy and their businesses in 2021 and beyond.
Louisville Paving and Construction CEO John Dougherty said although his company traces its roots to 1919 and he's no stranger to how the economy and politics work, he's been baffled by a confluence of events that didn't seem to have logical conclusions.
"For me, it (the construction business) is kind of like the stock market. I'm not quite sure why it's doing as well as it is considering overall national unemployment, the national economy … and the pandemic in general," said Dougherty, who oversees about 525 employees and annual revenues usually around $200 million.
"There were enough jobs in the pipeline that it sustained us even with the drop-off in state (highway) work. We were fortunate enough to have a fairly good backlog coming into 2020, so it will be a decent year for us, although next year is a different matter," he said. "We're having a little bit of trouble building backlog for next year. That's a priority right now. That scares me, and the status of the public work next year scares me."
Louisville Paving and Construction has prospered over the years, Dougherty said, because its business was balanced between public jobs like streetscapes for City Center in downtown Lexington and rebuilding three miles of I-65 for $29 million, and private contracts such as $12 million in site work and utility installation for open-air shopping centers Middletown Commons and Jefferson Commons in Louisville.
Less road funding, more logistics
Dougherty emphasized that his observations reflect what he sees in and around the Louisville region. He knows other contractors more dependent on state road contracts have been walloped by spending cuts.
Budget cuts due to lower gas tax revenue and the pandemic are strangling spending, said M. Chad LaRue, executive director of the Kentucky Association of Highway Contractors, a trade group headquartered in Frankfort, where it represents road builders' interests. Through August, the state spent far less on road contracts this year than any year since 2015.
The state budgeted $253 million for 121 projects this year, dramatically less than the $802 million spent last year, LaRue said. However, 2019 was a high-side "anomaly" for several reasons, he said, including that there was a governor seeking re-election, something that historically brings a spike in contracts.
"I think those (contractors) who came into the year with a book of business for six months to a year coming out of 2019 have fared OK, but those who came into the year without a lot booked are really hurting. I won't tell you there's a lot of optimism about what's going to be happening in the next one to two years," said LaRue, adding that he has heard that a number of companies have been forced to lay off some employees.
Like Dougherty, J. Todd Ball, president of Bristol Group in Lexington, said construction companies were fortunate Gov. Andy Beshear categorized them as an "essential industry" that could continue during the pandemic.
"We're doing pretty well. Our backlog was really strong right when the pandemic hit," Ball said, "so we continued to work. We also have a manufacturing operation that makes precast concrete wall panels that are used for (building) distribution centers."
Ball's company has built distribution centers and warehouses for major e-commerce players such as Amazon and Walmart.
"The warehouse and distribution market seems to be totally unaffected by the economy as it relates to the pandemic," he said. "It seems like that market is accelerating. We feel very fortunate to have work in that category."
The explosive growth of online ordering since the pandemic's arrival fueled a demand for the warehouses and distribution logistics facilities Ball's company builds with Bristol Precast concrete wall panels. The precast subsidiary expects to continue to manufacture steadily for the foreseeable future at its location just north of Louisville in Charlestown, Ind.
Perhaps some 4Q slowdown
Bristol opened the year with a substantial backlog, the term contractors use to identify projects they have in hand and Ball said he expects the demand for logistics building to continue for another year or so.
"The first part of the year the phone was ringing quite a bit with other stuff coming in," he said, "and it was just like, 'Wow, this is going to be a fantastic year!' But a lot of our work is automotive-related, and the makers and suppliers of automotive have pulled back, so we're not seeing a flow of new projects like we were in January and February."
"The (financial) hit (from the pandemic) won't come until the fourth quarter … when we will be looking a little harder for work. Right now, we're fine," Ball said.
Bristol's projects include the Marriott Hotel and the Marriott Residence Inn, two key components of the $200 million Center City project that opened early this year in downtown Lexington, and a 500,000-s.f.  county detention center in Indianapolis.
Although acknowledging that the flow of new projects has slowed, Ball is optimistic about 2021, barring any "calamity related to the pandemic or some other kind of calamity."
Paul Hemmer Jr., CEO of Fort Mitchell-based Paul Hemmer Co. since 1982, said 2021 may wind up looking a lot like 2020 was projected to look.
"We went into 2020—we did our budgeting and forecasting in the fall of '19—projecting a very robust year, and it looks like that's just being pushed into 2021," Hemmer said. "We have a lot of confidence in our markets that 2021 will be strong,
The company will celebrate its 100th anniversary next year.
Not canceled but delayed
"In February and March our customers became a little skittish, and we had one project they tabled for 12 months," Hemmer said. "Most of them said, 'Let's wait and see and kind of evaluate it.' And as a result—overall—it's going to have an impact of four to six months on our revenue. No projects were canceled, but decisions were delayed."
Six projects that were put on hold are valued at more than $50 million to the company.
"Revenues will be off 40% versus our projections, but … we'll be operating profitably," Hemmer said, and he was able to avoid layoffs and keep employees busy.
Hemmer works with subcontractors for its projects and doesn't have construction crews. The construction company has about 35 employees and an equal number work for a facilities group that manages and maintains properties, said Hemmer, whose company has averaged about $75 million in annual revenue the past five years.
Louisville-based Miranda Construction is "blessed to be steadily busy right now with very broad types of projects ranging from sports facilities, office remodels, food service, gas station remodels, etc.," said Chief Operating Officer Ricky Browning. "It has really been a mix of backlog projects moving forward with construction as well as new and repeat clients."
COVID-related restrictions are making developers shy for now about moving forward with food service and restaurant projects, Browning said. Positively, office remodel work has remained pretty strong even as work-at-home practices increase, and education and medical projects continue to go forward.
Miranda is doing a $20 million, five-floor office build-out for Baird's financial management office in downtown Louisville as well as a Louisville Slugger Stadium remodel.
It is giving him rising hope for 2021 even though changing safety guidelines are a complication.
"My expectations for when the pandemic ends is the construction industry is going to be extremely busy playing catch-up with all the planned 2020 builds and remodels," Browning said, "but I do think it's going to be a long time before the old-fashioned handshake is back around."
Lower backlogs affect confidence
Construction industry trade associations that track the national and state levels offered assessments in September that support Kentucky contractors' comments.
"We were thankful that construction was an essential service so we could continue work on job sites. … our industry has been thriving because of that," said J.R. Gaylor, president/CEO of Associated Builders and Contractors of Indiana and Kentucky. "Both years (2019 and 2020) have been great. Our contractors have been very, very busy so these are very strong years for our members and the industry. The economy's been great."
Representing commercial and industrial builders, ABC's two-state chapter has about 800 members, including 350 in Kentucky. Those 350 contractors and suppliers employ about 75,000 workers in the state, where the association has offices in Louisville, Lexington and Bowling Green, Gaylor said.
The impact of the pandemic in the near future is difficult to determine, he said.
"It's really hard to tell. We're very hopeful that it (sector's relative strength) will maintain, assuming that there aren't a lot of (COVID) hotspots that break out everywhere and that construction is still designated as essential," Gaylor said.
But things do appear to be slowing.
"We're starting to see a little slowdown in backlog. For example, in the past year or two, contractors had committed to backlog work that is eight or nine months out," Gaylor said. "Now we're hearing the backlog may be five or six months versus eight or nine, so that's probably the biggest indicator of what things might look like on the other side (of the pandemic)."
Richard Vincent, executive vice president of the Associated General Contractors of Kentucky, was somewhat less optimistic about what will happen once backlogs shrink.
"I would say that our contractors continue to work off their backlogs, but in many cases confidence in future profitable opportunities is waning. We're being told that a lot of our folks are remaining busy right now. However, what the future holds is certainly in question," said Vincent.
AGC-Ky is based in Frankfort and has a membership of 700.
The convergence of the pandemic, the upcoming presidential election and the state's vastly underfunded public pension system—a state budget issue that has "already bubbled to the surface"—have created a cloud of uncertainty for the near future, Vincent said.
"Pensions are already affecting the state's ability and a lot of local governments' ability to invest in capital construction and infrastructure," said Vincent, adding that the state has cut back on road work this year.
Vincent, Louisville Paving's Dougherty and G. Michael Murphy, who is CEO of Scott, Murphy & Daniel in Bowling Green and Hartz Contracting in Owensboro, all commented about state spending cuts.
"Our bridge and highway division has seen a substantial reduction in work in 2020, but it's nothing to do with the pandemic—just with the change in the state administration, state funding and the needs of the highway system versus all the other needs of the state. We were very fortunate to have a 12- to 18-month backlog of work in this area," Murphy said.
"The pandemic has not had a serious economic impact. We have not had any contracts canceled or delayed. There have been some owners who have slowed their process of proposed construction due to the pandemic's effects on their workforce and production," he said.
Although he dismissed the notion that his company might face a "serious economic impact," Murphy did say revenues may be down this year by 20%.
National view more pessimistic
While Vincent's comments about the underfunded pension system reference a well-established quagmire, his overall remarks reflect national data released in September by AGC, which is headquartered near Washington, D.C.
AGC's most recent national survey "found growing pessimism among contractors amid rising project cancellations. Of the 2,005 respondents from AGC member firms, 38% expect it will take more than six months for their firm's volume of business to return to its normal level relative to a year ago. … A likely reason for the gloomier view is that 60% of respondents report a scheduled project has been postponed or canceled, up from 32% in June."
Shawn Woosley, chief financial officer of Louisville-based Wehr Constructors, was among the Kentucky contractors who said the current year should be profitable even though results won't meet earlier projections.
"It's just kind of a whole new world now. We will do OK. I think we will end up being profitable this year," said Woosley, whose company has offices in Lexington, Bowling Green and Tampa.
"If it wasn't for the pandemic, things were shaping up for us to do very, very well this year," he said. "There was a lot of work. We had a lot of backlog. There was a lot of stuff on the horizon that people were talking about. And then everything (with the pandemic) hit. We had had a great 2019, and it was shaping up for a great 2020 and 2021 and then everything happened."
Projects in Florida where the company does a lot in health care were hit hardest, while jobs in Kentucky fared better.
"Up here, for the most part, we really haven't had anything shut down," Woosley said. "We had a couple of jobs delayed. They (some clients) just really don't want to start a new, big project in the middle of a pandemic, but a lot of work already underway hasn't been affected. There's definitely some fear and trepidation just not knowing when everything is going to pick back up. A lot of industry publications are talking about things not really looking great for construction for the first and second quarter of 2021."
Wehr, with a 75-year history, has about 140 employees, including 120 in Kentucky, and annual revenues of about $120 million, Woosley said. The employee roster includes tradespeople as well the office staff and project managers.
Building the iconic Humana headquarters skyscraper in downtown Louisville put Wehr on the map, Woosley said. More recent projects include the 21c Museum Hotel in downtown Lexington and Actors Theater of Louisville.
Early 2020 looked like a record year
Like several other contractors who were interviewed, Linden Long, who owns Lexington's Long Construction Management, said the pandemic created major problems for his company. 
"2020 started out looking like it would be one of the best years ever. Now it is looking like we will be lucky to break even," Long said. "We've seen a lot of projects put on hold/delayed and had one canceled all together."
In recent years Long's small nine-person company has built hangars at Lexington's Blue Grass Airport, a 70,000-s.f. expansion of a Fisher Automotive Parts warehouse in Walton, and renovated the Wastequip building in Mount Sterling.
On the other hand, Cincinnati-based Messer Construction, with offices in nine cities including Louisville and Lexington, reported few pandemic-related problems.
"In our experience over the past six months, projects in progress are running with no major delays or cancellations. Speed-to-market remains a priority for project owners, and Messer is poised to finish the year strong," said Mark Hill, vice president in the Lexington office and a spokesman for both Messer offices in the state.
"Some projects in the planning stages will certainly slide into future months or years due to the uncertainty that continues to surround the pandemic and when/how it will end."
"Overall, the pandemic is most notably impacting the pipeline of opportunities in the hospitality, higher education, commercial office building, aviation and senior living sectors," said Hill, whose company has 225 employees in Louisville and 95 in Lexington.
In Lexington, Messer is leading the $300 million Central Bank Center expansion and Rupp Arena renovation, which topped out Sept. 10 when the final steel beam was positioned above the convention center space. Messer's revenues topped $1.1 billion in 2018.
Jeff Doss, director of business development for ABEL Construction, said the current year looks good for the company, which has headquarters in Louisville and offices in Lexington and Indianapolis. The company's client list includes Amazon, Ford, GM, Jim Beam, Makers Mark and FedEx.
ABEL has seen continued growth in its work for distilleries and automakers and believes the health care sector will heat up in the near future, he said.   
"As for expectations in the future (post-pandemic), it'll be a gradual build up as supply chains get re-established and consumers start getting comfortable again," said Doss, whose company has about 180 people on the payroll.
"From ABEL's perspective, we've been very fortunate with continued work and keeping our staff working," said Doss. "Does that mean it will continue to remain strong? Depends on the election and some on the vaccine production to ease fears."