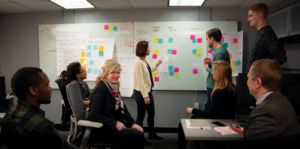 There's a renewed sense of purpose for those in the Louisville area looking for their next rung on the career ladder this year, and it's because of upskilling for the data economy. In spite of the COVID-19 pandemic, injecting tech talent into the economy via upskilling is trending in Kentucky's largest metro, which has styled itself as "Possibility City."
For those who are unemployed, underemployed, mid-career, changing careers or just beginning careers, Louisville leaders are urging newly available tech coursework through a pair of special partnerships that can advance their work life.
"The purpose is to build our city's data economy and industry interest in revolutionizing businesses, particularly in the areas of artificial intelligence, internet of things and data science," said Alisia McClain, director of community and education initiatives at Microsoft Future of Work Initiative.
The initiative (futurelou.com) is a special alliance formed in 2019 between Microsoft and Louisville Metro Government with the goal of moving the needle on Louisville's digital economy and making the region a center for excellence in the area of hi-tech work skills. The alliance is also expected to increase economic opportunity and equity.
Earlier this year, in collaboration with community partners at Humana, General Assembly, Louisville Forward, Louisville Healthcare CEO Council, the University of Louisville and Microsoft, the alliance launched an effort called the COVID-19 Upskilling Initiative. It provides access to free training to gain certifications and badges through Microsoft, General Assembly, IBM and others for participants who learn new technology skills.
The effort builds on the area's Artificial Intelligence Hub, which was formed in 2019. 
"We expect Louisville to take big leaps in the next five years in being able to offer companies qualified tech candidates," McClain said. "This is really a partnership with education and industry, going beyond the traditional offerings of a four-year degree or MBA. This push is on for short-term upskilling in self-taught coursework."
Demand from area industry leaders calls for more upskilling, with an ongoing focus on diversity and inclusion, she said. The above-mentioned Louisville partners have set a goal of training 300 people in data science careers by 2023. This may mean microcredentialing, boot camps, IT apprenticeships and internships, 10- to 12-week credentialing coursework and more. Some free coursework is available; others involve paid training.
Through the upskilling initiative, Ivette Lindsay, a 48-year-old Atlanta transplant to Louisville, won a laptop and was able to jump into a Google Analytics course and finish an initial step in upskilling earlier this year. She was also enrolled in General Assembly's 10-week course tied to the Future of Work Initiative, which features lessons in Tableau, SQL and Excel skills. That coursework, she said, includes problem solving, along with lecture and group participation.
Unfortunately, due to some family care-giving her father needed, she has not yet completed the course, but she is re-entering the next session at the end of September. 
"I would like an entry-level position within the field of data analysis, working in the area of business, politics or economic development," said Lindsay, who wants to grow and expand in those career pathways. 
"There are those ready to learn more," McClain said, "and we expect to see more non-traditional institutions, like AMPED, partner with industry to create even more educational programs."
Tech Louisville, a program of KentuckianaWorks (the area's workforce development board), has teamed up with AMPED Louisville (ampedlouisville.org/tech/) to promote tech education. It provides no-cost classes for IT support professionals, leading to a Google IT Support Professional Certificate. Priority admission will be extended to residents who live in Louisville area zip codes: 40202, 40203, 40208, 40209, 40210, 40211, 40212, 40215 and 40216.
Employers like insurance giant Humana have partnered with Microsoft's Future of Work Initiative to encourage life-long learning for the area's talent pipeline, both within the company and within the community.
"We have a need internally to transform Humana, building more data analytics skillsets.  The private-public partnership of Louisville's Future of Work Initiative has framed that up.  Many people are working in their homes due to COVID-19, and we look to upskilling and reskilling our workforce," said Roger Cude, senior vice president of human resources at Humana.
Humana has approximately 12,500 personnel in the Louisville market, and remains a key employer in the city. In 2019, Humana and Microsoft announced a seven-year strategic partnership to use cloud and AI tech for predictive solutions and intelligent automation to assist Humana members and internal teams.
The Humana Foundation, Interapt and UofL are partnering to bring a paid, immersive training program that teaches high-demand IT skills to the underemployed and unemployed under the title of Louisville Skills. Interapt, among other employers, has committed to hire several from this next class. (Read more about Interapt on page 66.)
Another program, bit502 (bit502.com/), puts an emphasis on microcredentials, extended online coursework and boot camps. Part of KentuckianaWorks, bit502 is an apprentice-style program where students study computer and information technologies while working and learning on the job. Classes are offered in Java, Python, HTML, CSS, Security, networking and databases. 
To further forward IT apprenticeships, the U.S. Department of Labor funded the University of Louisville with $4 million in February 2020 for its Modern Apprenticeship Pathways to Success (MAPS) program. UofL was one of only 28 such public-private partnerships funded in the most recent round and the only one in Kentucky. The university's partners include Webster University, Jefferson Community and Technical College and Elizabethtown Community and Technical College.
MAPS looks to target under-represented minority students and those who are either in military service or linked to the military. UofL graduate and U.S. Senate Majority Leader Mitch McConnell announced the competitive $4 million grant.
Another initiative targets minority upskilling in the Russell neighborhood of West Louisville. The Center for Digital Transformation at UofL, in partnership with the Louisville Central Community Center, is working this fall on an economic mobility effort.
More than 200 people are being recruited to participate in free data analytics, artificial intelligence and cybersecurity classes every Tuesday and Thursday. Sharon A. Kerrick, executive director of the Center for Digital Transformation, is the facilitator. For nearly 20 years, Kerrick owned a tech company that expanded over five states and staffed over 300 people. The company aided more than 11,000 students with annual technology training.
The Center for Digital Transformation itself is a new UofL asset, opening in 2019 in the Miller IT Building to help students, faculty, staff and community members develop technology skills.
The Center for Digital Transformation also includes another partnership between UofL and a private corporation, the IBM Skills Academy. This partnership gives university faculty access to the newest curriculum, software and industry experts to further the aim of training students and the community on AI, blockchain, cybersecurity, data science and quantum computing.
Other organizations in the region have also put an emphasis on tech training for Louisville. For example, the Technology Association of Louisville Kentucky (TALK), the area's employer-led nonprofit tech council, recently completed its first six-week cybersecurity training for 23 small business companies in partnership with the national CyberReadiness Institute, which offers self-guided curricula.