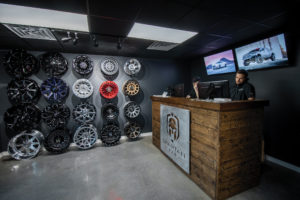 Bowling Green, Kentucky, has developed a reputation as a place where people know cars. After all, it holds the distinction of being the only place in the world to produce the iconic Chevrolet Corvette and people who love cars come from all over to visit the National Corvette Museum and take plant tours.  So where better for The Spartan Garage, a high-end wheel, tire, suspension and accessories shop, to set up shop?
The Spartan Garage was first started in 2015 by Robert Bowden III in his parents' Atlanta garage and specialized in aftermarket modifications of off-road vehicles. When Bowden enrolled at Western Kentucky University for college, he relocated his company—then called Spartan 4×4—and added two students as employees. While in WKU's Student Business Accelerator program, Bowden and his team expanded their network in the southern Kentucky automotive community.
By July 2019, Spartan 4×4 had relocated to a 6,000-s.f. facility in the Bowling Green Corporate Park and that fall, Bowden founded Spartech Performance to meet the demands of sport and performance vehicles in the area. In early 2020, Bowden merged Spartan 4×4 and Spartech Performance to create The Spartan Garage (TSG).
Now, TSG is building a new state-of-the-art 7,600-s.f. retail and service facility on Lovers Lane in Bowling Green to service the street, general services and off-road markets in the south-central Kentucky area. The company currently operates with a staff of six and Bowden said more jobs will be added once TSG moves to the larger location.
The new facility will include a modern showroom and feature sophisticated equipment to maximize efficiency while servicing a diverse range of vehicles.
"We are proud to invest in the Bowling Green area and to be a part of its long history in the automotive industry," said Bowden, who was recently nominated for the Bowling Green Area Chamber of Commerce's 2020 Small Business Person of the Year award. "This is an ideal location for our company, and we have aggressive plans to grow our team in Bowling Green."
"TSG is a great success story of a young entrepreneur and his team driving forward with an amazing work ethic and exacting standards that deliver an exceptional service to a growing customer base," said Bowling Green Area Chamber of Commerce President and CEO Ron Bunch. "The company reaffirms the level of opportunity and wonderful business climate in Bowling Green—especially for companies looking to become part of our strong automotive ecosystem."