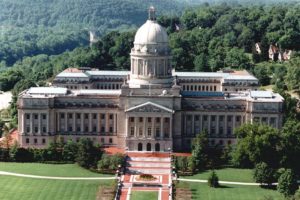 FRANKFORT, Ky.  — Preparations for the 2021 Regular Session of the Kentucky Legislature continue. House Speaker David Osborne on Wednesday announced the 2021-2022 House standing committee chairs.
Standing committee chairs
Agriculture: Rep. Richard Heath, Mayfield
Appropriations and Revenue: Rep. Jason Petrie, Elkton
Banking and Insurance: Rep. Bart Rowland, Tompkinsville
Economic Development and Workforce Investment: Rep. Russell Webber, Shepherdsville
Education: Rep. Regina Huff, Williamsburg
Elections, Constitutional Amendments & Intergovernmental Affairs: Rep. Kevin Bratcher, Louisville
Heath and Family Services: Rep. Kim Moser, Taylor Mill
Judiciary: Rep. C. Ed Massey, Hebron
Licensing, Occupations and Administrative Regulations: Rep. Adam Koenig, Erlanger
Local Government: Rep. Michael Lee Meredith, Brownsville
Natural Resources and Energy: Rep. Jim Gooch, Providence
Small Business and Information Technology: Rep. Phillip Pratt, Georgetown
State Government: Rep. Jerry T. Miller, Louisville
Tourism and Outdoor Recreation: Rep. Kim King, Harrodsburg
Transportation: Rep. Ken Upchurch, Monticello
Veterans, Military Affairs & Public Protection: Rep. Walker Thomas, Hopkinsville
Standing committees are a critical part of the legislative process. In addition to providing the first level of consideration for legislation before the Kentucky General Assembly, members are responsible for monitoring ongoing governmental operations, identifying issues for legislative review, and gathering and evaluating information.