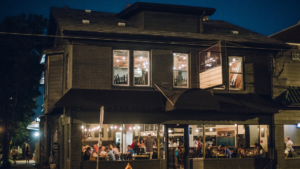 NEW ALBANY, Ind. — Monnik Beer Co. has opened its second brewery and restaurant at 415 Bank Street, formerly the home of the New Albanian's Bank Street Brewhouse.
Monnik opened its first location in Louisville's Schitzelburg neighborhood in 2015, and the New Albany location opened last Thursday.
Holton started home-brewing around 2005, and in 2011, he opened a small brewpub called Beer Engine in Danville, Kentucky. From there, he worked with business partner Ian Luijk to open Monnik in Louisville.
In spring 2019, the New Albanian closed its Bank Street location, and Monnik purchased the building and its brewing equipment that November.  The New Albany space almost doubles Monnik's brewing capacity. The brewing tanks are bigger than those at the Louisville location, and the brewery is moving its canning operation to the new space.
Monnik's IPA beers are among the biggest sellers, and it also features pilsner, brown ale, and saison styles. The drink menu also includes an array of craft cocktails made with fresh ingredients. The food menu at the New Albany location includes many of the same options as the Louisville brewpub, but there are some differences.
Currently, space can seat about 64 people between both indoor and outdoor seating. The brewery has added garage doors that will open out on a dog-friendly patio, and Monnik plans to add more outdoor seating in warmer weather.