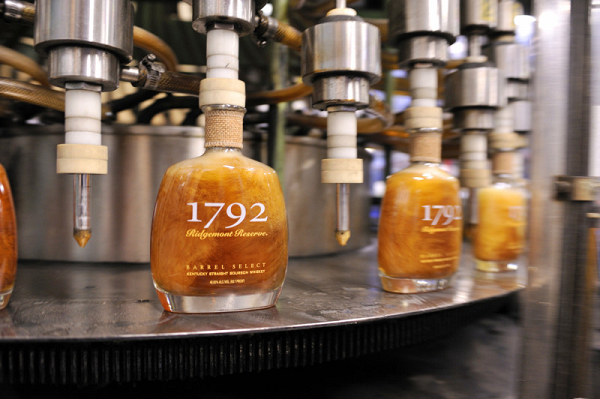 BARDSTOWN, Ky. — Judges awarded a total of 10 medals to whiskeys from Barton 1792 Distillery at the 2021 International Spirits Challenge (ISC), including five Gold medals for products in the Distillery's growing bourbon lineup. Products were scored during 12 days of blind tastings where panels of experienced judges evaluated aroma, appearance, taste, and finish. Five Silver medals were also awarded.
Gold Medals:
1792 Small Batch
1792 Single Barrel
1792 Bottled in Bond
1792 Full Proof
Thomas S. Moore Chardonnay Finished
 Silver Medals:
1792 Aged 12 Years
Thomas S. Moore Port Finished
Thomas S. Moore Cabernet Sauvignon Finished
Early Times Bottled in Bond
Early Times Kentucky Whiskey
For a full list of results from the 2021 International Spirits Challenge, visit https://www.internationalspiritschallenge.com/live/en/page/isc-2021-winners.
About Barton 1792 Distillery
Barton 1792 Distillery is part of Barton Brands.  Barton Brands has facilities in Bardstown, Ky., Carson, Calif., and Baltimore, Md. Barton Brands is owned by the Sazerac Company, an American family-owned company based in New Orleans, La. Barton 1792 Distillery was established in 1879 and continues today as the oldest fully-operating Distillery in the "Bourbon Capital of the World." The Distillery is located on 196 acres and includes 28 warehouses, 22 other buildings, the Morton Spring and the Tom Moore Spring.  Distilling, aging, and bottling fine Bourbon whiskey are hallmarks of the historic Barton 1792 Distillery. 1792 Small Batch Bourbon Whiskey is produced at Barton 1792 Distillery and is named for the year Kentucky became a state. The Distillery has garnered a number of prestigious awards for its whiskies, including its 1792 Full Proof, which was named the World Whiskey of the Year for 2020.  To learn more visit www.1792bourbon.com.
Click here for more Kentucky business news.