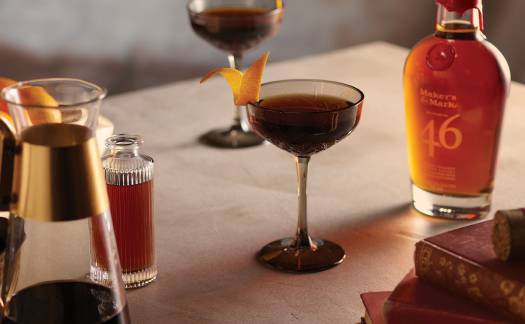 Introducing the Maker's Mark 46 Revolver. Just right for an autumn evening, this coffee-liqueur riff on the Manhattan revolves around the amped-up flavors of Maker's Mark 46. The Revolver Cocktail was brewed up in 2004 by Jon Santer. If you've ever added our bourbon to coffee, you know how well the oaky, caramel notes go together and why we're buzzing about this recipe. Brew up a 46 Revolver at your next #MakersHour.
COCKTAIL RECIPE
Maker's Mark 46 Revolver
2 parts Maker's Mark 46 Bourbon
1/2 part coffee liqueur
2 dashes Angostura Orange Bitters
Orange peel for garnish
Combine all ingredients in a mixing glass. Add ice and stir. Strain into a chilled coupe glass.
Garnish with an orange peel.
Click here for more Bourbon Flight news.
Click here to sign up for The Bourbon Flight Newsletter (coming January 2022).