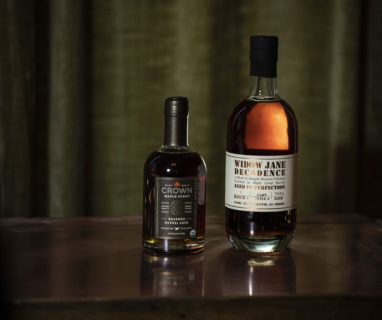 BROOKLYN, NY. — Widow Jane Distillery announced that Decadence, the brand's signature 10-year bourbon blended in small batches and then finished in American Oak Barrels that held Upstate New York's Crown Maple artisan maple syrup, will return to retail shelves and back bars across the US beginning in October.
The maple syrup barrel finish delivers a rich, creamy-smooth, and a slightly sweet mouthful of whiskey that includes a faint maple note.
The Brooklyn-based distillery, led by president and head distiller Lisa Wicker, introduced the first 550 case batch of Decadence in April 2020, along with the second batch, another 550 cases made available in October of that year, both selling out in a matter of days, suggesting that retailers anticipated the product's popularity with consumers for winter warming cocktails like toddies and Old Fashioned riffs, and even served neat or on a rock.
Widow Jane Decadence is bottled at 45.5% ABV (91 proof)
TASTING NOTES: 
Nose: Sugared pecans, maple, birch beer, charred oak
Palate: Vanilla, burnt sugar, cinnamon, bark
Finish: Brown sugar, shortbread, mellow tobacco, old whiskey; delivers a slightly sweet, creamy-rich mouthfeel and lingering finish
Crown Maple makes its home in the Hudson Valley, a short drive from the legendary Rosendale Mines where Widow Jane harvests limestone-rich water to proof its whiskeys.
The synergy between Widow Jane and Crown Maple dates to 2014 when the distillery first provided whiskey for Crown's bourbon barrel-aged maple syrup.
Each batch release of Widow Jane Decadence represents between 500 and 550 cases (3,000 – 3,300 bottles). The fall and winter 2021 batches will collectively yield around 2,000 cases, or 12,000 bottles, and will be available in most major whiskey markets beginning in October 2021.
Click here for more Bourbon Flight news.
Click here to sign up for The Bourbon Flight Newsletter (coming January 2022).