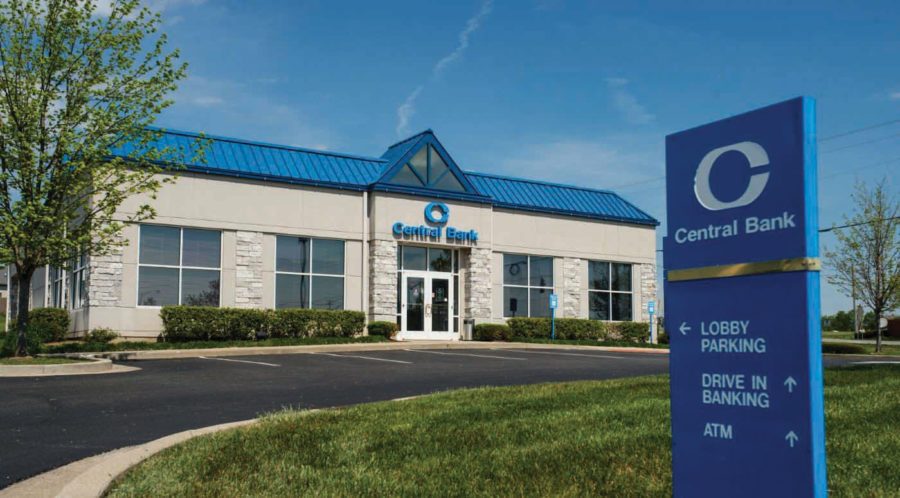 Whether you're running a small business, on the finance team of a corporate giant or just running a household, Northern Kentucky has a bank to meet your needs, from big-name giants to community lenders and everything in between. 

Many companies are choosing to locate in NKY because of its business-friendly environment. Because of the uncertainty caused by COVID-19 and the ever-changing business landscape, companies need their banking partners to offer both the amenities of a large bank and the personal attention they would get in a small town. 
First Financial Bank
In November 2021, First Financial Bank opened its new First Financial Community at the 6th & Madison building in downtown Covington, which serves as the bank's Northern Kentucky headquarters and offers a wide spectrum of banking advisory services and meeting spaces to foster entrepreneurial thinking and economic opportunities for the region. 
"It's a great community site that serves as a hub for economic activity as we enable other businesses to expand and bring more jobs to Northern Kentucky," said Jacob Holbrook, First Financial's market president for the NKY region.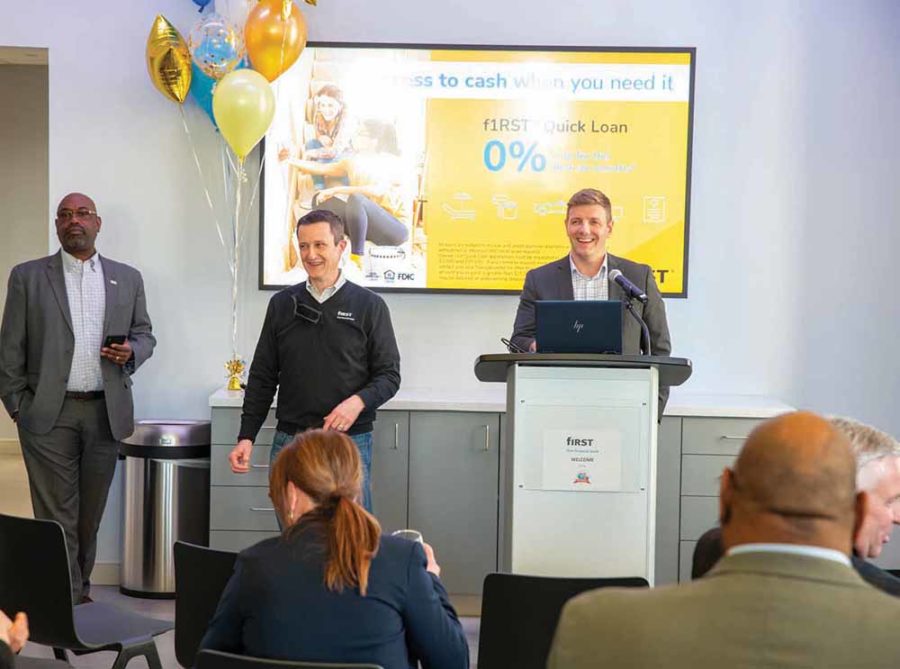 Located at 601 Madison Ave., the new center features state-of-the-art design that preserves the historic character and storefront of the building. It includes multiple meeting areas, with audio-visual capabilities, whiteboards and other technology tools in spaces that are open to the public. The second floor has two reservable conference rooms and nearly 1,000 s.f. of event space. 
A community bank, First Financial is a "partner deeply woven into the community," Holbrook said. The bank's leaders and employees volunteer and donate to various organizations and causes.
"A few significant projects in the region supported by First Financial funding include the development of Hotel Covington, Duveneck Apartments in Covington, John R. Green Lofts in Mainstrasse, Newport's Ovation music venue, the Manhattan Harbor Apartments in Dayton, Kentucky, and Kent Lofts in Bellevue," Holbrook said. 
First Financial has the fifth-largest market share in the Cincinnati metropolitan statistical area (MSA), with $4.8 billion in deposits. It has 48 branch locations in the MSA, four of which are in NKY.
Central Bank
Central Bank has been a part of the NKY community for about 17 years. The bank was founded in Lexington, Ky., by Garvice D. Kincaid in 1946 on the idea that banks can and should be pillars of their communities, in good times and in bad. Dedication to that tenet has led to its growth to seven other counties, including four branch locations in Northern Kentucky—Crestview Hills, Florence, Fort Mitchell and Union. 
Central Bank offers a robust suite of products and services, but it is most proud of its reputation for excellent customer service and dedication to personal, relationship banking, said President Luther Deaton.
Technology has allowed Central Bank customers to bank on their own terms, including the CentralMOBILE app and CentralNET for online banking. Those platforms offer mobile deposit, transfer and pay, access to Zelle, credit score monitoring, 24-hour access to real-time account information, access to e-statements, and a mobile wallet. 
In addition to basic banking services, Central Bank offers commercial loans and real estate lending. 
Heritage Bank
Heritage Bank, headquartered in Erlanger, is focused on providing the level of service one can expect from a national bank, but with the personal touch of a community bank, said H. David Wallace, chairman and CEO. 
Heritage has 17 locations in Northern Kentucky and two in Ohio. 
"People in Northern Kentucky know Heritage Bank. We've been around for 30 years, and we're one of the last locally owned, locally focused banks in this region. What many people don't know is that we're one of Greater Cincinnati's 10 largest banks," Wallace said. "Word is getting out we offer treasury management services you'd expect to find at a national bank but backed by customer service national banks struggle to replicate." 
 Heritage Bank has not lost its focus on personalized service and community engagement, he said. The bank has been careful to select partners who understand small and midsize businesses and whose reputations for service pair well with its own, he said. Business customers are interested in finding new solutions, improving efficiency and better managing cash flow. Many are also rethinking business partnerships overall, he said, especially after COVID-19.
Though the pandemic highlighted the importance of mobile banking—and the convenience of it—in-person banking cannot be replaced, Wallace said. 
"There is no substitution for sitting or standing across from someone whose judgment you trust and who will look you in the eye when reviewing your options. Everyday banking will continue to evolve digitally, but at those key inflection points in your personal financial life or in the life of your company, people will still be essential," he said.
Civista Bank
Civista Bank, headquartered in Sandusky, Ohio, has over $3 billion in assets and 35 offices across Ohio, southeastern Indiana and the NKY region. 
In January 2022, Civista acquired Comunibanc, a bank holding company headquartered in Napoleon, Ohio, for $50.2 million. The acquisition added seven branches of Comunibanc's subsidiary, The Henry County Bank, to Civista's roster. 
In 2021, Civista was named one of the Best Employers in Ohio for the 11th consecutive year.
"Our employees are the driving force behind Civista's success and an integral part of several positive customer experience initiatives, including the recent rollout of Civista's new digital banking," said Dennis Shaffer, Civista Bank president and CEO. 
During 2021, Civista processed approximately 1,300 Paycheck Protection Program loans totaling $131.1 million as part of the second round of the PPP. The bank processed $268.3 million in round one during 2020. Of the total PPP loans it originated, $316.1 million has been forgiven or paid off, the bank said in October 2021. 
JPMorgan Chase
JPMorgan Chase Bank has assets of $3.8 trillion and operations worldwide. It has 36 locations in the Cincinnati MSA, which includes NKY, and has the sixth-largest market share ($3.4 billion in deposits). It has five branch locations in Boone, Campbell and Kenton counties. 
Despite lingering pandemic-induced uncertainty, many business leaders are optimistic about their 2022 performance, said Paul Costel, Kentucky region manager at JPMorgan Chase Commercial Banking. 
"Here in Northern Kentucky, growth is at the forefront of our business leaders' minds as they look to increase sales and revenue and anticipate increases in credit needs. Our team is eager to partner with these businesses and help facilitate their growth through tailored solutions including credit and financing, digital banking and payments, treasury and merchant services and international banking," Costel said. 
Supply chain disruptions and the tight labor market were among the top concerns identified in the 2022 JPMorgan Chase Business Leaders Outlook survey, he said. NKY companies are navigating similar challenges. 
"Over the last two years, our business leaders have found innovative ways to run their companies and continue to show resourcefulness in their approach to today's challenges, from diversifying their supply chains to increasing flexibility for their employees," Costel said.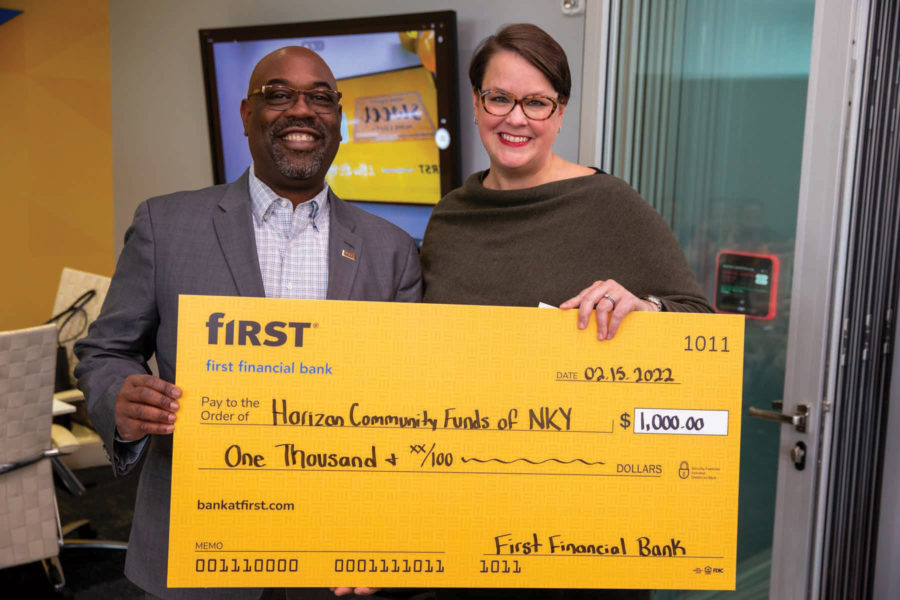 U.S. Bank
With 78 locations and $73 billion in deposits, U.S. Bank has the largest market share in the Cincinnati MSA, 46.4%. It has 15 branch locations in NKY—four in Boone and Campbell counties and seven in Kenton County, including a new Fort Mitchell branch that opened in 2020. 
In NKY, along with other regions, U.S. Bank is seeing growth in the use of its digital services across all business segments, said Mike Prescott, Cincinnati market president. 
Customer habits are changing. More than 80% of the bank's transactions are done digitally, up from 70% two years ago, he said. But customers still want the human touch when they have a complex question "or simply need a helping hand," Prescott said. 
Among its digital features, U.S. Bank launched a popular co-browse service that allows customers to share their screen with a banker so they can view and navigate online and mobile banking together.  
The bank continues to adapt to serve customers when and where they want to be served, Prescott said. 
Business loan growth accelerated for U.S. Bank as the economy recovered, and mortgage and home equity lending were particularly strong as customers renovated their homes or considered refinancing, Prescott said.
U.S. Bank leaders and employees are active in the NKY community. Over the past three years, the bank has made $4 million in grants to nonprofits throughout Kentucky. Key partners in Northern Kentucky are Catalytic Development Funding Corp. of Northern Kentucky, Brighton Center and Learning Grove.
Fifth Third
With 113 branch locations, Fifth Third has the second-largest market share in the Cincinnati MSA with $45.3 billion in deposits. It has 20 branch locations in Boone, Campbell and Kenton counties.
Fifth Third saw significant loan growth in the commercial banking sector in 2021, "much of which was driven by the rapid growth of the transportation and logistics sector in Northern Kentucky," said Carey Sanders, senior vice president of middle market banking, located in Fort Mitchell. 
Fifth Third's investment in fintech over the past five to seven years has allowed it to bring industry-leading technology to its clients, Sanders said. 
"We believe the continued evolution of managed services around the movement of money will be a game-changer for corporate treasury management and our customers," she said. "We are helping businesses move from a relationship with Fifth Third centered on processing transactions to one focused on back-office integration that delivers invaluable treasury insights, greater automation and efficiency."
Banking culture has changed, putting customers in the driver's seat. Fifth Third customers can do banking their way, Sanders said, whether using mobile technology or face-to-face interaction. 
"At our core, we will always be a relationship-based bank, so in-person banking will continue to be our preferred method of doing business and building relationships, particularly in a community like NKY," she said.
Fifth Third entered into partnership with the Northern Kentucky Chamber of Commerce in 2022, focused on the support and advancement of diversity, equity and inclusion in the NKY business community. 
Huntington Bank
Huntington Bank, headquartered in Columbus, Ohio, has 10 branch locations in NKY and 36 in the Cincinnati MSA.
It has just over 3% of the market share—the fourth highest in the MSA—with about $4.8 billion in deposits, according to the latest FDIC market report
(June 2021). 
In June 2021, Huntington closed its merger with TCF Financial Corp., creating a top 25 U.S. bank holding company. The merger enhanced the bank's profitability and scale, created revenue growth opportunities, and strengthened its market position. 
Huntington's digital tools were already in high demand before the pandemic, but online activity—especially for simple transactions—accelerated during the pandemic, said Southern Ohio/Northern Kentucky Regional President Kevin Jones. The bank continues to invest in technology, developing more tools and products that will help customers rebuild their financial lives and plan for the future,
he said.
Huntington has launched several new digital services in recent years, like its 24-House Grace for Business program, which gives additional time to cover overdrafts, and MoneyScout, an automatic savings tools, among others.
PNC Bank
With 55 offices in the Cincinnati MSA, PNC Bank has the third-largest market share. It has 10 branch locations in NKY.
PNC has seen increased activity in NKY, thanks to the growth of several key industries, said Kay Geiger, PNC regional president for Greater Cincinnati/Northern Kentucky. 
"The strength of the economic development environment in Northern Kentucky—from aviation to logistics—has been phenomenal," she said. "Our corporate and commercial banking teams have relationships with companies in these spaces, and we know these are just some of the areas where we'll continue to see increased activity."
PNC is deeply rooted in the NKY community, said Geiger, who is active with several organizations, including OneNKY Alliance, the Kenton County Airport Board, the Cincinnati Children's Hospital board of directors and others. 
"As a business operating here, we care about the sustainability and growth of the region," she said. "As the official bank of Northern Kentucky University, we work to provide our products and services, including financial education, to students and faculty. We also are
a longtime supporter of the Northern Kentucky Chamber, Catalytic Fund, OneNKY Alliance, Life Learning Center, Learning Grove and so many others."
PNC has made significant investments in technology the past several years, which helped support customers throughout the pandemic. It also allowed the bank to be nimble in how it mobilized to serve customers.  
Stock Yards Bank
Stock Yards Bank & Trust, headquartered in Louisville, has six locations in the Cincinnati MSA, including two in NKY.
In 2021, Stock Yards Bank acquired Commonwealth Bank & Trust and Kentucky Bank.
The Commonwealth Bank acquisition "allowed us to expand our services and locations in Northern Kentucky, including adding a location in Kenton County and bolstering our presence in Boone County," said Stephen Brown, Northern Kentucky/Cincinnati market president. "Stock Yards Bank & Trust continues to follow through on its commitments for growth in the NKY and Cincinnati area. We've also added talent, especially in our wealth management team, to build relationships in the region and better serve our customers."
In NKY, PPP loans created a springboard for the bank to forge new relationships with potential commercial banking customers, Brown said. A number of prospects who came to Stock Yards Bank for help securing PPP loans during the pandemic saw the value of its community banking model and decided to move their core banking relationships to Stock Yards Bank. 
"Stock Yards Bank has built up its capabilities to fulfill the specialized needs of medical and dental practices and has seen great success in serving the sector," Brown said.
The bank has seen greater adoption of its online and tech-based services during the pandemic, but customers still value in-person service when it is needed.  
Republic Bank
Republic Bank, headquartered in Louisville, has five locations in the Cincinnati MSA, three of which are in Northern Kentucky. It has been part of the NKY community since 2007.
In its NKY market, Republic Bank has added and developed talented bankers, helping fuel its growth, said Jason Payne, managing director NKY, senior vice president. The bank has also worked to become more efficient by installing ITM technology, which brings live associates to a video screen to serve clients with expanded hours.
"In the past year, we are proud to say we've had significant organic growth in terms of loans, deposits and services offered. That growth has mainly come from both current client expansion and new client acquisition," Payne said. 
Most of its growth in the NKY market has been with its commercial and business clients, with commercial real estate and construction leading the way, thanks to clients with both optimism and built-up cash reserves, he said.
Republic Bank was one of the leading providers of PPP loans, which helped its clients during the pandemic and put them in a position to invest in the future, Payne said.
+++
Horizon Community Funds
Horizon Community Funds has raised nearly $50 million in funds since its inception in 2017, illustrating the organization's commitment to the Northern Kentucky community. First Financial Bank, shown here, is among many companies that have contributed to the cause. Horizon has granted more than $16 million to 363 nonprofits and currently has more than $40 million in assets under management. The community foundation raised more than $2 million for the Horizon NKY Coronavirus Relief Fund and continues to identify crucial needs in Northern Kentucky and directs funds to where they are most needed.
---
ADVERTISING PARTNERS
Central Bank
Four NKY locations
(859) 905-5502
centralbank.com
With roots dating back to 1946, Central Bank remains a community bank, dedicated to serving the people and businesses of Kentucky. Central Bank offers local customer service and support, as well as online, mobile and phone banking services available 24 hours a day. To learn more about how we can be central to you, visit centralbank.com or stop by one of our four Northern Kentucky locations in Crestview Hills, Florence, Fort Mitchell or Union. Member FDIC.
---
Horizon Community Funds of Northern Kentucky
50 E. RiverCenter Blvd., Suite 431
Covington, KY 41011
(859) 757-1552
horizonfunds.org
Horizon Community Funds of Northern Kentucky is a community foundation that builds philanthropy in Boone, Campbell and Kenton counties. It serves as a charitable concierge to its Northern Kentucky neighbors, whether they give personally, as a family, or as a business. Horizon's goal is to build the resource base for Northern Kentucky needs such as social services, urban revitalization, education, health and wellness, the arts and more – now, and into the future.
---
Kentucky Employers' Mutual Insurance (KEMI)
250 W. Main St., Suite 900
Lexington, KY 40507-1724
(859) 425-7800
kemi.com
Kentucky Employers' Mutual Insurance (KEMI) is the largest provider of workers' compensation insurance in Kentucky, providing coverage to more than 20,000 policyholders in all 120 counties of the state. The company provides exceptional underwriting, safety education and claims services to its policyholders. This, combined with our competitive pricing, responsible financial management and a focus on innovation, makes KEMI the provider of choice for Kentucky businesses. KEMI has earned and maintained an "excellent" rating by A.M. Best.
---
Click here to read more articles from Market Review of Northern Kentucky 2022-2023.