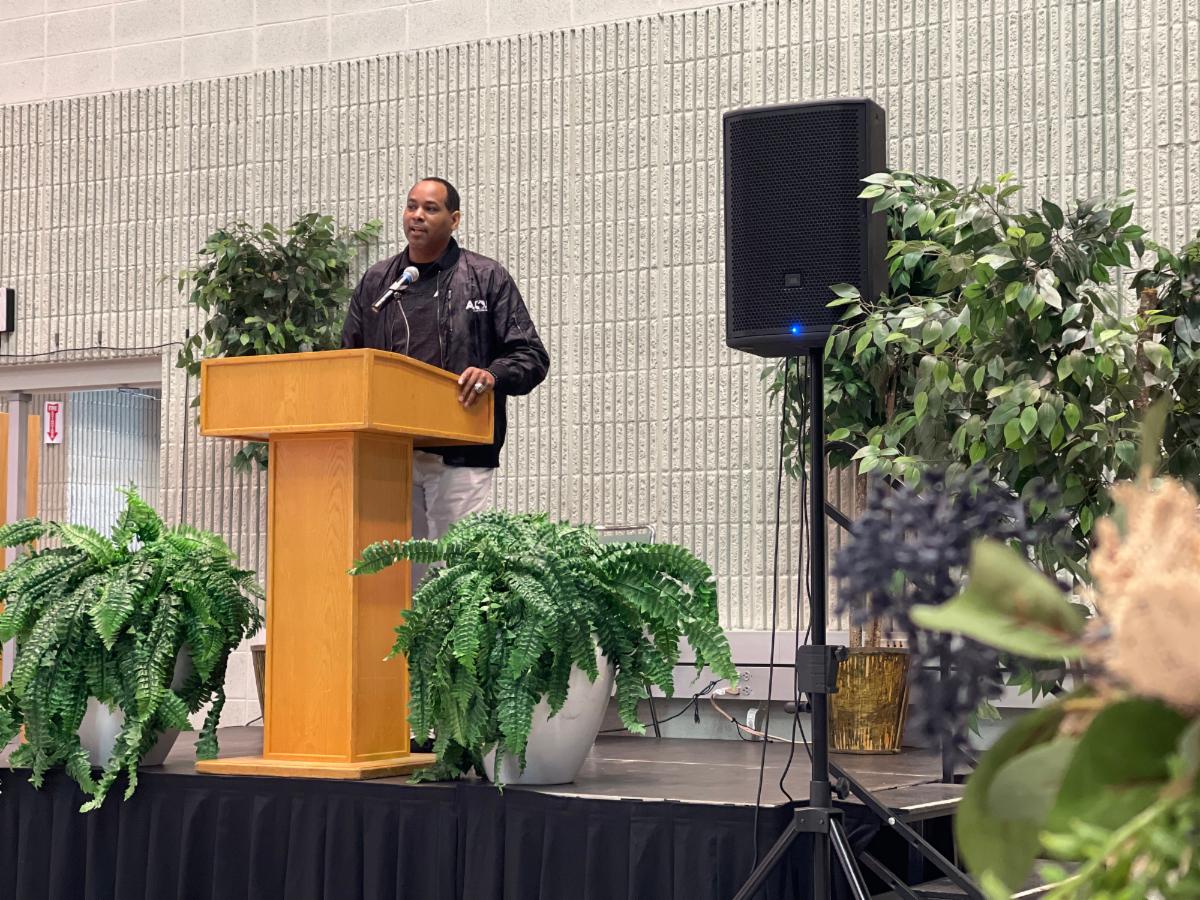 SOMERSET, Ky. — Nearly 200 local high school students listened Wednesday at The Center for Rural Development as former basketball star Derek Anderson gave them the directions to success: Listen to learn and create positive habits that build character.
The Louisville native retired from the National Basketball Association (NBA) in 2008 following a standout career at the University of Kentucky and moved home to build the Stamina Foundation, an organization that empowers youth and young adults with the resources and life skills they need to follow their dreams.
The name of the foundation stems from Anderson's 2013 book, Stamina, in which he tells his inspiring life story of finding enough strength and courage to go from sleeping in an abandoned apartment at the age of 11 to becoming an NCAA, Olympic, and NBA champion.
The message was especially appropriate for this group of juniors and seniors, who received the Work Ethic Seal designation — a program in which students who meet specific criteria related to work ethic and soft skills receive a special seal on their high school diploma and transcript. The program is a partnership of the Somerset-Pulaski Economic Development Authority (SPEDA), Pulaski County Schools, Somerset Independent Schools and the Pulaski County Educational Consortium.
SPEDA President and CEO Chris Girdler said he chose to bring Anderson to speak at this year's luncheon because his story is an excellent reminder that hard work and determination can bring success in the most challenging situations.
"Derek Anderson is an incredibly compelling and inspirational speaker, and I am thrilled our Work Ethic Seal recipients could hear his story of perseverance," Girdler said. "Derek impresses me, and so many others, with his constant ability to move forward in the face of adversity, always with a smile on his face. I am grateful he spent his afternoon helping motivate this outstanding group of young people in our community."
To qualify for the Work Ethic Seal, juniors and seniors must:
• Miss no more than three days of school during the school year
Have no more than four tardies or early dismissals
Maintain a minimum of a 2.5-grade point average with no failures
Be involved in at least two different community service, employment or extracurricular activities
And submit a resume and completed application and any necessary documentation by the advertised due date.
The Work Ethic Seal Program is an important component of Pulaski County being a certified Work Ready Community, said Roxanna Bishop, Pulaski County Schools public relations director and Work Ethic Seal coordinator.
The Work Ready Communities certification — an initiative of the Kentucky Education and Workforce Development Cabinet — serves as an assurance to business and industry that the community is committed to providing the highly-skilled workforce required in today's competitive global economy.
Anderson congratulated the Work Ethic Seal recipients and encouraged them to create positive habits, maintain a positive attitude and remain determined to succeed — no excuses.
Click here for more Kentucky business news.