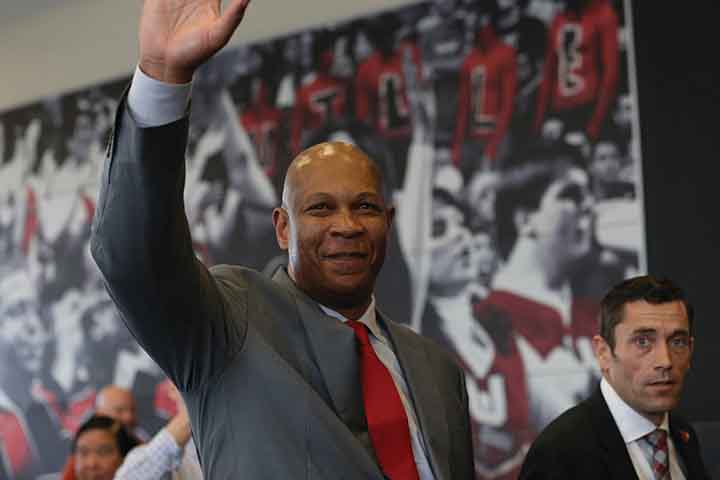 The rich Kentuckiana sporting landscape of Louisville and nearby counties in Kentucky and Southern Indiana is fertile ground for sports and recreation. Opportunities abound for amateur and professional sports as well as diverse choices for those wanting an active lifestyle, both indoors and outdoors.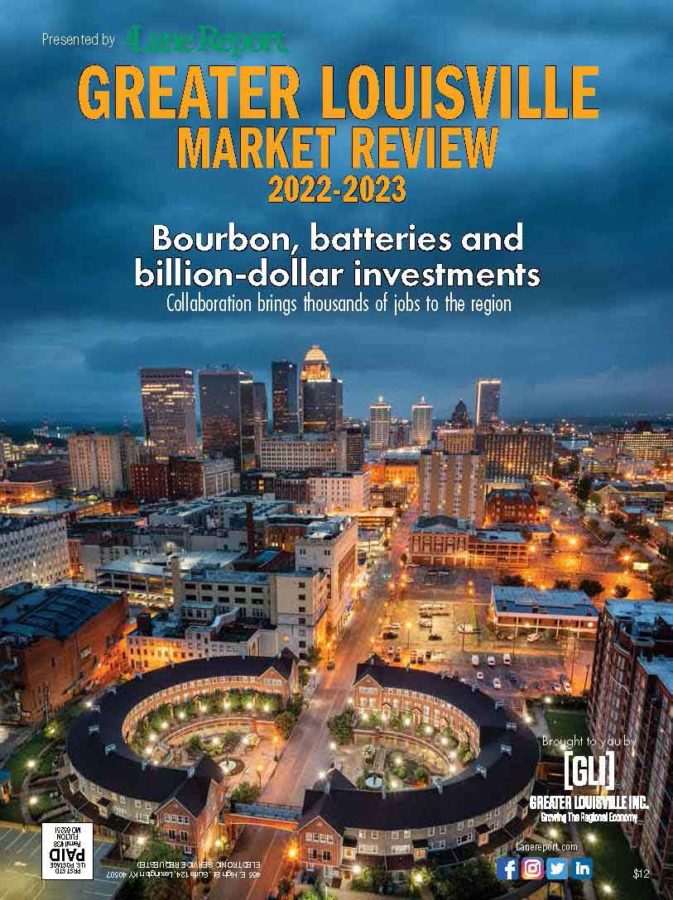 Still, 2022 has a different exciting vibe among University of Louisville basketball fans due to the recent hiring of former UofL basketball star Kenny Payne as its new coach. Payne, previously a University of Kentucky assistant and most recently an assistant coach with the NBA's New York Knicks, is charged with returning the Cardinals to their traditional role as one of the nation's best programs.
Payne is the school's third head coach in six seasons after 30 years of stability and success under Hall of Famer Denny Crum. Incredibly, for a program with such a storied history, the Cards haven't won an NCAA tournament game since Rick Pitino's final season in 2017 and have played in only one.
Payne, who played on UofL's 1980 national championship team, is an overwhelmingly popular choice of fans, former players and alums to take on the job of restoring the Cardinals to their previously lofty perch. He started fast, hiring former Kansas star and All-American Danny Manning and Duke assistant Nolan Smith as the first members of his staff. Smith is the son of the late Derek Smith, a standout on Louisville's 1980 national title team.
Interim UofL President Lori Stewart Gonzalez called it "a wonderful celebration to bring Kenny Payne back home."
"He's by far the best possible choice. He's a man of integrity, a great person, a great recruiter and a great developer of young men," said Kentucky Gov. Andy Beshear. 
The real excitement hits its first apex sometime in early November when Payne's inaugural season in the KFC Yum! Center tips off. 
In the meantime, there is plenty to occupy local sports enthusiasts, including:
• Horse racing at Churchill Downs.
• The Louisville Bats Class AAA baseball club.
• UofL's top-25 baseball team.
• UofL women's basketball team, fresh off 2022 Final Four play.
• Bellarmine University's highly successful basketball program.
• The professional Lou City FC soccer team.
• The fresh $53 million track and field Norton Sports & Health Center.
• Scores of golf courses, parks and trails.
Sports has historically been a strong driver of tourism in Louisville, according to Louisville Tourism, which works alongside the Louisville Sports Commission to promote sporting events and tourist attractions, as well as informing local residents about sports and recreation opportunities. 
Here is a look at some of the region's top attractions:
KFC! Yum Center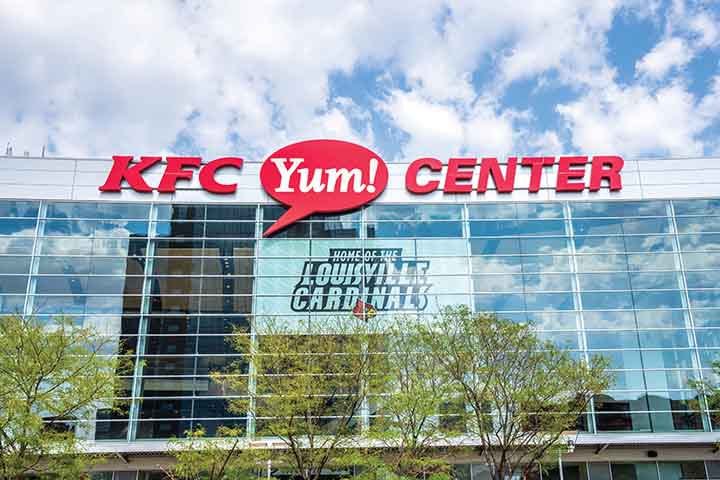 Since opening in 2010, the KFC Yum! Center and its high-profile sporting and music events have attracted nearly 10 million visitors to downtown Louisville. It also is the official home of the University of Louisville men's and women's basketball programs and women's volleyball program.
The Yum! Center was renovated in 2021 to enhance its fan atmosphere. The renovations included dynamic video, audio and broadcast upgrades, updated concession stand branding and brand-new carpet throughout the arena.
---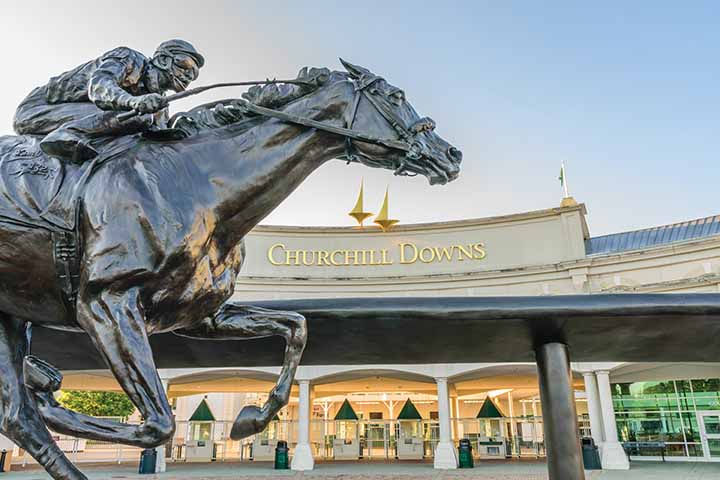 Churchill Downs
Thoroughbred racing, the Kentucky Derby and the Kentucky Oaks have run continuously at Churchill Downs since 1875. Churchill Downs sits on 147 acres and features a one-mile oval dirt racetrack and a seven-furlong turf racecourse. The backside barns behind the racetrack house more than 1,400 horses each year. 
2022 RACING—Headlined by the $3 million Kentucky Derby presented by Woodford Reserve that ran on May 7 this year, a record 53 stakes races totaling $20.37 million will be staged at Churchill Downs Racetrack this spring and summer.
In addition to the 44-day Spring Meet that runs from Derby Week through July 4, Churchill Downs will hold a special one-day Arlington Million Day program on Saturday, Aug. 13, in which it will host nine stakes races previously run at Arlington Park in Chicago.
The record-breaking $20.37 million spring/summer lineup features 15 new races and significant purse boosts for 41 of the 53 stakes events. Grass racing returned to Churchill Downs for the 2022 Spring Meet on a recently renovated turf course. Churchill will host its September Meet from Sept. 14 to Oct. 2 plus a Fall Meet taking place Oct. 30-Nov. 27.
HISTORICAL RACING—Churchill Downs Inc. is expanding in the central business district with Derby City Gaming Downtown, a new venue featuring historical racing machines, premium bourbon experiences, sports viewing and live entertainment. It is set open in early 2023.
'THE GREATEST RACE'—The Kentucky Derby Museum at Churchill Downs celebrates the iconic tradition, history, hospitality and pride of the Derby. Each year, it welcomes 240,000-plus visitors from around the world. There are two floors of interactive exhibits, a 30-minute guided historic walking tour, and the museum's signature 18-minute movie, "The Greatest Race." 
---
Louisville Bats
Thanks to its affiliation with the National League Cincinnati Reds, the Louisville Bats Triple-A baseball team gives local fans an affordable, convenient opportunity to see future and former Major Leaguers in action at fan-friendly Louisville Slugger Field.
The Bats play 74 home games from April 5 through Sept. 30, with numerous promotions, including a July 4 Fireworks Extravaganza, Thunder at Slugger Field, Marvel Super Hero Night and Dog Days at the Park. The team is a member of the International League, competing in the West Division along with the Columbus Clippers, Indianapolis Indians and Toledo Mud Hens.
The venue is also used for other events, most notably a concert by the Dave Matthews Band in 2008 that attracted a record crowd of 18,543.
SLUGGER FIELD—The unique design of Louisville Slugger Field includes a former train shed on the site that was incorporated into the stadium. Naming rights for the stadium were purchased by Hillerich & Bradsby, makers of the famous Louisville Slugger baseball bat since 1884; the Louisville Slugger Museum & Factory is located several blocks further down Main Street. The museum offers daily tours.
---
Louisville City FC
Since its founding in 2014, Louisville City FC—or LouCity as it's known—has established a reputation for winning on the field and solid fan support. The team plays at the $65 million Lynn Family Stadium, which opened in 2020 just east of downtown. It is the largest soccer-specific stadium in the region, with seating for 11,600 fans and a capacity of 15,304.
SUMMER SHOWCASE—The city's reputation as a growing soccer hot spot was enhanced this spring when United Soccer League awarded Louisville its inaugural USL Summer Showcase—a multiday celebration of soccer in the U.S. and the USL's role in shaping its future at all levels of the game.
Soccer executives from around the country will convene for the league's annual midyear meetings, community activities and partner activations. The Summer Showcase will culminate in a nationally televised marquee match between Louisville City FC and Phoenix Rising FC.
LouCity is firmly established as one of the league's flagship clubs. The Summer Showcase brings together the USL Championship's two winningest sides over the past five seasons and presents a rematch of the 2018 USL championship final, which Louisville won 1-0. LouCity has made the Eastern Conference final every season of its existence and won back-to-back USL championship titles in 2017 and 2018. 
THE WOMEN'S CUP—Lynn Family Stadium was the site of the 2021 National Women's Soccer League championship game, and this summer the venue hosts the second edition of The Women's Cup, a six-team tournament featuring Racing Louisville FC and select international clubs. 
In December 2023, the NCAA Men's College Cup comes to Louisville.
---
Big Four Station Park
Big Four Bridge, connecting Jeffersonville, Ind., and Louisville, was first constructed in 1895 as a railroad bridge but has been repurposed as a pedestrian bridge. Its spectacular views attract more than 1.5 million visitors per year. Big Four Station Park, surrounding the bridge access ramp in Jeffersonville, features a pavilion and playground and is used for local farmers markets and other special events. Big Four Bridge can also be accessed from Waterfront Park in Louisville.
---
Louisville Parks and Recreation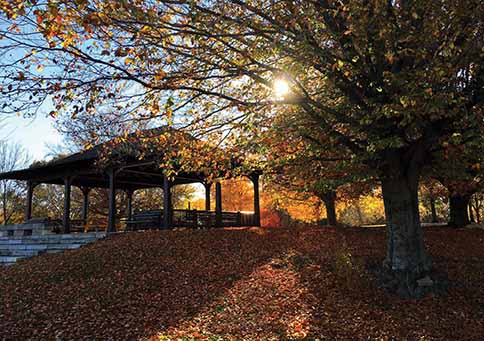 Louisville Parks and Recreation, a nationally accredited parks and recreation agency, manages 120 parks and six parkways on more than 13,000 acres of land and operates recreation programs for area residents of all ages and abilities. Among the most popular parks are Cherokee, Iroquois, Seneca, Waterfront, Louisville Extreme and Central Park, most of which are the work of Frederick Olmstead, who designed the grounds of the U.S. Capitol, the Biltmore estate in Asheville, N.C., and NYC's Central Park.
 At 6,191 acres and just 15 miles from downtown Louisville, the Jefferson Memorial Forest is the largest municipal urban forest in the United States. Hikers love the forest for its more than 35 miles of trails, and campers are attracted to its cheap lots and conveniently located necessities. Other popular things to do include fishing, birdwatching and horseback riding.
GOLFING—Louisville's 10 public golf courses offer quality golfing at some of the most affordable prices in the nation. Each course has its own unique character, and some consistently rank among Kentucky's best and most challenging courses.
ACROSS THE RIVER—The Indiana counties across the river from Louisville offer a range of outdoor attractions, including Charlestown State Park, Harrison Crawford State Forest near Corydon, O'Bannon Woods State Park within the forest and Clark State Forest near Henryville.

---
Parklands of Floyds Fork
The crown jewel of parks in the region is The Parklands of Floyds Fork in the eastern and southeastern part of the city. A $120 million project still being developed, The Parklands includes four major spaces linked by a park drive, a trail system and a water trail. Its main feature is the Louisville Loop, a 100-mile multirecreational, nonmotorized path that eventually will encircle the city and link neighborhoods. 
---
Across the region
Clear Creek Park in Shelbyville: 130-acre park with a 40,000-s.f. family activity center, golf course, lake, walking trails and more.
Farm tours in Oldham County: Tour horse farms, gardens and the popular Foodie Farm Tour in Oldham County. There's also Trains on Main in La Grange, outdoor adventures, bourbon tours and more. 
Hardin County: Elizabethtown Nature Park, PNC Music Garden, Freeman Lake Park.
Otter Creek Outdoor Recreation Area: Otter Creek in Brandenburg (Meade County) is a 2,600-acre riverfront park. A scenic bend in the Ohio River can be seen from northern overlooks in the park. It is a popular mountain biking destination.
Taylorsville Lake State Park: Built in 1983, this 1,200-acre park features 24 miles of hiking and horseback riding trails; RV sites with utility hook-ups; primitive and equestrian campsites; multiple boat ramps; a marina with boat rentals; and more.
Lapping Park: The 332-acre park in Clarksville, Ind., has it all—playgrounds, horseshoe pits, walking trails, sand volleyball courts, an amphitheater, an 18-hole disc golf course, an 18-hole golf course, the Clarksville Softball Complex and more.
---
Falls of the Ohio State Park
The Falls of the Ohio in Clarksville, Ind., connects the environment of the ancient past with the natural and cultural history of yesterday and today. It features the largest exposed Devonian fossil bed in the world and is part of a 1,404-acre National Wildlife Conservation Area. Its state-of-the-art interpretive center brings to life giant fossil beds telling a story 390 million years in the making.
Click here for more Market Review of Greater Louisville.