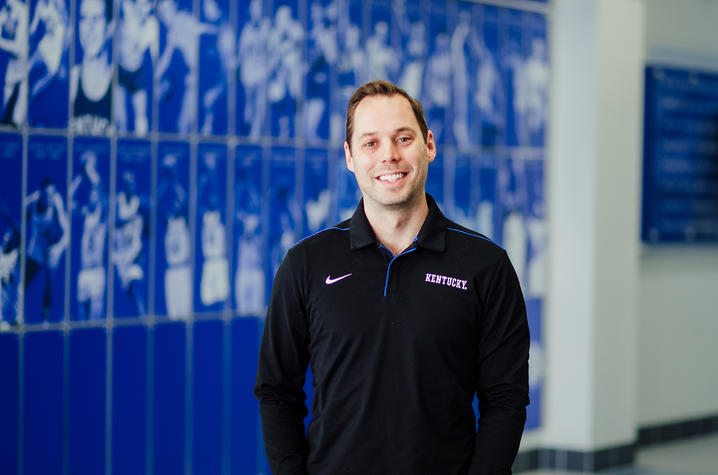 LEXINGTON, Ky. — The classic underdog story has long captivated audiences and University of Kentucky College of Education's Marc Cormier, a sport and exercise psychology specialist, delved into its complexities recently as the NBA and NHL playoffs began with big upsets.
Cormier explores the relationship between psychological factors and participation in sport and physical activity. In a recent interview on Canada's nationally syndicated radio talk show "A Little More Conversation with Ben O'Hara-Byrne," Cormier answered questions about the psychology at play when teams pull off upsets during post-season tournaments.
Cormier's interview, now available as a podcast (58:45 minute mark), came on the heels of two heavily favored teams — the NHL's Boston Bruins and the NBA's Milwaukee Bucks — being defeated early in tournament play this spring, despite a regular season filled with wins.
The mindsets of players, coaches — and even fans — can play a role in unexpected athletic outcomes.
"Upsets are magnified in the post season because we have rankings to help us decide who is supposed to win and we take those into consideration. Looking at the (regular season) record, we assume that level of play will continue, but doing so fails to account for some of the psychological variables that go into performance," said Cormier, who is director of the Sport and Exercise Psychology graduate program in the UK College of Education Department of Kinesiology and Health Promotion and director of Counseling and Sport Psychology Services in UK Athletics.
How well coaches and players of favored teams have prepared by developing a "big game mentality" is among the variables that can make a difference, Cormier said.
"For teams that are the favorites, some time has passed since they had a game that mattered. Teams can fail to adjust their approach and take an 'It's worked for us so far, so why change it now?' mentality. Failing to modify your approach during big events is failing to acknowledge the importance of it," Cormier said.
On the other hand, for teams that have been struggling for a playoff spot, every game has been "do or die" for months.
"The underdog teams will come at you with absolutely everything they've got. They have nothing to lose. They realize their best chance to win is to give their best effort. Whereas a favorite team may subconsciously approach things as they have all season and with the knowledge they have a little more talent and there's more room for error on an average night," Cormier said.
For teams that have strong win/loss records in the regular season, respecting the opponent is also key.
"They play in the same league as you which means their athletes are talented and should be respected as elite athletes. Maybe subconsciously, there's a level of 'we are up here and you're down there.' The last thing you want to do is underestimate a team. We need to be very careful about the mindset that we set heading into a game like that," Cormier said.
For underdogs, they must believe that even a one percent chance at winning is still a chance. While outcomes in sports often come down to talent, it can only be enhanced by the belief in the room.
"Belief, as is doubt, is contagious like a virus. It has the highest chance of spreading if coaches and leaders, the people with the most influence and contact in the room, are invested. At the elite level, there's so much parity that anything can happen. There are some coaches that are considered 'playoff coaches' because they know how to communicate this to the room," Cormier said.
Despite seeing underdog stories play out each tournament season, fans often make similar assumptions that a playoff game will be like the regular season's level of play.
"It's the same sheet of ice or court, the same rules, same regulations, same number of players on either side. But when you start the playoffs, your record is 0-0. Everything gets reset and I think a lot of fans tend to forget about that because the expectation is that they are just going to keep rolling when, in fact, some teams will mentally and physically reset the clock to say alright, it's anybody's game," Cormier said.
No matter which team takes home the trophy, every team works to get better the next year. When Cormier meets with athletes, he helps them reflect on the experience and analyze what they did well, what they need to improve upon and how.
"If your goal is to make a career out of playing this sport, then you evaluate your progress every day and get better every day, learning from both mistakes and triumphs," Cormier said. "Many are conditioned to believe success means beating someone else and when we fail to beat them, it's labeled as a failure — no matter the lessons we have learned along the way and how they will make us stronger and more resilient the next year."
— By Amanda Nelson, UKnow