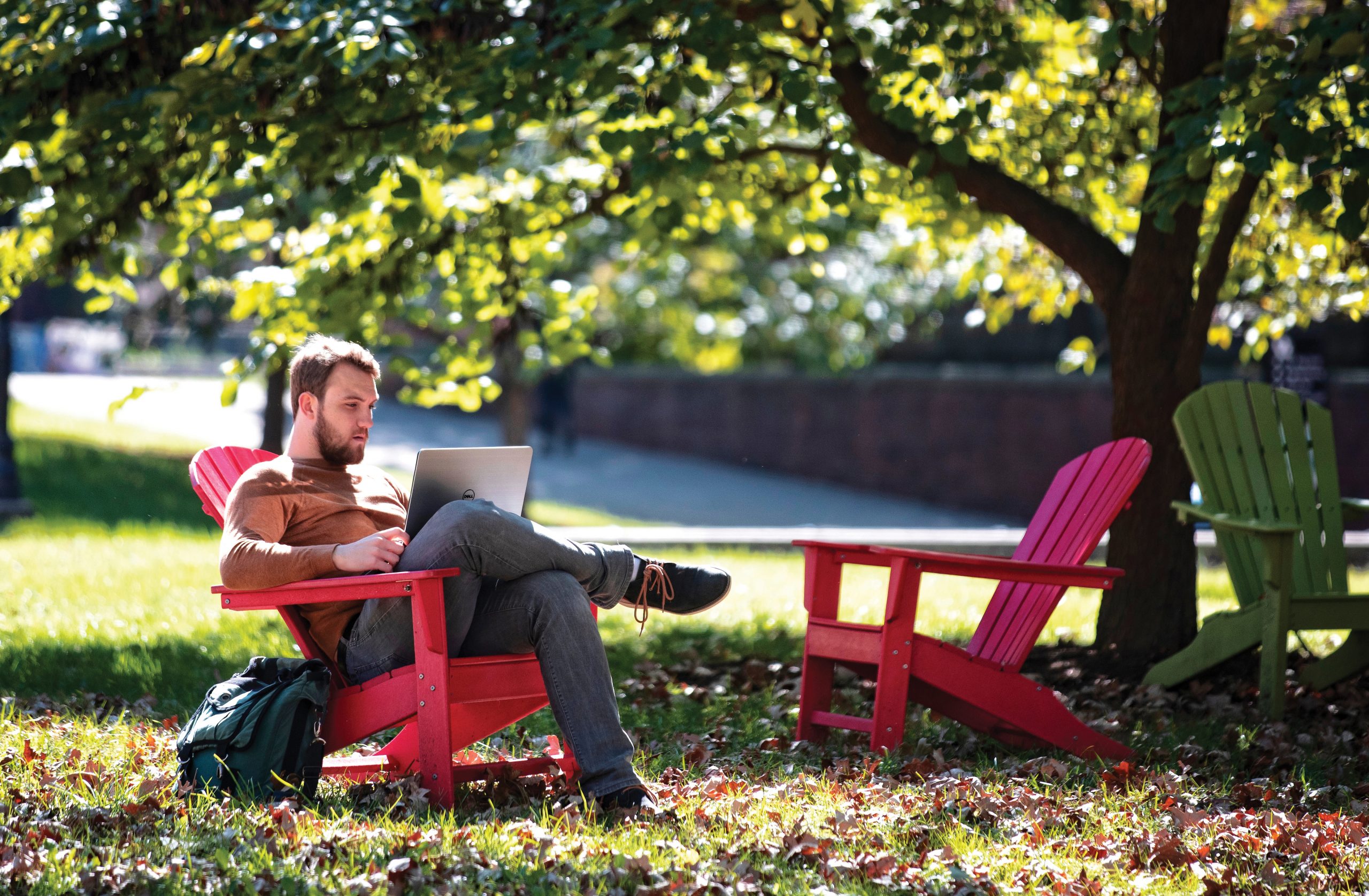 Rose Street, which runs through the heart of the University of Kentucky in Lexington, was long a well-traversed thoroughfare carrying not only vehicular traffic through campus but an estimated 19,000 pedestrians crossing daily.
But Rose Street, between Columbia Avenue and Huguelet Drive, suddenly has quieted. The university spent $9 million turning that block into what is now dubbed Alumni Commons, a green area designed for students to gather, study, relax, read—whatever. The outdoor mall features space for holding classes, a fountain, Adirondack chairs and more, while alleviating the risk people faced when crossing Rose.
It adds green space to a campus that hasn't been known for such features, said Mary Vosevich, vice president for facilities management and chief facilities officer at UK.
"It kind of quiets down the campus a little bit as far as vehicular traffic goes," Vosevich said. "This space is really going to be a great opportunity for people to be able to hang out. It's just really going to be a pleasant place on the campus."
Alumni Commons is one of many campus improvements at universities across the commonwealth.
UK is in the process of a $15 million renovation and modernization of historic Frazee Hall that will make the facility more accessible for all by adding elevators, restroom upgrades and other amenities. The building has essentially been gutted and completely redesigned internally, Vosevich said. It is expected to reopen this summer.
Also in the planning stages is a new UK Health Education Building that will be located at Huguelet and University Drive. The 450,000-s.f. facility will be home to the university's College of Medicine, public health education, nursing programs, health sciences and more, with classrooms, simulation suites, seminar rooms, conference rooms and other features. Groundbreaking is expected in early 2024, with completion targeted for late 2026. The $380 million project will be paid for by university funds and through $250 million in state bonding.
"It will be an iconic building," Vosevich said, "a gateway into our whole medical complex."
UK's projects are just the tip of the proverbial iceberg when it comes to university advances within state borders. Here are other prominent programs and undertakings:
In Louisville, 2023 is about paving the way forward, as the university has implemented a new strategic plan. The plan is based on four different pathways: Learn, with the goal of increasing the number of degrees issued by at least 14% over the next decade; Discover, with the goal of improving the university's research and innovation prowess, particularly in the medical realm; Connect, with the goal of becoming more involved in the city and state, to be measured by a corresponding increase in community and industry partnerships, and growth of philanthropic funds raised; and Work, as in striving to make the university an ideal workplace for faculty and staff.
The plan also involves the physical development of the campus, including the construction of more dormitories for what is hoped to be a rising student population, renovating older buildings, developing areas to add more classroom and collaborative space, and adding research facilities. Plans are already in place for a new engineering building as are plans to update the intramural sports facilities.
Now that goals are set, specific plans for these projects and improvements are next.
"What we want to see is a plan to upgrade all of our learning facilities to be top notch," said UofL Provost Gerry Bradley. "We know we're going to need more space. We also need livability features that surround what that looks like. Also, we're in the process of building a very focused strategic plan over the next six months."
Bradley said one key element is a focus to upgrade and expand the university's research park. That will involve not just adding facilities, but better connecting it with the rest of the campus and making the whole southern part of the campus more student-focused than it is currently. And this is just one of many more visions turning into capital projects.
"There are major discussions going on right now about what that looks like," Bradley said. "We're building kind of a 5- to 10-year progression here. There are still lots of things to be worked out—a devil-in-the-details kind of thing."
Expect things to ramp up once the university's new president, Kim Schatzel, officially takes the reins in September. Schatzel, who was named in February, previously served as president of Towson University. There, she oversaw more than $1 billion in capital investments in campus infrastructure and facilities and led the university to a 72% six-year graduation rate. According to the U.S. Department of Education, the six-year graduation rate culminating in 2020 was 63% at public institutions, 68% at private, nonprofit institutions and 29% at private, for-profit institutions.
"She's brought a lot of new energy and ideas," Bradley said of Schatzel. "We're happy we have her leadership."
In mid-June, Western Kentucky University broke ground on its first capital project since 2014: the future Gordon Ford College of Business building.
The project at the Bowling Green campus is being launched thanks to a $74.4 million allocation from the Kentucky General Assembly that was approved last year. According to Jace Lux, WKU's director of media relations, the new building will be 113,000 square feet that will be home to Bloomberg trading terminals, a center for financial success, virtual reality simulation labs and more. The university also will work with private businesses for mentoring and real-world training.
Essentially, the Gordon Ford building and the college of business will offer "a lot of really exciting technological aspects that are going to prepare our students to go out and become entrepreneurs and business leaders throughout the commonwealth," Lux said.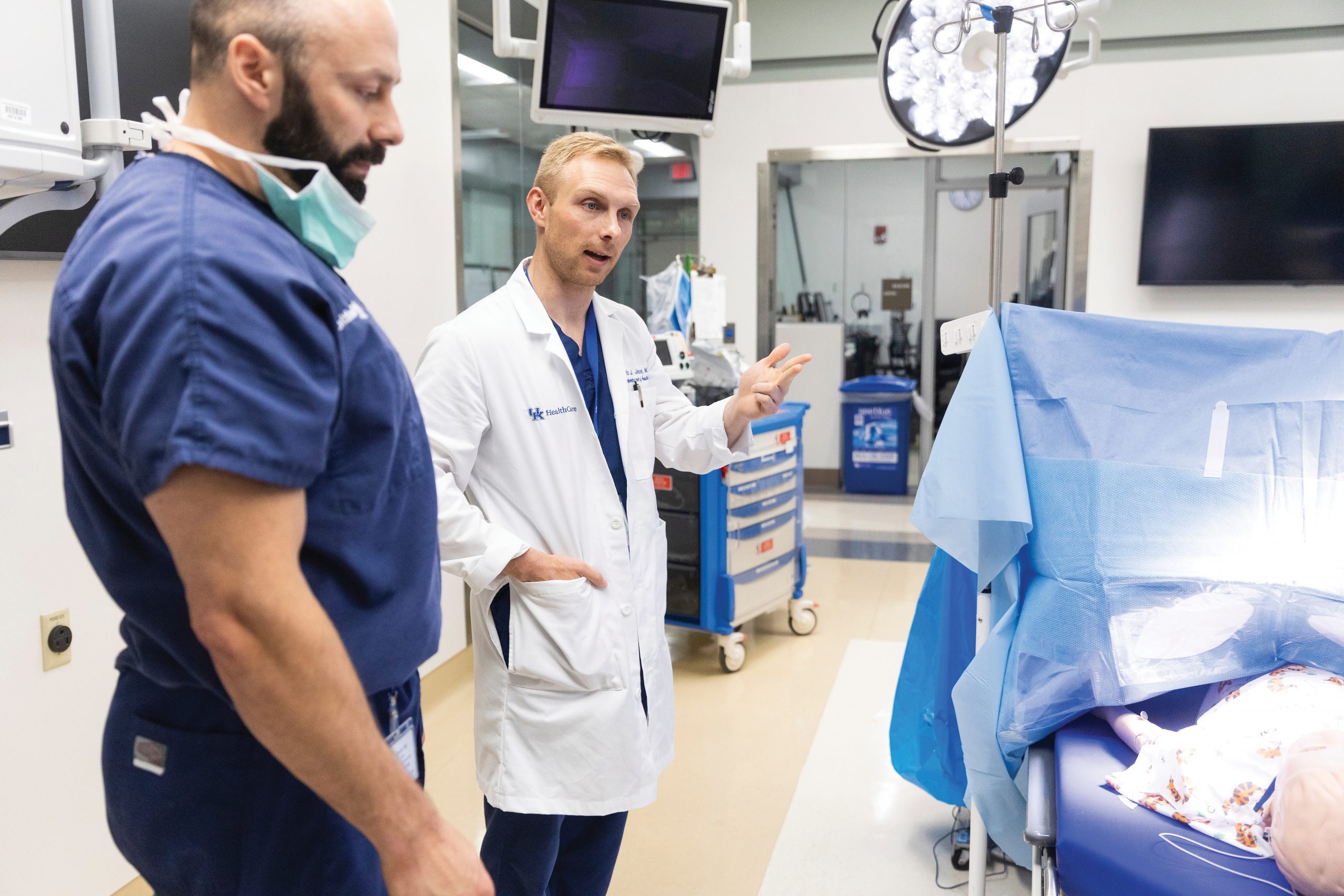 And similar to UK, Western is in the process of creating more green space on campus by way of the Top of the Hill Restoration Program. The former Garrett Conference Center was torn down and the university, following a study, made the decision to create a commons area that would serve the entire campus. One goal was to cut down on vehicle/pedestrian interaction. In addition, sidewalks have been widened and more "touch openings"—wherein a button opens a door—have been added to surrounding buildings to help increase accessibility for all.
The tagline involved with the project is, "Everybody belongs on the Hill."
In addition, the university is constructing a new athletics facility that will serve the soccer and softball programs. Along with the physical projects, Lux said WKU has set a goal for 80% student retention from year one to year two. Currently they are at 79.4%, a promising number.
"We're knocking on the door," he said.
Progress at Eastern Kentucky University in Richmond is taking on a different form. Rather than a major capital project, EKU is celebrating a new academic program and the expansion of an initiative that launched in 2021.
As of 2023, Eastern has expanded its BookSmart program to include all students, including those earning degrees online. The program ensures that all books are provided to students free of charge, making it the only university in Kentucky to offer such a program.
EKU President David McFaddin said adopting the program was the result of finding that many students leave college or opt to not attend at all for financial reasons.
"We didn't want books to be the reason students couldn't pursue a college degree," McFaddin said, adding that so far, the program has saved students a total of $25 million on the cost of books; with the fall class, that number will jump above $40 million.
Another innovation at the university is the new Bachelor of Science degree in manufacturing engineering, which also is unique to Eastern. The program, which begins this fall, is a response to the growing manufacturing sector in Kentucky.
The curriculum is designed to provide students with "the skills to design, analyze and modify the processes and systems used to make products in the most time-efficient, cost-effective way possible while maintaining safety and product quality in environmentally friendly ways."
The university worked with the Kentucky Association of Manufacturers to determine the needs and develop curriculum to produce qualified manufacturing engineers. Students also will benefit from mentorship and internship programs with in-state manufacturing companies, McFaddin said.
"It looked like a space that needed to be filled," he added. "We're really excited about that program."
As a Kentucky university, it's not a surprise that Asbury University would have an equine studies program—and one that is celebrating its 25th anniversary—but some of its innovations are taking potentially unexpected steps.
Following the groundbreaking last year on a new 29,000-s.f. equine facility, Asbury has added an Equine Assisted Services major, through which students who want to work in therapeutic settings learn how they can utilize horses to help patients physically, mentally and emotionally. You've heard of an emotional support dog or cat; horses have similar soothing effects on many people.
"There is a demand for mental health services using equines," said Abby Laub, Asbury's director of strategic communications, adding that the degree will train therapists to assist patients with the use of horses' ability to sense emotions, from PTSD to depression. "Horses respond to that and try to calm you.
The program, she said, is "kind of groundbreaking. It's a direct response to the age we're living in."
Asbury is experiencing plenty of other academic growth, including an expansion of the Plus One program, which offers pre-college credits that essentially enable some students to enter the university as sophomores. The program can also offer the potential to earn early-graduate credits. Not only is it a leg up on graduation, but it can also save money.
"We feel it's a way for these students and their families to get a lot more bang for their buck," Laub said.
In addition, a new track and field facility is nearly complete, she said, and the student center recently reopened after a historical restoration.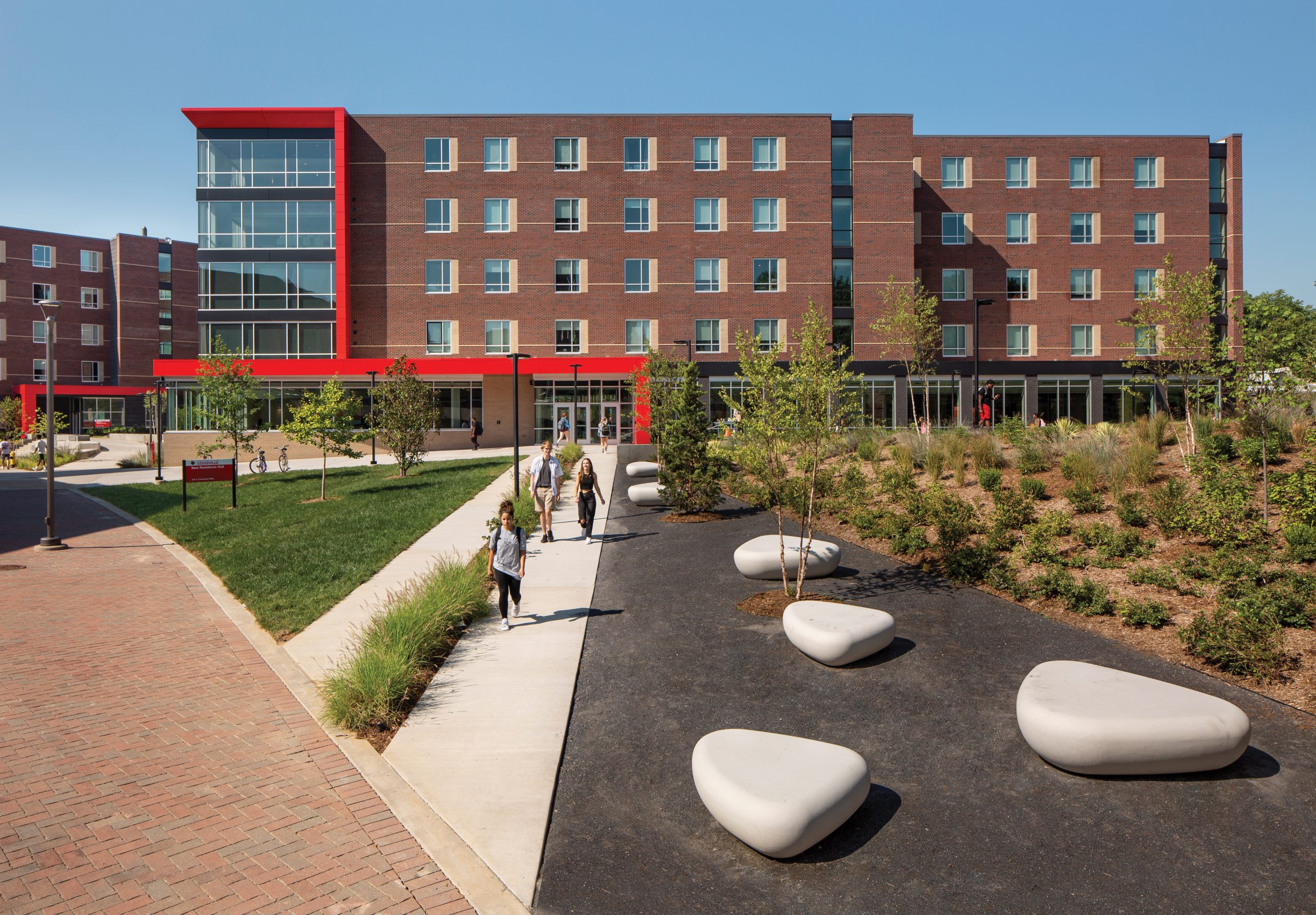 One of the more impressive developments at Thomas More University is a complete redesign of its core curriculum, which is called The Second Century Core. It is a move away from a more traditional core, which included 52-58 core credit hours. The new core is more like 36-42 credit hours, offering students a chance to align their studies with their goals and interests with the hope of better preparing them for their life's work.
"They're going to spend four years with us," Thomas More President Joe Chillo said, "but they're going to spend the next 30, 40 or 50 years in their careers. We wanted to make sure this core provides the life-long learning commitment."
He said there have been efforts for the past 10 years to move in a new direction with the curriculum.
"Lots of institutions are rushing to job creation and what the job is going to be when they graduate, but Thomas More is looking at, 'How do we set that student up with a career?'"
Chillo reports Thomas More's enrollment is on the rise and there's plenty more going on at the private liberal arts university. For starters, it surpassed its capital campaign's $30 million mark three years early, securing a total of $33 million so far. In addition, its sports programs provisionally made the jump from NCAA Division III to Division II, and the athletic program has been accepted into the Great Midwest Athletic Conference. As part of the capital campaign and this promotion, plans are underway to break ground on a new softball complex, which will include a locker room and clubhouse, new field, offices and more. In honor of one of the university's major donors, the college of business has been named the Robert W. Plaster College of Business. Chillo expects the capital campaign to change Thomas More in substantial ways going forward as the school refocuses.
"Our university is growing in terms of enrollment, certainly in its physical presence and the financial institution," Chillo said. "Thomas More is really moving in a bold and directional way."
In the Kentucky Community and Technical College System, there's a push for lifelong learning as opposed to simply earning a degree and moving on. Why? Because studies show the labor market is expanding and changing, according to Jessie Schook, vice president of workforce and economic development at KCTCS. In addition, a high percentage of students who drop out of college or skip college altogether do so for financial reasons. Essentially, basic human needs like food and housing have to come before education for many.
Through an initiative the college is spearheading called Education First Employers, the goal is to get Kentucky employers to work with employees to give them a chance to do both. The program is a collaboration between KCTCS, state government and the college's workforce partners. While the program is still in development, a number of employers such as Appalachian Regional Health, Fayette Heating & Air, and East & Westbrook Construction have already agreed to become involved.
And it isn't just about paying for employees' tuitions, Schook explained. It would mean mentoring programs, employers participating directly in the initiative, a commitment to diversity and inclusion and more. In other words, a committed partnership.
"We don't want this to be just transactional," Schook said. "We want it to be transformational. What we hope to do is collaborate with these companies to help make KCTSC the premiere place for people to get that valuable education while making a paycheck."
At Murray State, which operates five campuses across the state, the current focus is on the ramp-up of the university's Cyber Education and Research Center and its role in the Public Infrastructure Security Cyber Education System (PISCES) Project, which is designed to provide security monitoring to local government entities. Murray State is the only university in Kentucky to become involved in the national project.
"All governments in the country should have somebody monitoring their networks for cyber threats," said Michael Ramage, director of the university's cyber center. "But a lot of communities can't afford that. For those communities who cannot, our students actually serve as security analysts to help these local governments."
The program offers actual data and situations for students to learn through, and there is a nationwide need for cyber analysts, including more than 4,000 just in the state of Kentucky. It also helped position Murray State to be named a 2023-2024 College of Distinction in July by the Colleges of Distinction guide, which highlights universities deemed as outstanding.
Projects at other universities around Kentucky include:
• Kentucky State University rolled out a mobile disaster response vehicle designed to spread disaster awareness education as well as transport supplies to victims and volunteers during disaster situations.
• Morehead State University received College of Distinction recognition in multiple categories for 2022-23, including in business, education, nursing and others.
• Union College is adding new majors in actuarial science, public health, and supply chain management, and one new minor in public health beginning in the fall 2023 semester.
• At Northern Kentucky University, plans are underway for a $79 million expansion of the Hermann Science Center. The project will include construction of additional teaching and research labs in biology, chemistry, biochemistry, engineering technology and more to be housed in an 87,000-s.f. addition to the building. The expansion will be state funded.