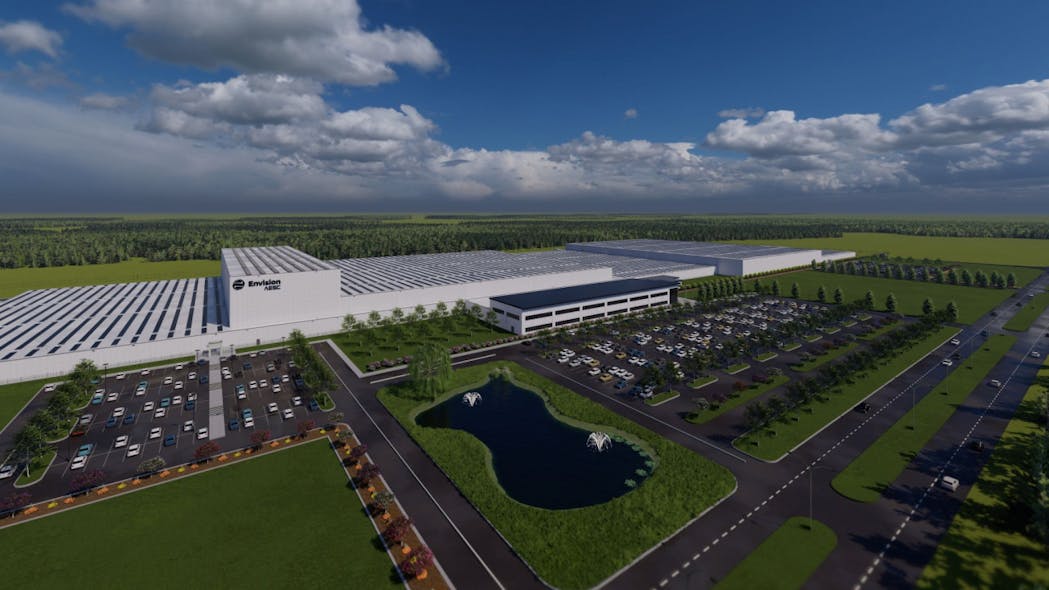 BOWLING GREEN, Ky. — AESC placed the last piece of structural steel on its $2billion, 1.6 million-s.f. EV battery facility in Bowling Green Wednesday. The "Topping Out" ceremony marks a significant milestone in AESC's progress toward completing its state-of-the-art 30 GWh gigafactory in the Kentucky Transpark in Warren County.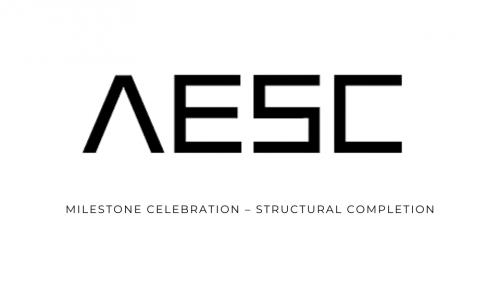 The factory is on track for an early 2025 opening. AESC is implementing high-tech capabilities to increase the cost-competitiveness and technological sophistication of EV batteries, which will make vehicles more accessible and affordable. The new generation battery cells provide 30% more energy density than the current generation, reducing charging time and increasing range and efficiency for EVs. The Bowling Green operation is expected to power up to 300,000 vehicles annually by 2027.
The gigafactory will be powered by 100% renewable energy, supplied by onsite generation and purchased locally from the Tennessee Valley Authority. The plant will create 2,000 new, skilled jobs for the region, producing battery cells and modules to power next-generation EVs produced for multiple global automotive manufacturers.
"Today we celebrated another step forward for AESC in Bowling Green – the second largest economic investment in Kentucky's history, set to create 2,000 full-time jobs. Our commonwealth is now a national leader in electric vehicle battery production, and AESC has been central to that success," Gov. Andy Beshear said. "I am grateful to this company's leadership for betting on Kentucky and for bringing this transformational project to Warren County."
AESC's Bowling Green operation is one of the largest economic development projects in Kentucky's history and further establishes AESC as a leader in the automotive industry of the future. The company will produce
"AESC is honored to celebrate with the Bowling Green community and the entire state of Kentucky as we complete the construction of our new state-of-the-art gigafactory," said AESC U.S. Managing Director Jeff Deaton. "We could not have reached this tremendous achievement without our partnerships with state and local leaders and the talented teams across the region. We are confident that this gigafactory will not only strengthen local economies by creating thousands of new competitive clean energy jobs but also advance Kentucky's position at the forefront of the fast-growing and global EV industry."
"It is a monumental day for AESC and for our region as AESC's gigafactory is the largest single investment our community has ever seen," said Warren Country Judge-Executive Doug Gorman. "Seeing the facility come to life is incredible. The economic impact of this project over the next decade is $20 billion to our local economy."
"We are thrilled that AESC chose Bowling Green as their home in Kentucky and are so excited to see the progress toward being online," said Bowling Green Mayor Todd Alcott. "This facility will create amazing opportunities for 2,000 of our residents and we can't wait to celebrate the opening with them."
"It is paramount to acknowledge the tremendous collaboration and dedication that has been at the forefront of this transformative project," said Ron Bunch, President, and CEO of the Bowling Green Area Chamber of Commerce. "Our heartfelt gratitude goes out to the governor for fostering a fertile ground for innovation and growth. We also extend our thanks to the President of the Senate, the Speaker of the House, leadership from both the Senate and House, our devoted local legislative delegation, and the broader economic development team, who have been a cornerstone in shaping this endeavor, and of course to AESC for choosing Bowling Green as the home for their groundbreaking gigafactory. This journey has been a testament to what we can accomplish when unity, dedication, and expertise converge. Thank you, to each one who played a part in this monumental journey.
Year to date, the Bowling Green Area Chamber of Commerce has announced six economic development projects in South Central Kentucky, totaling $61.1 million in capital investment and creating 311 new jobs in the region. Bowling Green has also been recognized as one of the Top 6 Tier 2 Metros in the United States for its tenth consecutive year by Site Selection Magazine. The Chamber is a three-time Mac Conway Award winner, recognizing the chamber as a Top 20 Economic Development Organization in the Country.
Headquartered in Japan, AESC is a global leader in the development and manufacturing of high-performance batteries for electric vehicles and energy storage systems. AESC batteries will soon power more than 1 million electric vehicles for the world's top automakers.