Winning brew-off ale also hits market
LEXINGTON, Ky. (Oct. 3, 2014) – It's bourbon, it's packaged in pink, and buying it will help those affected by breast cancer in Kentucky. A new limited edition pink label Town Branch Bourbon just hit the local market and will raise money to provide support to those diagnosed with breast cancer as well as their families. The special bottles will only be available in select locations throughout Kentucky for a limited time during Breast Cancer Awareness Month this October.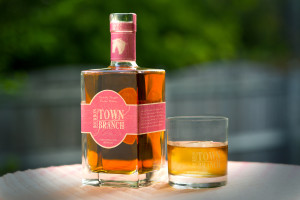 Five dollars from each bottle sold will be donated to the statewide non-profit Kentucky CancerLink from Alltech Lexington Brewing and Distilling Co. and distributor Kentucky Eagle. Kentucky CancerLink, formerly known as Kentucky Pink Connection, provides transportation, mastectomy and lymphedema supplies, wigs, childcare assistance, and more to clients in need, with the goal of reducing or eliminating barriers to screening, diagnosis and treatment of cancer.
"We wanted to do something to help, as breast cancer is so prevalent. Stop anyone on the street and they will know someone affected by this disease," said Hal Gervis, global sales director for Alltech Lexington Brewing and Distilling Co. "This is one small way in which we can raise awareness through the pink label and also provide support to those in our local community who need the help during a difficult time."
Joining the pink label Town BranchBourbon is a new, limited-edition brew from the company – a light-bodied, chocolatey ale that won the 8th Annual Kentucky Ale Brew-off. The beer has been dubbed Pikeville Porter as a nod to the upcoming sister brewery and distillery Alltech is building in downtown Pikeville and will soon be available statewide on tap only while supplies last. A collectible mason jar with the logo of the limited edition brew will be used during some pint night and "keep the glass" promotions at on-premise locations. Follow the Kentucky Ale Facebook page for more details.
The recipe was created by husband and wife duo Chad and Mary Shive of Lexington, who have been brewing beer together "just for fun" in their garage since 2008. This was the first time one of the Shives' concoctions has taken home a first place cup, though others have won in their respective categories at various homebrew competitions across the Bluegrass.
"Kentucky craft beer fans look forward to the limited edition Kentucky Ale Brew-off release every year," said Ken Lee, master brewer for Alltech Lexington Brewing and Distilling Co. who is also charged with scaling up the homebrewers' recipe at the brewery. "It's something novel, something kind of fun, and the best part is that it helps support the local homebrewing community."
Recent winning entries of the Kentucky Ale Brew-Off include last year's Black Mountain India Pale Ale, Hopfield and McCoy Imperial India Pale Ale, Kentucky Appalachian Ale, and Kentucky Coal Porter. The 9th annual Kentucky Ale Brew-Off will take place in May 2015.