Awards held Friday in Louisville
LOUISVILLE, Ky. (October 3, 2014) — The Kentucky Association of Manufacturers (KAM) announced the winners of its 14th annual Manufacturer & Employee of the Year Awards on Friday at the Seelbach Hilton in Louisville.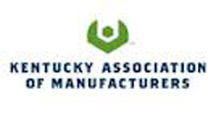 Kentucky BioProcessing, Inc. won in the Small Business Category; CLARK Material Handling Company, won in the Mid-Size Business Category; and Ford Motor Company won in the Large Business Category.
Winners were selected based on innovative and entrepreneurial leadership with regard to products, production method, or services; recognized leadership in making a key contribution to the quality of life in the Commonwealth and the community; and active involvement in organizations that advance industry and manufacturing.
Larry Dean, White Drive Products, was selected as the 2014 Employee of the Year. Nominees were judged on Innovation, Teamwork, Community Service and Leadership.
"These awards pay tribute to those from our manufacturing community who provide leadership, demonstrate high standards, and promote manufacturing here in the commonwealth, and these winners personify the best of the best," said KAM President & CEO Greg Higdon. "We had a record number of nominees this year, making our selection committee's job even more difficult than usual."