Christina Martin given Clinical Award
MIDWAY, Ky. (Jan. 2, 2015) — In a pinning ceremony held at Midway College, Lindsay Dick, of Louisville earned the school's Majmundar Award as the top student in her graduating class. Dick completed her Associate of Science in Nursing (ADN) with a 4.00 grade-point average.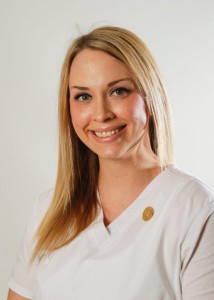 The award, which comes with a $250 prize, is made possible by Drs. Gopal and Mina Majmundar, and recognizes the top graduates of Midway's nursing program at the school's pinning ceremonies.
"Lindsay was an exceptional student during her educational journey at Midway College," said Dr. Barbara Kitchen, Dean of the School of Health Sciences. "She excelled in the classroom and clinical settings. From the first clinical experience to the last, her passion for nursing was evident."
Christina Martin of Georgetown, was the recipient of her class' Clinical Award. Presented each year, the award is given to a student who maintains a grade-point average above 3.0 and is able to effectively translate classroom theory to safe and competent clinical practice at the bedside.
"Christina's performance in clinical practice is excellent and demonstrates critical thinking, intuition and utilizes nursing knowledge," Kitchen said. "She also exhibits a high level of integrity, provides relationship-centered care, utilizes clinical judgment and integrates best evidence into practice."