First woman to hold position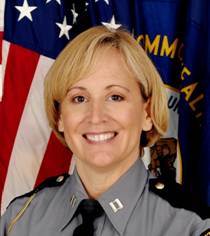 FRANKFORT, Ky. (Jan. 12, 2015) — Lisa M. Rudzinski, a former Kentucky State Police officer, was named the director of the Ranger Division for the Kentucky State Parks today by Commissioner Elaine Walker. Rudzinski is the first woman to head the state park rangers and is among the first women to lead a statewide law enforcement division.
Rudzinski replaces Joe West, who was named director of law enforcement for the Kentucky Department of Fish and Wildlife Resources.
Rudzinski spent more than 21 years with the state police before retiring in July of 2014. She began as a trooper and eventually served as post commander at London, Bowling Green and Richmond between 2008 and 2013. She also served as the deputy director for the state police administrative division, which includes human resources, strategic planning and media relations.
Rudzinski, a Bowling Green native who lives in Lexington, has a degree in communications and leadership development from the University of Kentucky.