Essays and other personal work considered for Transylvania applications
LEXINGTON, Ky. — Beginning with the fall 2016 admissions cycle, students will no longer be required to submit ACT or SAT scores when applying to Transylvania University. Transylvania becomes the first Kentucky school from the U.S. News and World Report's top 100 liberal arts colleges to adopt the new system, which is becoming increasingly popular among leading institutions.
Students will still have the option to submit their scores for consideration in the admission and scholarship processes but can choose not to if they feel the scores do not accurately reflect their academic abilities.
"The ACT and SAT are among a set of many tools that can be used in evaluating a student for admission and scholarships," said Brad Goan, vice president for enrollment and dean of admissions. "But there is strong evidence that standardized tests are not the best predictors of retention and graduation for some students. We will offer students a choice."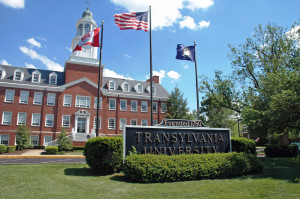 Transylvania will continue to use a holistic approach to evaluate the applications of those who choose not to submit test scores. This will include an analysis of the rigor of curriculum, the high school transcript, writing ability, recommendations and co-curricular involvement. Students will also be encouraged to interview with an admissions counselor.
"Transylvania is a diverse community of many different types of learners and an accomplished faculty of master teachers. Reducing a student's ability to a number does not do justice to what it means to be a student at Transylvania," President Seamus Carey said. "This new policy will give students with outstanding abilities that are not reflected in standardized test scores the confidence that they can succeed at Transylvania."
Transylvania, founded in 1780, is the nation's 16th oldest institution of higher learning and is consistently ranked in national publications as one of the top liberal arts colleges in the country.