Employees worked more than 1 million hours without a lost-time incident
GHENT, Ky. (Jan. 16, 2015) — Secretary Larry L. Roberts of the Kentucky Labor Cabinet on Thursday presented employees and officials of Nucor Steel Gallatin with the Governor's Safety and Health Award. The honor recognizes the facility's 465 employees for working 1,067,652 hours without a lost-time accident or illness.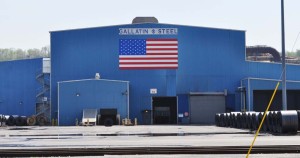 Nucor and its affiliates are manufacturers of steel products, with approximately 200 operating facilities worldwide, primarily in the U.S. and Canada.
The Kentucky Labor Cabinet presents the Governor's Safety and Health Award in recognition of outstanding safety and health performance. An establishment may qualify for the award if its employees together achieve a required number of hours worked without experiencing a lost-time injury or illness. The required number of hours is dependent upon the number of employees. In the case of Nucor Steel Gallatin, the requirement is 1 million.
The Governor's Safety and Health Award program is part of Gov. Steve Beshear's efforts to improve the health of all Kentuckians. The Governor launched kyhealthnow in February as an aggressive and wide-ranging initiative to reduce incidents and deaths from Kentucky's dismal health rankings and habits. It builds on Kentucky's successful implementation of health care reform and uses multiple strategies over the next several years to improve the state's collective health.
Every establishment within the geographical boundaries of Kentucky is eligible, even if the establishment won the award the previous year. Eligibility is limited to one award during a 12-month period of time.