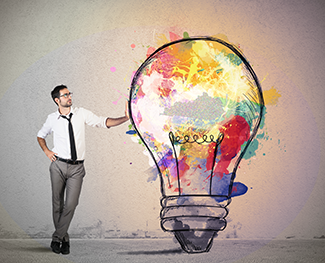 The Kentucky Arts Council has released the Kentucky Creative Industry Report, commissioned by the state arts agency in December 2014. The report creates a baseline assessment of the number of people employed by Kentucky's creative enterprises, the industry's economic impact and an examination of its convergence with other important economic sectors.
According to the report, the creative industry – which includes all individuals and companies whose products and services originate in artistic, cultural, creative, authentic and/or aesthetic content – accounts for 2.5 percent of overall Kentucky employment or 108,498 jobs. The industry as a whole generates $1.9 billion in earnings in Kentucky. The average wage of a creative worker in Kentucky is $34,299, although salary and wages fluctuate greatly.
"The creative industry as a whole is often misunderstood; creative jobs are often viewed from the outside as hobbies," said Lori Meadows, arts council executive director. "We are very hopeful the results of this report can be used to facilitate meaningful conversations about the future of the creative industry and its contributions to the state's overall economic well-being."
Creative employment, for the purposes of the study, includes individuals and groups working in fields traditionally defined as the arts: visual arts, craft, music, dance, theater and literature. It also includes enterprises in creative fields that may be regarded as applied and technical or even more commercial, such as broadcasting, publishing, recording, film and video production, advertising, product design, graphic arts, architecture and interior design.
To further capture the full effect of these creative enterprises, the study focuses on major industries in the value chains, the enterprises necessary for producing goods and services, as well as distribution channels for getting creative services and products to consumers.
"The Kentucky Arts Council took a conservative approach to collecting data about its creative industry, which will serve the state well as it continues to develop the segments and enterprises that make up the industry," said Beth Siegel, president and CEO of Mt. Auburn Associates, the firm that authored the report. "The data is firm. The Kentucky creative industry could be a significant growth sector of Kentucky's economy if it is given time and attention by the appropriate support systems at the local and state levels."
The arts council will take the lead in implementing the findings of the 120-page report during the next two years. The agency has created a new staff position, a creative industry director, to facilitate those efforts.
The study was completed by Mt. Auburn Associates, an economic development analysis and strategy firm in Somerville, Mass., that has worked at the forefront of the creative economic development field for the past 10 years. Data was derived from Economic Modeling Specialists International (EMSI) labor market information. The 120-page report is available online at http://bit.ly/KACCreativeIndustry.
— Lori Meadows is executive director of the Kentucky Arts Council.