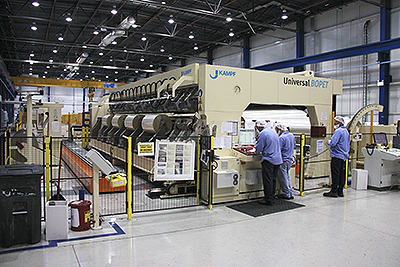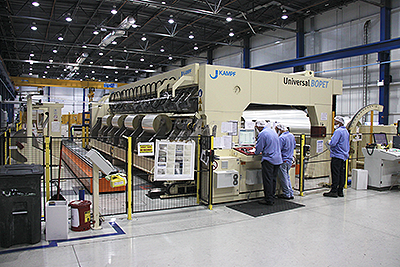 Though Ohio was a better financial option, Kentucky wooed and won one of the biggest U.S. investments in India's history in 2011 the old-fashioned way: by being attentive, responsive and respectful.
"I would write an email at 3 a.m. Kentucky time and get a reply at 3:05," said Anantshree Chaturvedi, now director of Flex Films USA. "We felt really wanted in Kentucky."
UFlex Industries of New Delhi, India, had decided in January 2011 it needed a U.S. site to product its plastic film packaging for the manufacturers of foodstuffs and other products. It would be the first greenfield manufacturing project in the United States by an Indian company.
Locations in a dozen states were considered, said Chaturvedi, who had been involved in setting up company operations in Mexico, Egypt and Poland. The U.S. list was soon pared to sites in Ohio and in Elizabethtown, Ky., and each had logistical pluses because they were near manufacturers who buy packaging materials and a majority of the U.S. population.
Ohio probably was the best choice on a purely financial basis, according to Chaturvedi, but Kentucky won what turned out to be a $250 million deal by making the Indian company's officials feel more appreciated.
In April 2011, UFlex inquired with both Kentucky and Ohio about a top state official coming to India to close a deal.
"Ohio said, 'We'll let you know,' and Steve (Beshear) said, 'When do we leave?' " according to Chaturvedi, who said the governor was in India "in less than 24 hours."
It is 7,731 miles in a straight line from Frankfort to New Delhi, according to online distance calculators, and Google Maps reports a commercial flight travel time of nearly 20 hours. It perhaps took more than 24 hours, but news releases and media reports do reflect that Gov. Beshear and Economic Development Secretary Larry Hayes departed for India on Saturday, April 9 and participated in gala banquet on Tuesday, April 12 hosted by UFlex, which announced a deal to build its U.S. manufacturing plant in Kentucky.
The project broke ground six months later on the southwest side of Elizabethtown, and Flex Films USA operations began in January 2013. It was a win that keeps getting bigger.
Other Indian firms contacting Flex Films
Initially announced plans were to built two polyurethane packaging materials production lines in two phases for about $90 million each, but the Indian company decided to increase its investment.
UFlex eventually spent $130 million to launch its phase one first line. It expects its investment in Kentucky to be $250 million when phase two is completed, a step company officials said recently they expect to initiate this year.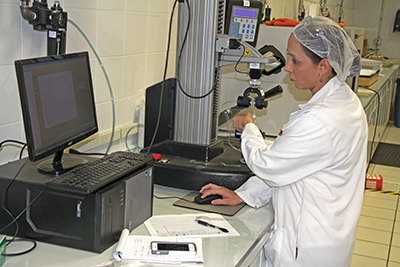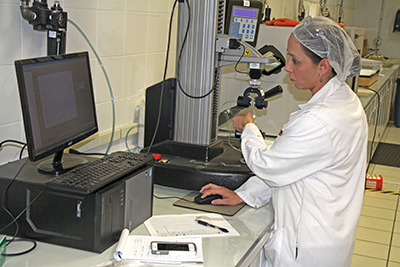 Line one production is at the threshold the company's board has stated will trigger phase two: operations at or above 85 percent of capacity for three consecutive months. Dramatic price changes in crude oil, a byproduct of which is the raw material that becomes plastic, are causing ongoing recalculation of financial forecasts the company must make, but this poses no threat to its strategic plans for a second production line.
In fact, Chaturvedi and other Flex Films USA executives said in December that their U.S. operations have gone so well that current expectations are that Elizabethtown will have at least three production lines. There is enough space at the site, which has a rail spur and is near I-65 as well as the Western Kentucky and the Bluegrass parkways, for at least a half dozen lines, they said.
During a visit and tour of the plant in mid-December, Chaturvedi, Plant Manager Bernard Alexander and Human Resource Manager John Dennis were quite enthused about how operations and business have progressed. Kentucky's significant and growing food and beverage sector is a big plus, said Dennis. Auto manufacturing and most other business sectors experience up and down cycles, but demand for food is constant. The experience has been so positive that other Indian companies interested in coming into the U.S. market are regularly contacting Flex Films about it. The packaging manufacturer is filling the role of pioneer of sorts for the Indian business community.
"They knew they could trust us"
The Indian economy with its 1.3 billion consumers has been growing strongly for the past decade or more. India's Finance Ministry reports GDP growth was 5.5 in 2014, and forecasts it to be 5.6 percent for 2015. It topped 10 percent in 2010, and various forecasts predict annual growth above 6 percent for what is now the world's 10th largest economy.
In part, the Flex Films project grew from a state government strategy to target foreign direct investment. "They were looking for a true partner," said Joe Hall, a spokesperson for the Kentucky Cabinet for Economic Development. UFlex wanted help in sorting out U.S. business codes and environmental regulations.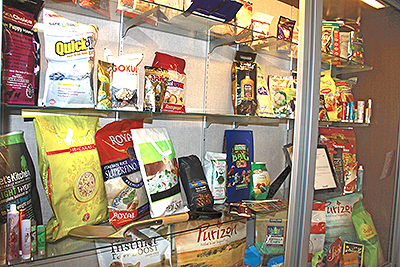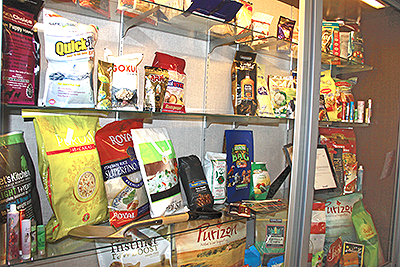 "We could help them evaluate various factors … and basically help them address those concerns in a country that they were just learning about," Hall said. "They knew they could trust us and we knew we could trust them. Because we were able to navigate those waters, that bond ultimately was vital to them in locating in the commonwealth."
State officials have no inside information about Flex Films USA's plans beyond its initial announcement in 2011, he said, but hope to have opportunities to help it expand and bring other Indian business to the commonwealth.
While it is not specially targeting that country as a business partner, Kentucky now has 10 companies with Indian ownership. "They (UFlex) are telling their success story to companies both here and back in India," Hall said. "And that can have a very significant snowball effect."
Packaging is advanced manufacturing
Flex Films USA currently has 135 employees – 45 in management, sales, human resources and other administrative and support functions, and 90 directly involved in producing the many forms of plastic film that are the ubiquitous packaging today for everything from potato chips to bulk pet food as well as non-food uses from window tinting to the holographic inserts on credit cards.
The dust-free and nearly waste-free manufacturing facilities are designed to avoid any contamination of finished materials that can be as thin as 6.5 microns. The initial product is a thick, clear polyethylene terephthalate film just more than a meter wide. And it's hot. The 550-degree PET film passes first over a large chiller cylinder and then through a system of 30 metal rollers that stretch, thin and stabilize it into an 8.7-meter-wide sheet that can be slit into as many as 14 separate streams for further processing.
The vast majority of Flex Films product is PET, a petroleum byproduct, but for specialty jobs it can make film that is corn or sugar cane-based, said Alexander.
According to customer needs, the film can be clear, translucent, opaque or colored; smooth or matte; and have coefficients of friction to glide or grab in precise degrees. One or both sides can receive a metallic coating by passing films through a gasified mist, or be given chemical treatments or textured. Depending on its processing, the final packaging product can safely hold liquid, have the tactile feel of paper, and often be printed upon with a range of effects.
The German machines Flex Films had made new for the plant can store a variety of product "recipes," Alexander said. But worker skills and expertise are an important part of the process, too, he stresses.
Before Flex Films USA opened its plant, it sent 46 workers to Dubai for two months of training at UFlex's main Middle East operation center. In addition to India, the company has two plants in Egypt, one in Mexico and one in Poland. Chaturvedi describes the U.S. site in Kentucky as representing a culmination of the company's knowledge.
The team that went to Dubai came back and put the Elizabethtown site into operation. Twenty of those 46 are still there, and 24 went on to the UFlex site in Mexico; the other two were hired away for the skills they'd gained.
Keeping up with dynamic change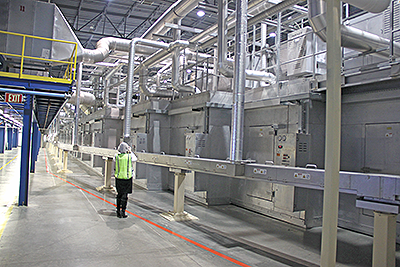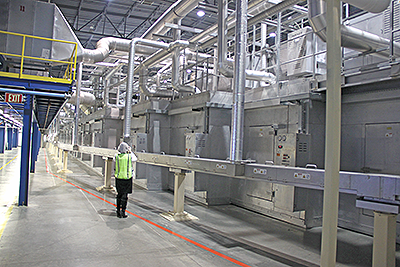 Flex Films USA likes the quality of the workforce it has built, said Alexander, who learned the plastics business beginning in 1995 with Tennaco Package. The knowledge employees have rapidly developed adds value to the company, he said. Films must be intricately webbed through the plant's complex roller systems and processing machinery, which themselves requires skilled operators, to create specialty packaging outcomes.
"The food industry changes constantly," Alexander said. "Packaging technology is dynamic. It's always changing."
Packaging requirements can evolve slowly, such as the consumer shift to foods that can be microwaved, he said. Significant change can occur unexpectedly also, such as supermarkets' sudden preference for tuna packaged in pouches as soon as someone had the idea to punch a hole at the top so they could go onto rods and alleviate the need to occupy store shelf space.
Coming soon, said Chaturvedi, will be innovations such as packaging that changes colors when its expiration date arrives. The dawning of the Internet of Things with a nearly universal connectivity of products will mean packaging imprinted with computer circuitry, and the industry is busily preparing to produce it. Chaturvedi also foresees other Indian companies deciding to set up U.S. operations in Kentucky.
"Those flood gates are certainly coming," in his view.
Indian business executives are very much aware of the governor's two visits to their nation. Indian media news coverage treated them as important events.
"People know Kentucky is a very progressive state for advanced manufacturing. There is tremendous awareness," Chaturvedi said. "We definitely get a lot of inquiries" from other Indian companies. "Nobody has made an investment like us in the U.S. in the past 20 years."
The Asian subcontinent's business world, however, will truly take notice if Flex Films USA fulfills its expectations to moving past phase two.
"When we go past the preannounce," Chaturvedi said. "Once we have our third line – that's when people will start to take notice." ■
— Mark Green is editorial director of The Lane Report. He can be reached at [email protected].