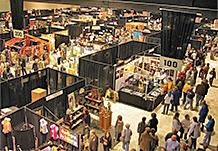 Buyers and representatives of retail businesses interested in offering fine art, craft, literature and other Kentucky-made products to their customers can register now to attend Kentucky Crafted: The Market 2015 at the Lexington Convention Center.
Produced for more than 30 years by the Kentucky Arts Council, The Market is open exclusively to the trade from 9 a.m. to 7 p.m. on Friday, March 6. The wholesale trade day at The Market gives Kentucky and out-of-state businesses the opportunity to select merchandise from a high concentration of Kentucky-made products in one location.
Buyers who attend The Market can place wholesale orders directly with any of more than 200 producers of art, craft, regional food products, books and music who will exhibit at the show.
Market preregistration for buyers is open until midnight, Feb. 27, by visiting Kentucky Crafted: The Market online. Buyer registration is free, but buyers are required to provide credentials at the door.
Any business that resells products at retail may register for the exclusive wholesale day. For more information on Kentucky Crafted: The Market, visit http://artscouncil.ky.gov/KentuckyArt/Event_Market.htm.
Kentucky artists who exhibit at The Market are all juried participants in the arts council's Kentucky Crafted program. In addition, select artists from surrounding states are invited to exhibit at the show. The Market, a nationally recognized show, serves as the No. 1 destination for wholesale buyers who are interested in purchasing Kentucky art and craft for resale.
— Lori Meadows, Executive Director, Kentucky Arts Council