Deadline moved back because of wintry weather
FRANKFORT, Ky. (Jan. 28, 2015) — The Kentucky Department of Agriculture has extended the deadline for its 2015 Poster and Essay Contest to Jan. 31 to accommodate students in schools whose schedules have been disrupted by winter weather, Agriculture Commissioner James Comer announced.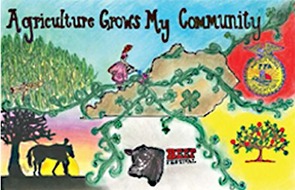 The contest theme is "Kentucky Agriculture: Growing the Next Generation of Farmers." Students are asked to submit either a poster, an essay, or a digital image based on the contest theme. Statewide poster and essay winners from each grade, K-12, will be chosen, and an overall digital winner will be selected. Cash prizes will be presented to the winners in March at the Kentucky Agriculture Day Celebration, and their work will be displayed at the Kentucky State Fair in August.
Entries must be postmarked no later than Jan. 31. A completed entry form must be taped or glued to the back of each entry. The name of the teacher and school must accompany each entry. Winners will be notified on Feb. 20.
For more information go to www.kyagr.com/agcontest or contact Agriculture Education Coordinator Jordan L. Spalding at (502) 782-4125 or [email protected].
Related news:
KDA poster and essay contest open to Kentucky K-12 students