In honor of Korean War casualty
FRANKFORT, Ky. (March 13, 2015) – Gov. Steve Beshear has directed that flags at all state office buildings be lowered to half-staff Saturday in honor of a Kentucky soldier who was captured and died during the Korean War and whose remains were recently identified.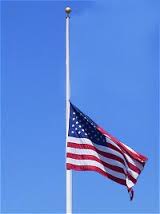 The funeral and interment of Army Pfc. Anthony Massey Jr. will be held at 2 p.m., Saturday at Oak Rest Cemetery in Mayfield.
According to the Defense Prisoner of War/Missing Personnel Office (DPMO), Pfc. Massey, 22, of Mayfield, was assigned to Company C, 1/24 Regiment, 25th Infantry Division. While deployed near Anju, North Korea, Pfc. Massey was reported missing on or about Nov. 28, 1950. According to DPMO, Massey was reported as having been captured by enemy forces and died in captivity in March 1951, at prisoner-of-war Camp 5, in Pyoktong, North Korea.
In September 1954, Chinese forces repatriated a box of human remains they claimed to have recovered from POW Camp 5 at Pyoktong, and that they associated to Pfc. Massey. In 1956, a military review board declared Pfc. Massey's remains as unidentifiable. His remains were buried as "Unknown Remains X-14493" in the National Memorial Cemetery of the Pacific in Hawaii, known as the "Punchbowl."
In 2014, due to advances in forensic technology, scientists from the Joint POW/MIA Accounting Command (JPAC) determined that the possibility of identifying the remains was likely at that time. The Unknown Remains X-14493 was disinterred for re-analysis and possible identification.
Scientists from JPAC used circumstantial evidence and forensic identification tools, such as a comparison of antemortem and postmortem chest radiographs. The process led to the association of the X-14493 remains to Pfc. Massey to the exclusion of other reasonable candidates.