Lexington Craft Beer Week to kick off with 9th Kentucky Ale Brew-Off and brewery sidewalk dash; wrap up with major craft beerfest
LEXINGTON, Ky. (April 6, 2015) — No other week during the year tastes as good as Lexington Craft Beer Week, May 9-17, now bigger and better in its third year. Alltech Lexington Brewing & Distilling Co. has a slew of events planned for the special week, including the  9th Annual Kentucky Ale Pro-Am Brew-Off homebrewing competition that will take place on Saturday, May 9, and will also include a lighthearted half-mile sidewalk dash between two breweries on a hobby horse, topped off with the Alltech Craft Brews and Food Fest on Saturday, May 16 at Heritage Hall in downtown Lexington.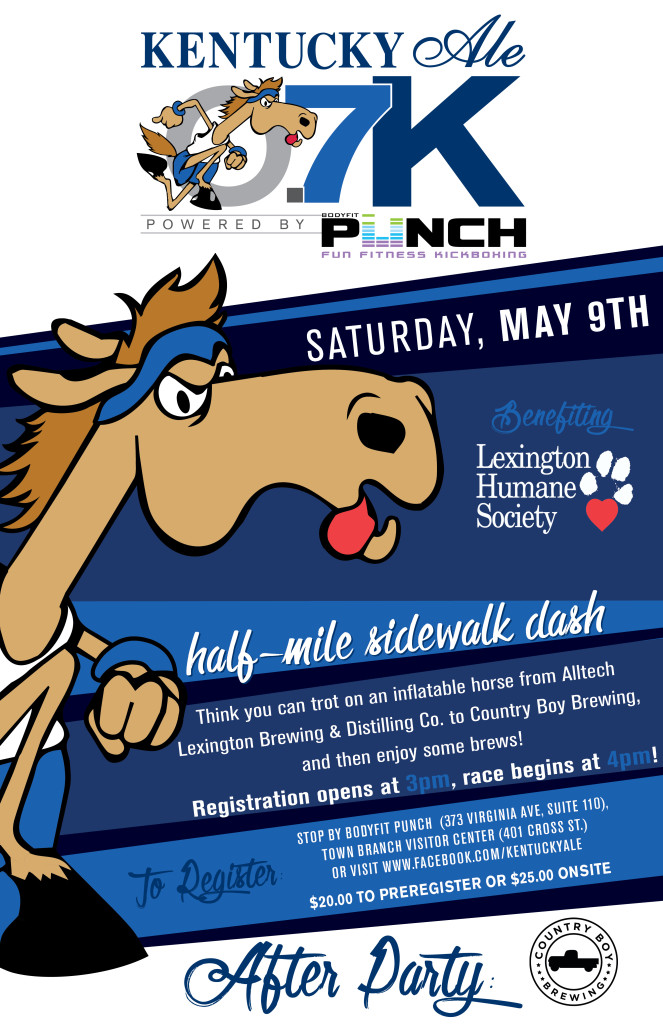 The brewery also will feature limited edition collaboration brews with one of the nation's oldest and most beloved craft breweries – Delaware-based Dogfish Head Brewing. The collaboration involves aging Dogfish Head's Palo Santo Marron in three different Alltech Lexington Brewing & Distilling Co. barrels – a barrel used to age Kentucky Bourbon Barrel Ale®, a barrel used to age Town Branch® Bourbon, as well as a freshly charred oak barrel. The specialty collaboration beers will be featured at Pazzo's pint night on Wednesday, May 6 for Lexington Craft Beer Week, as well as at the Alltech Craft Brews & Food Fest May 16. Details on each event is below.
Kentucky Ale Pro-Am Brew-Off – Saturday, May 9, 9 a.m. to 4 p.m.
It's the competition that has helped kick-start the brewing careers of lucky homebrewers and brings rock star treatment to the winner and a trip to the king of all beerfests, the Great American Beerfest. The day will kick off at 9 a.m. and brewers will gather at Alltech Lexington Brewing & Distilling Co. in downtown Lexington to brew their best.
The event is free and open to the public and will feature food and beer for purchase, including the company's new summer seasonal, the Kentucky Old Fashioned Barrel Ale.  The beer chosen as the top brew by a panel of judges at a later date is then scaled up by Alltech Lexington Brewing & Distilling Co. and distributed on tap in the local market. Home brewers interested in registering can do so here.
Kentucky Ale 0.7K powered by Bodyfit Punch – Saturday, May 9, 4 p.m. to 5 p.m.
It's a race that scores major points for its short distance, availability of craft beer, inflatable hobby horses and even real puppies, with the race benefiting the Lexington Humane Society. Runners will gallop on a hobby horse from Alltech Lexington Brewing & Distilling Co. on Cross Street to Country Boy Brewing Co. on Chair Avenue. The race kicks off at 4 p.m. on Saturday, May 9 as the Kentucky Ale Brew-Off is wrapping up.
With a $20 preregistration fee, participants will receive a t-shirt, an inflatable horse, a stein mug, and a beer before and after the race at each brewery. Space for the run is limited, so preregistration is recommended at Eventbrite.com, though race day registration is also available.
The Alltech Craft Brews & Food Fest – Saturday, May 16, 12 p.m. to 8 p.m.
The second annual gathering of brewers, distillers and foodies will be one of the largest beerfests in the region and will wrap up Lexington Craft Beer Week. The event will take place at Heritage Hall at the Lexington Center in downtown Lexington from 12 p.m. to 8 p.m. on May 16 and will feature a slew of rare and specialty brews. New this year, the beerfest will also include several distillers from the Kentucky Bourbon Trail Craft Tour® with spirits samples, local food for sampling and meals for sale, as well as live entertainment.
A few local and national highlights include Sweetwater Brewing Company's 18th Anniversary Cork and Cage: A Belgian Tripel; Stone Brewing Company's Bang Bang, a red ale aged in bourbon barrels; and Country Boy Brewing's Warehouse Experiment 3: A barrel-aged experiment for Lexington Craft Beer Week only. The names of local and national craft breweries continue to pour in, and are all listed at us.alltechbrewsandfood.com.
To stay up to date on the latest Alltech Brews & Food Fest updates, follow @Alltechbrews on Twitter or follow the Alltech Brews Facebook page at facebook.com/alltechbrewsandfood.