Only 27% of girls, 19% of boys ages 13-17 vaccinated
FRANKFORT, Ky. (July 13, 2015) — Lt. Gov. Crit Luallen joined public health officials and advocates today in Frankfort to unveil Kentucky's new "Stop HPV" campaign. The public awareness campaign, which launches statewide July 20, aims to encourage parents to get their children vaccinated against the cancer-causing human papillomavirus (HPV).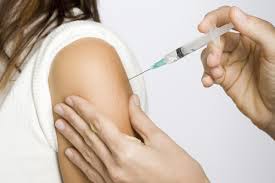 The campaign will feature television, radio and print advertisements promoting the benefits of the vaccine, which is recommended for 11- and 12-year-old boys and girls to prevent HPV infection. The campaign is funded through a $500,000 grant from the Centers for Disease Control and Prevention.
HPV is an extremely common virus and serious health risk. Certain strains of the virus cause cervical and other cancers and diseases. Cervical cancer kills more women in Kentucky than many other parts of the country.
The HPV vaccine is identified in the kyhealthnow strategies for reducing cancer deaths with a target of increasing vaccination rates by 25 percent. Currently, only 27 percent of Kentucky's adolescent females 13 to 17 years old have received the recommended three doses of the HPV vaccine and 19 percent of boys have received one dose of vaccine.
Making the vaccine mandatory for school entry is listed as one of the kyhealthnow strategies for reducing cancer deaths.
According to the Centers for Disease Control and Prevention, about 79 million Americans are currently infected with HPV and about 14 million people become newly infected each year. HPV is so common that most men and women will get at least one type of HPV at some point in their lives.
Young women can get the HPV vaccine through age 26 and young men can get vaccinated through age 21. Certain other high-risk populations may be recommended to get the vaccine through age 26, if they did not get HPV vaccine when they were younger.
The HPV vaccine includes three injections in the arm given over the course of a year.