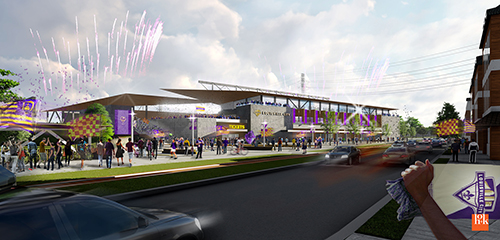 FRANKFORT, Ky. (Jan. 25, 2018) – The Kentucky Economic Development Finance Authority at its monthly meeting Thursday approved tax incentives for the planned Butchertown soccer stadium in Louisville, Ky. The expected cost of the project is $193.1 million.
The Louisville City Football Club is planning to build a new soccer-specific stadium. The development is expected to create a stadium district on approximately 37 acres of underutilized property in the Butchertown District, just off I-64 and across from Waterfront Park.
The project will be centered around the new 10,000-seat stadium and will also include hotels, office space and supportive retail, entertainment and dining options. Construction is expected to begin summer of 2018, with stadium construction complete by March 2020.
The applicant estimates that over a 20-year period, the project could generate a total impact occurring within the anticipated development of $3.8 billion and $122.9 million of state tax revenues and $33 million of local tax revenues.