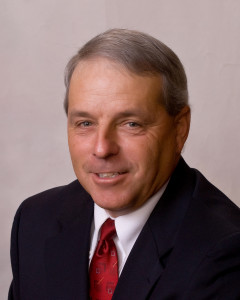 GEORGETOWN (Feb. 2, 2018) — James Alvin Lyons of Scott County has been elected to serve on the Board of Directors of AgFirst Farm Credit Bank, a major part of the nationwide Farm Credit System, and an affiliate with Central Kentucky Ag Credit. Lyons will serve a four year term.
Lyons is no stranger to the Farm Credit System and currently serves on the Central Kentucky Ag Credit Board of Directors as chairman. His service on the board spans 16 years. He was previously the vice chairman of the board, a position he held from 2006-11.
Lyons is a well known farmer and businessman in Scott County. He owns 320 acres and leases another 600 acres. He produces alfalfa, corn, soybeans, wheat, tobacco and has a commercial cow-calf operation, along with backgrounding feeder cattle in Scott County.
Lyons is also a well known leader in the area and a magistrate in Scott County, serving District 2 since 2010. He serves as a board member of the Scott County Farm Bureau, and is a member of the Scott County Beef Improvement Board. He is also a member of the Scott County Rural Land Management Board.
The AgFirst Farm Credit Board of Directors consists of 17 members. AgFirst Farm Credit Bank, located in Columbia, South Carolina, provides funding access and services to Central Kentucky Ag Credit and 18 other farmer-owned financial cooperatives in the South and Eastern Seaboard states. Both institutions are part of the nationwide Farm Credit System. Altogether, AgFirst provides services in 15 states and Puerto Rico.
–