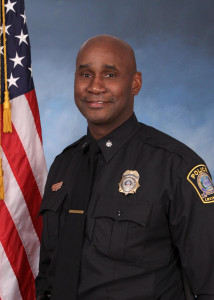 LEXINGTON, Ky. (Feb. 5, 2018) – Mayor Jim Gray announced today Lawrence Weathers, a former assistant chief of the Lexington Police Department, will be Lexington's next police chief.
Weathers, 54, is currently director of Law Enforcement for Fayette County Public Schools. He retired from the Lexington Police Department in 2016, after 27 years of service to the City.
During his career, Weathers held a variety of assignments within the Police Department, working his way up the ladder, giving him a broad range of experience.
"This is an important day for our city," Gray said. "Public safety is a top priority for our citizens and for me. Lawrence Weathers is a strong believer in community-oriented policing and in developing partnerships throughout the community. I believe those are important keys to improving public safety."
A Lexington native, Weathers was raised on the east end and north end. He's from a large family – he has nine brothers and sisters, many of whom work in the criminal justice community.
"I want to give back by sharing my knowledge and experiences. I want to show a person can succeed," Weathers said.
Weathers isn't one of those people who always wanted to be a police officer. "Honestly, there was an ad in the paper and they offered health benefits," said Weathers, who joined the Lexington Police Department in 1989. "There were 1,300 people taking the test for 12 spots. I got one of them."
Weathers will officially start as Chief on March 5. He holds a master's degree in criminal justice from Eastern Kentucky University. He and his wife, Melinda, live in Lexington and have three children, Jordan, Benjamin and Emery.
Weathers succeeds Interim Chief Ron Compton, who took over after Mark Barnard retired in January.
"Thanks to Ron Compton for a job well done," Gray said. "Our Police Department has many outstanding leaders."