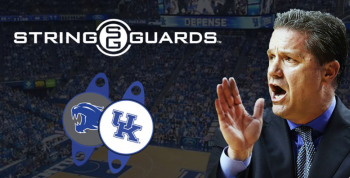 LEXINGTON, Ky. (March 13, 2018) — Fusioncorp, a Lexington-based technology company, in a joint effort with Jet 21 and Tom Bower of the Virtus Brand, has partnered with Coach John Calipari and The Calipari Foundation.
Jet 21 is launching StringGuards, a line of products for retail use, with a twist of donating portions of every sale to different brand ambassador's charities. StringGuards is an inexpensive brand accessory that can be worn on hoodies, sweatpants, back packs, shoes, and more. StringGuards made the decision to donate a portion of every University of Kentucky StringGuard licensed product sold to The Calipari Foundation.
"We could not be more excited to partner and launch these products with people that are the quality of Coach John Calipari and Coach Bob Huggins," Tom Bower said. "Their passion and commitment to making a difference in communities has been inspiring, and we are excited to grow and make an impact across the country and beyond."
Fusioncorp, founded in Lexington in 2005, started its partnership with Tom Bower and Jet 21 in 2016. It took a year of planning to fully rejuvenate the brand, packaging, product and perception. Through Bower's vision, he led the charge to ensure the product appealed to the masses and captured a younger demographic. That's when they started recruiting Brand Ambassadors.
"This new partnership is exciting and we consider ourselves very lucky to work with such a prestigious brand," said Michael Baer, president of Fusioncorp. "The StringGuards product is a cool accessory that we hope will take off and allow us to expand to all sport franchise brands and other organizations. The best part of this venture is that we are giving back by donating a portion of every StringGuard or ShoeGuard sold to the charity of the Brand Ambassador's choice."
StringGuards and Fusioncorp are in the process of partnering with several other professional sports figures and celebrities to be Brand Ambassadors, ranging from Calipari and Huggins to icons in the music industry. Each Brand Ambassador chooses a charity of their choice and a portion of the proceeds from every product sold from that brand will be donated to that specific charity.
Calipari said, "We are excited to be a part of the SGFam! Big Blue Nation always has a way of coming together to support a good cause."
Huggins: "I try to teach my players that giving back to the community is a social responsibility and StringGuards has built a business model of giving back that we support."
For more information on the StringGuards product, visit the website at www.stringguards.com.