LOUISVILLE, Ky. (March 14, 2018) — More than 90 percent of Kentucky adults say childhood obesity is a problem in the commonwealth, with 56 percent characterizing it as a serious problem, according to the latest report from the Kentucky Health Issues Poll (KHIP). Only 6 percent say childhood obesity is not a problem.

KHIP is funded jointly by the Foundation for a Health Kentucky and Cincinnati-based Interact for Health.
Thirty-four percent of Kentucky children ages 10 to 17 are overweight or obese, according to the Data Resource Center for Child and Adolescent Health. The rate is down slightly from 2011/2012, when the rate was 35.7 percent; and from 2007, when it was 37.2 percent. The Centers for Disease Control and Prevention defines obesity as have a body mass index greater than the 95th percentile for children of the same sex and age. Nationwide, 31 percent of children 10-17 are overweight or obese; that rate has held fairly steady since 2007.
"We have to find more ways to help Kentucky's children learn healthy eating and exercise habits early on in life," said Ben Chandler, President and CEO of the Foundation for a Healthy Kentucky. "The older we get, the more difficult retraining our dietary and lifestyle habits and losing excess weight become. And even in the early stages of life, obesity has a damaging effect on physical, social and emotional health."
Opinions about childhood obesity vary by region; adults in the Louisville and Lexington area were more likely than those in other regions of the state to say childhood obesity is a serious problem.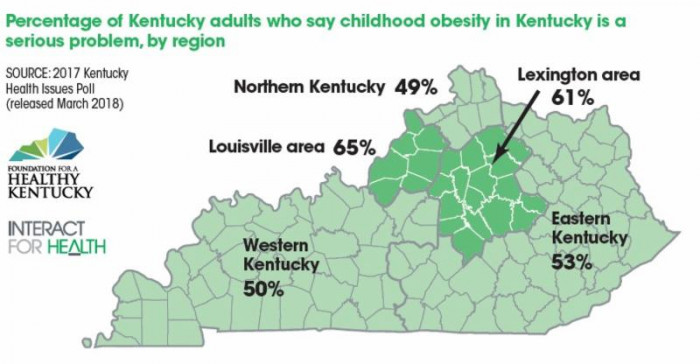 "It is critical that we provide our children and adolescents earlier in life with proper nutrition education to result in an overall healthier lifestyle that includes a nutritious diet. Research shows that children who are obese are more likely to become obese in adulthood, so it is imperative that we make those changes now to reduce the risk of developing Type II Diabetes, cardiovascular disease, as well as some types of cancer," said Amanda Goldman, registered dietitian and Foundation Community Advisory Council member. "Since our Kentucky youth is influenced by so many varied factors with respect to diet, we need to ensure that important nutrition education happens in schools, along with the provision of nourishing meals, for our community to continue to work towards reversing the obesity epidemic."
The Foundation is working with coalitions in six communities across Kentucky to reduce childhood obesity. The "Investing in Kentucky's Future" initiative provides funding, training and technical assistance to coalitions in McCracken, McLean, Clinton, Perry, Breathitt, and Grant Counties. For more information, visit our website here.
A copy of the latest KHIP report is available here.