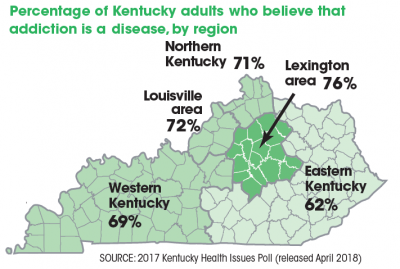 LOUISVILLE, Ky. (April 25, 2018) ' Seven in 10 Kentucky adults believe that addiction is a disease, according to the latest Kentucky Health Issues Poll (KHIP). Those living in regions of the state with large urban areas were more likely to report sharing this belief than those with mostly rural areas, and the belief was held most strongly in the greater Lexington region.
KHIP, an annual opinion poll of Kentucky adults, is funded jointly by the Foundation for a Health Kentucky and Cincinnati-based Interact for Health.
"Kentucky has been one of the hardest hit states when it comes to opioids and other substances that lead to substance use disorders," said Ben Chandler, president and CEO of the Foundation for a Healthy Kentucky. "The number of drug overdose deaths here jumped 12 percent from 2015 to 2016, and hundreds of thousands of Kentuckians misuse pain relievers and illicit drugs every year. Treating addiction as a disease, and then working together to magnify the treatment programs that are working, is the only way we are going to move from our substance use crisis to long-term recovery – both for individuals, and for the commonwealth."
Toward that goal, Chandler announced that Foundation's annual Howard L. Bost Memorial Health Policy Forum will explore the substance use epidemic in Kentucky and examine the latest solutions. The Sept. 24 forum in Lexington will feature experts in public health, law enforcement, pain management and alternative therapies. Speakers will share successes, debunk myths and discuss how the public and private sectors can better coordinate and pay for successful programs. Registration for the conference will open soon.
Attitudes toward substance use disorders have been evolving for decades. When scientists began to study addiction in the 1930s, drug users were described as morally flawed and lacking willpower. In recent years, scientific research and evidence have changed the way substance use disorders are perceived and, subsequently, the way they are treated. The National Institute on Drug Abuse (NIDA) now describes addiction as a "chronic disease characterized by drug seeking and use, despite harmful consequences" that can be affected by the biology, environment and development of an individual.
The large number of Kentuckians dealing with substance use disorder's cost to the economy may have exposed more Kentuckians to such disorders, and also may be influencing their beliefs about addiction. An estimated 162,000 Kentucky adults misuse pain relievers each year, and 293,000 use illicit drugs, according to the 2015-16 National Survey on Drug Use and Health. The 2015 Behavioral Health Barometer for Kentucky found that, in a single-day count in 2015, 23,565 Kentuckians were enrolled in substance use treatment, compared to 20,481 in 2011, a 15 percent jump.
A copy of the KHIP report regarding how Kentucky adults perceive addiction is available here.