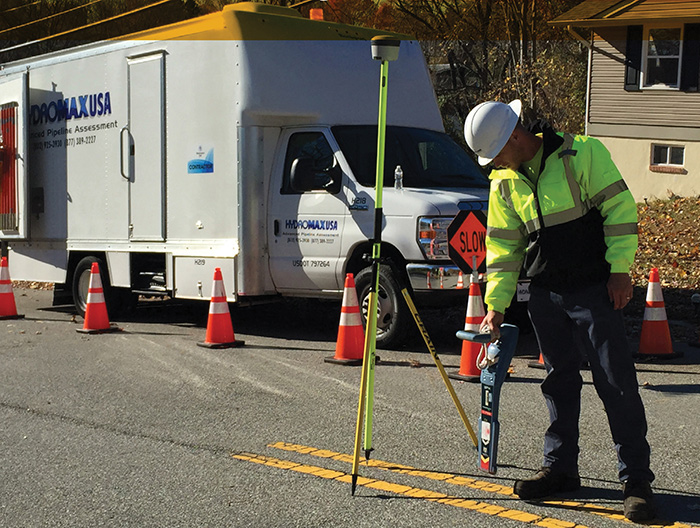 Movement of natural resources like water and gas, plus tracking where critical infrastructure pipelines intersect underground translates into large volumes of data for analysis.
Accomplishing that analysis has meant incredible growth for an off-the-radar company called Hydromax USA and its Louisville data center.
Add in government mandates and industry self-regulation, and the need to inspect water, gas and sewer lines has grown into a formidable technological process in the past decade.
Americans lose 1 trillion gallons of water every year thanks to leaky faucets, faulty sprinkler systems and other small systems, according to TechCrunch statistics. New technologies used by Hydromax USA to find leaks in our drinking water systems can be used by both rural and urban utilities in a way that drive efficiency on a much larger scale than previously attainable. For example, a recent 2018 Hydromax USA pilot project located 46 leaks in five days for a Virginia utility.
---
Sign up for The Lane Report business newsletter. Receive breaking Kentucky business news and updates daily. Click here to sign up
---
In the water-management industry, technology for finding leaks has now advanced to include the use of satellite scanning technology to identify leak-related water loss, allowing the utility to look at the entire infrastructure at once. Additional advancements in pipeline condition assessment allow utilities to determine the remaining life of their pipes in 30-foot increments, utilizing sensors without sending equipment into the pipe. Combined, these technologies introduced by Hydromax USA support utilities in managing critical, yet aging infrastructure.
In essence, Hydromax USA specializes in data collection and assessment of the condition of the country's aging water, wastewater and natural gas conveyance systems. Its slogan, "Understand the Present; Protect the Future," gives a glimpse into the importance that its work has in empowering utility owners to make smart decisions regarding the repair, replacement and renewal of their buried infrastructure.
As awareness and need for these services has grown rapidly across the country, the organization has expanded to meet the demand. The total staff has quadrupled in the last year to around 70 in its recently expanded Louisville office on Bluegrass Parkway near I-64 and Blankenbaker Parkway, and the company recently completed the construction of a 60,000-s.f. headquarters facility in Evansville, Ind. Expansion efforts also included investment in significant network upgrades to ensure operational reliability for its 400-plus staff and hundreds of customers, including 100 percent off-site disaster recovery replication.
Regional utilities have become proactive, versus reactive, to repairs in their infrastructure. Hydromax USA now offers demand-leveling services for routine hydrant and valve maintenance, which can assist utilities in getting caught up when internal staffing is down, including through growth phases. 
In 2003 when the company started, the focus of the organization was on supporting utilities facing consent decrees mandated to local municipalities around sewer overflows. There were three primary founders: CEO Steve Lacy in Evansville, board member and Director of the Central Region Jeff Graham in Louisville; and Board Member Mark Bruce, who is in Seattle.
First water utilities, then gas
As the need for additional information grew, Hydromax's services expanded to include sanitary sewer evaluation studies, smoke testing in sewer pipes, and manhole inspections to help utilities prioritize infrastructure in need of repair. Additionally, robotic cameras are frequently installed into sewers to find collapsed or broken pipes.
In 2009, Hydromax USA shifted into expansion and increased its services to support gas utilities. The company has developed programs designed to identify "gas cross bores," which are gas lines physically intersecting sewer lines.
Gas pipelines can unintentionally intersect with sanitary or storm sewers, and explosions, injury and death have resulted. Trenchless installation methods for gas lines often do not allow the installer to observe if another utility was intersected. 
Travis Day, project manager for compliance at Washington (D.C.) Gas Co., which serves the capital and nearby Virginia and Maryland, said his company's relationship with Hydromax USA began in 2008.
"They are in a niche where their inspections guide us in making key decisions. In Maryland, Hydromax is currently engaged with us on a project inspecting 13,000 miles of pipelines – a two-year, multimillion project to discover cross bores. Hydromax has also built a web data dashboard that has been instrumental for our team to review everything online," Day said.
During the last decade, increased awareness of the injury, death and damage caused from cross bores has resulted in federal and state regulatory action. In August 2011, the U.S. Department of Transportation's Pipeline and Hazardous Materials Safety Administration's requirements for its distribution integrity management program took effect with the goal of improving the integrity of gas distribution systems.
This regulatory development drove rapid expansion the past six to seven years, but Hydromax was already expanding rapidly in its efforts to provide services across what would become a territory that serves 37 states. In 2000, LG&E was one of the first utilities to adopt a cross-bore program via Hydromax USA. By 2003, the company had become a strong Southeast player from Baltimore to Florida. Over the past decade, Hydromax has pushed westward, establishing substantial operations with organizations in the Pacific Northwest.
As a result, in the last 24 months the Louisville data center hit a milestone, increasing its staff to 70 people, with more growth on the horizon. Key positions anticipated for this year are data analysts, GIS specialists, chemists, biologists and physicists, as well as other IT functions, like software architects. With multimillion-dollar operations in six locations, Hydromax is considered one of the premier players in the natural-gas inspection industry, in addition to its strong market positioning with the sewer and water utilities nationwide. 
While Hydromax has grown to a national footprint, it has maintained its local focus, with  regional clientele including the Louisville Water Co., Louisville MSD, LG&E, Vectren, Columbia Gas, and SCANA. At the Louisville data center, the company processes more than a terabyte of critical municipal infrastructure data on any given day, with secured redundancy in its Evansville office. As data matures and is archived, the system is being used to provide infrastructure analytics over a cloud-based approach to serve actionable business intelligence to clients. Investment in IT infrastructure in the last three years exceeded $2 million in the Louisville operations data center alone.
HydroMax continually looks for partnering opportunities to better serve its clients, working with companies like ESRI, an international supplier of geographic information system (GIS) software, and UTILIS, an Israeli startup that can detect underground leaks via satellite imagery.
"The biggest ramp up of our services in the natural-gas industry occurred in the last six years. The checking and replacement of gas lines is always a priority (for utilities). New data tools make it easier with software evaluation, and we still are expanding in the development of forms and dashboards for our clients, now more often to the smart phone. These eliminate the redundant work of paper processes for the utilities in the field and risk models are more accurate," Graham said.
The company has begun to expand its development of software solutions, with several patents filed in recent months.
---
Dawn Marie Yankeelov is a correspondent for The Lane Report. She can be reached at [email protected]