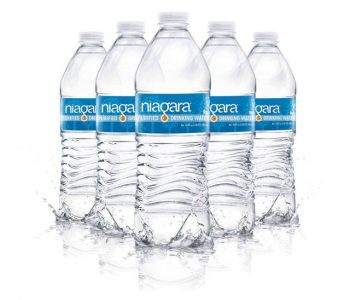 JEFFERSONVILLE, Ind. (July 24, 2018) — Niagara Bottling will build a new 469,000-s.f. manufacturing and bottling facility on Logistics Avenue in the River Ridge Commerce Center, One Southern Indiana, in coordination with the Indiana Economic Development Corporation, announced Tuesday.
The company is investing approximately $56 million in the project, including construction and equipment costs. Plans also call for the full-time employment of approximately 49 new workers at the new facility. The company is currently hiring for production, warehouse and maintenance positions. Interested applicants may apply online. 
"The State of Indiana and local community partners in the Jeffersonville region have provided an extremely warm welcome for Niagara Bottling's proposed new manufacturing facility," said Brian Hess, executive vice president for Niagara. "We have been impressed by the region's progressive workforce development programs and support system, which will benefit our attempts to add area residents to our Niagara team in Southern Indiana."
The Indiana Economic Development Corporation (IEDC) has offered Niagara Bottling, LLC, up to $450,000 in conditional Economic Development for a Growing Economy ("EDGE") tax credits and up to $50,000 in training grants from the Skills Enhancement Fund based on the company's job-creation plans. These incentives are performance-based, meaning until Indiana workers are hired, the company is not eligible to claim incentives.
"Global companies like Niagara Bottling are choosing to grow here because of Indiana's commitment to building a business-friendly environment that helps yield a positive return on their investment," said Elaine Bedel, president of the IEDC. "We're excited for Niagara Bottling's continued success in the Hoosier state as they expand their Plainfield operations and open a second facility in Jeffersonville, creating more good jobs for Hoosiers."
Jeffersonville Mayor Mike Moore welcomed the company, saying, "The City of Jeffersonville is pleased to welcome another nationally-known corporation into our business community. Niagara Bottling will be a great addition to our city's changing and growing diversity, lending its prestige to our own as we continue to market the city and River Ridge Commerce Center's many attributes to prospective businesses. The City of Jeffersonville wishes Niagara Bottling the best of luck in their endeavors and looks forward to working with them to help ensure their success."
River Ridge Development Authority Executive Director Jerry Acy said, "River Ridge is glad to be getting Niagara as a new tenant, adding to the diversity of the commerce here. If our occupancy maintains its current rate of growth, we anticipate retail and service industries to continue locating in the surrounding areas.  This will make River Ridge not only an ideal site for new companies, but also a genuinely worker-friendly area."
"Economic development is a team sport and the announcement Niagara Bottling, LLC, will be opening a manufacturing and bottling facility in the River Ridge Commerce Center is a win for the entire Southern Indiana/Metro Louisville area," said Wendy Dant Chesser, president and CEO of 1si, the economic development organization for Clark and Floyd counties in Indiana. "We want to thank our partners in Louisville for their help in identifying this company as a good fit for the River Ridge Commerce Center. As always, 1si stands ready to assist Niagara Bottling with whatever needs they may have to help ensure their success in Southern Indiana."
Greater Louisville Inc. President and CEO Kent Oyler said, "Attracting Niagara Bottling to Greater Louisville is a great regional win. GLI works with 15 area partners to create jobs and attract new businesses to our region. It is gratifying when the results of that work allow us to gain a new corporate citizen that will not only create high-wage jobs but also help us to showcase Louisville Metro and Southern Indiana for additional companies to relocate or expand.  We will continue to work with One Southern Indiana, Niagara Bottling and our other local economic development partners as we accelerate the regional economy."
Spencer Bruce, president of the Louisville Water Company that operates the wells and treatment plant for the River Ridge Development Authority, commented, "As the operator of the River Ridge water treatment facility, Louisville Water is excited to provide high-quality, reliable water to Niagara and pleased to be a part of this economic development opportunity for the community."