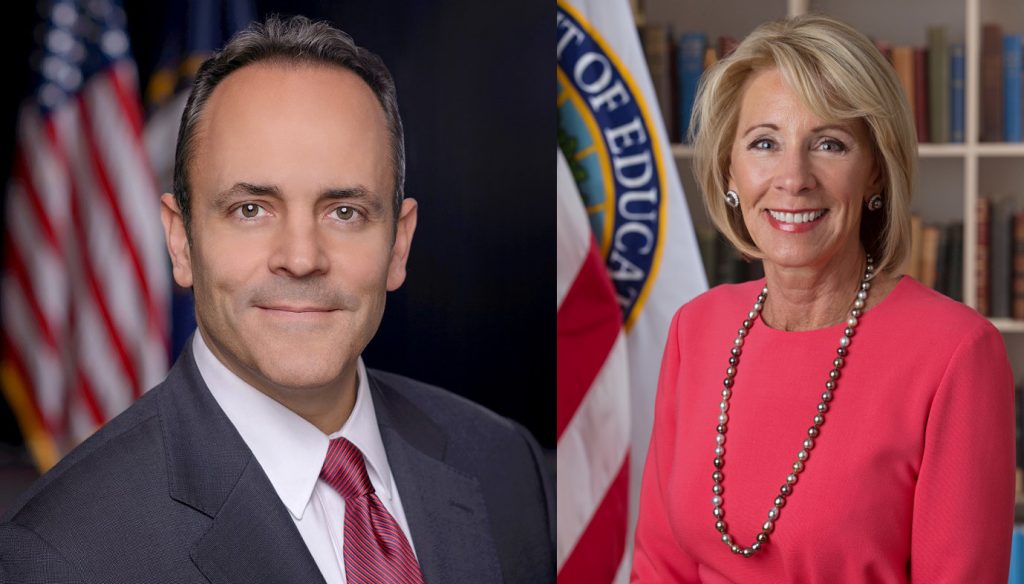 FRANKFORT, Ky. (August 3, 2018) – Gov. Matt Bevin today joined U.S. Secretary of Education Betsy DeVos to announce a $138,213 Project School Emergency Response to Violence (SERV) grant for Marshall County High School.  On January 23, 2018, a student opened fire at Marshall High County High School in Benton, killing two students and wounding others.  The SERV grant will assist the school system in its recovery and further student support efforts following the unspeakable tragedy.
"This grant is part of our ongoing commitment to help the Marshall County community recover and ensure its students, educators, and parents are supported," said Secretary DeVos. "My work on the Federal Commission on School Safety has focused and continues to focus on recognizing proven solutions to prevent these tragedies and to ensure all our schools are safe places of learning."
Project SERV provides critical support to school districts and institutions of higher education that have experienced a significant traumatic event in which the learning environment has been disrupted.  The funds are available for costs that are reasonable, necessary, and essential for activities that are intended to restore a sense of safety and security in a school and help the victims and students stabilize their lives.
"We are grateful to Secretary DeVos and the U.S. Department of Education for these grant funds that will support the Marshall County community as they continue to heal," said Gov. Bevin.  "Following the heartbreaking events of January 23, West Kentuckians showcased to the world their exceptional strength, faith and resiliency.  Our Commonwealth continues to stand united with the students, educators, and families of MCHS, as we utilize every potential resource available to move forward together."
Under the direction of Gov. Bevin, the Kentucky Justice and Public Safety Cabinet (JPSC) worked closely with the Marshall County Board of Education and the local community to identify needs within the high school that qualify for SERV funding.  The initial allocation of $138,213 provided by the Department of Education will go towards additional staffing support for the school.
"The Justice and Public Safety Cabinet has been intensely engaged with federal and state partners as well as local leaders in the Marshall County community, including County Judge/Executive Kevin Neal, local law enforcement, and school officials to ensure that we capture every available dollar and resource for Marshall County," said JPSC Secretary John Tilley.  "This tragedy shook every corner of the Commonwealth, and the community has our prayers and steadfast commitment as it continues the healing process."
In the days and weeks following the tragedy in Marshall County, Kentuckians across the state rallied together for the families, students, parents, and teachers impacted by this senseless act of violence.  Kentuckians are encouraged to continue in their support for the victims and families, and to embody the state motto of "United We Stand, Divided We Fall," by offering support for the Marshall County community.
To learn more about Project SERV grants, visit https://www2.ed.gov/programs/dvppserv/