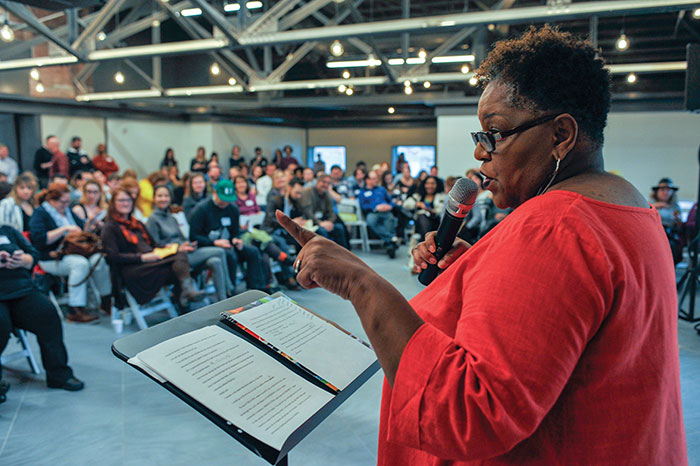 Once a month on a Friday morning, 200-plus communities around the world hold free gatherings at a local venue, each with their own guest speaker but all on the same topic. The program called CreativeMornings was founded in 2008 by Tina Roth Eisenberg, a designer in New York City. Now there are 202 chapters, from Amsterdam to Zurich, from Albuquerque to Washington, D.C., with Louisville and Lexington in between.
CreativeMornings Louisville launched in January 2015 at 21c Museum Hotel Louisville with 175 people in attendance to hear Alice Gray Stites speak. She is 21c's chief curator and museum director. Since then, the Louisville chapter has averaged 400 to 450 people in attendance at 10 different venues.
"Our audience is very diverse, from college students to CEOs of companies to freelance workers," said founding chapter host Ben Terry. By day he is a partner at Access Ventures, an impact investment firm that invests to create programs that help build a more inclusive and creative economy.
"We believe CreativeMornings in Louisville is the front door to our city," Terry said. "It's a way for people to get connected and learn who the culture-makers are in our communities that will ultimately drive them to feel more rooted."
Terry and others in Louisville have helped organizers start chapters in Lexington and Kansas City. Lexington's first meeting took place in January 2017 – also at 21c Museum Hotel on West Main Street, but one located 80 miles east of the River City.
Jamie Rodgers, deputy director of the National Association of State Chief Administrators, had lived in Asia, Cincinnati and Louisville before moving to Lexington five years ago. She was familiar with CreativeMornings and thought it would be a great fit for Lexington.
"I was hesitant for me to be the one to apply" to launch a Lexington chapter, she said. "I knew I couldn't do this alone."
Rodgers reached out to Celeste Lewis, center director of the Pam Miller Downtown Arts Center. At the time, the New York office was only considering cities with a population of 500,000 or more. With help from the Louisville chapter, Lewis and Rodgers compiled the application paperwork and collaborated with members of Cornett, a creative marketing agency, and Kong Productions to create an audition tape showcasing Lexington as a creative city that could support a chapter.
The Central Kentucky video showed collaboration and accessibility across different fields, describing the city as "gumbo, culturally and creatively," said Jason Majewski, associate creative director at Cornett.
New York granted Lexington a chapter with a memorandum of understanding.
"The few things they ask," Rodgers said, "is that we always stick with the global theme and have a well-produced video and photography, since part of it is to elevate the communities."
Every chapter's videotaped monthly presentation is online at CreativeMornings.com To date, at least 3,000 talks are viewable on global themes ranging from courage to craft, honesty, mystery and from serendipity to water.
Lexington's core group of six organizers has weekly phone calls to plan out the speakers, venues, coffee and food for three months in advance, and 15 regular volunteers help out the day of each event, at various venues around Lexington.
"There's definitely consistent interest and a strong community in place," Majewski said. "We're challenging ourselves in year three to expand that community."
Inclusivity is a priority for the Lexington chapter, in terms of speakers, venues, attendees and the whole vibe of making sure everyone feels like they belong.