By Kathie Stamps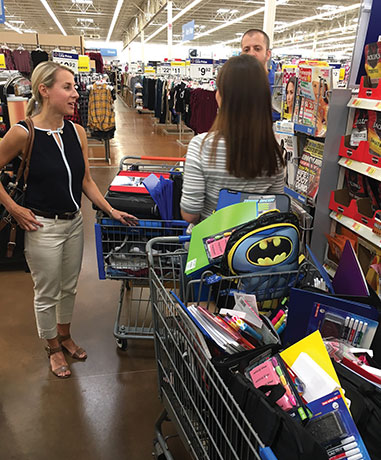 For young professionals age 21 to 39 years old who live in Ashland, Catlettsburg, Russell or the six other cities within Boyd and Greenup counties, the Young Professionals Association has a variety of networking events and community service projects. Affiliated with Ashland Alliance, the Chamber of Commerce in Ashland YPA was formed in 2003 and has around 75 members this year.
The current president of the organization is Ryan Reames, a wealth advisor with Hilliard Lyons in Ashland. He got involved with YPA eight years ago when a high school friend was board president at the time.
"I showed up to a meeting, became a member of the board," Reames said. "I got involved."
YPA members meet the first Thursday of every month unless it's a holiday. Events rotate between a happy hour, a lunch social at a restaurant, and a lunch-and-learn program at the library. Young professionals have heard speakers from River Cities Harvest and Braidy Industries, among other organizations, along with Mike Graese, the city manager of Ashland.
"Our big project is the YPA Backpack Program," Reames said. The group gets cards from area schools by the end of June. Each card has the name of a student in need of school supplies and new clothes for the first day of school. Throughout the month of July, YPA members reach out to all the local businesses they know to get a backpack and fill it with clothes, shoes and supplies based on requirements for a particular child. The Ashland Alliance office on Winchester Avenue is the drop-off point.
"Marathon Petroleum will take an entire school," Reames said of the corporation in Catlettsburg.
---
IT'S FREE | Sign up for The Lane Report email business newsletter. Receive breaking Kentucky business news and updates daily. Click here to sign up
---
One year there were 1,000 kids in need of backpacks; that number has dropped to between 680 and 750 in recent years. For 2019, just over 400 backpacks have been requested by the schools' resource centers. Reames had high praise for Mary Kay McGinnis-Roark, one of the founders of the backpack program, and Amanda Gillum, YPA vice president of philanthropy, for making sure the annual project runs smoothly. Donations are accepted throughout the year through the Ashland Alliance Young Professionals Association.
"If all the cards are not taken and maybe 20 or 30 are left over, a group of us go shopping at Walmart," Reames said. The YPA shoppers make sure those final backpacks are purchased and filled.
Every December, YPA members participate in Ashland Alliance's food drive during that month's Business After Hours.
"We collect food at that event and take it down to River Cities Harvest, where it goes to shelters and other places," Reames said. YPA members are also seen on the third Saturday in May during Repair Affair, an event sponsored by the city where citizens help residents who aren't physically able to fix up their homes for safety. "People go out and cut grass, clean gutters and do something to help people," he said.
YPA dues are $40 a year. There's a membership application on the website, ashlandalliance.com/chamber/young-professionals-association. Reames keeps a master email list and uses email communication to inform people of news and events. In addition to giving back to the community through charitable projects, he appreciates the networking aspect of belonging to YPA.
"I've met a whole lot of people," he said. "When young professionals start working here they may not know all the other young professionals in the area. You get to know others and form relationships."
Amanda Clark, former vice president of operations for Ashland Alliance, is on the YPA board of directors. "I'm too old but they let me stay," she said.
Clark agrees about the benefit of networking. "To know people who are in the same places in their career as you are, and to have those contacts," she said, "you can't put a value on that."