By Lindsey Piercy, UK Now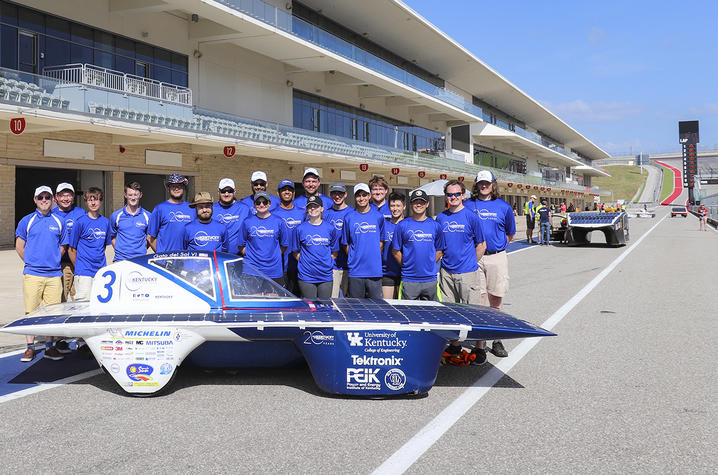 LEXINGTON, Ky. — The University of Kentucky Solar Car Team, a student-led organization in the College of Engineering, has record-breaking success at a national competition ⁠— earning their highest finish since 2009.
Earlier this month, the team competed and placed third in the Formula Sun Grand Prix, held at the Circuit of The Americas in Austin, Texas. The race brought together 18 college teams who were challenged to design, build and race solar-powered cars. The competition is a true testament to each team's endurance as they attempt to complete as many laps as possible in three days.
UK finished 153 laps, with its fastest lap clocking in at 3 minutes and 48 seconds. The team shattered the previous record, held by Iowa State University, by an impressive 42 seconds.
"For us, our key to success was never giving up," Monon Rahman, a mechanical engineering graduate and member of the team, said.
In July 2018, the team traveled to Omaha, Nebraska, to compete in the American Solar Challenge. However, a broken left suspension prevented them from getting their newest vehicle, Gato del Sol VI, onto the course. This year, they brought Gato VI back to the track repaired and ready to compete.
"Even though that failure stung so badly, we never gave up. We came back after last summer hungry for more," Rahman said. "Even with a host of other issues in the fall, we kept pushing ourselves and striving to make our car and team better."
Every single facet of Gato VI — from the assembly of the car to the supporters who funded it ⁠— was made possible by a team of students.
The mechanical team oversees the physical design, which requires building and implementing the aerodynamic shell, the chassis and the suspension. They often collaborate with other subsystems on overlapping projects, such as the driver interface and battery housing.
Craig Lindsey, a senior in mechanical engineering, said their recent success is a result of the entire team's commitment and tenacity.
"Everyone put in such hard work to build and troubleshoot this car," Lindsey said. "Our blood and sweat is in Gato del Sol VI — literally! Without the team and its committed members, this car would not be what it is today."
The electrical team is responsible for the electrical design and construction of systems on the car including the battery pack, solar array and the driver interface. They work closely with the mechanical and computer science teams to ensure their designs can be integrated into the car and run as intended.
"The cross-disciplinary nature of this project makes it a unique experience for students at UK, really setting it apart from other clubs and class projects," Luke Wormald, a senior in electrical engineering, said. "It is more like working in a real company than anything else I have experienced throughout college."
During the race, the strategy and computer science team collects real-time data from the many embedded systems on the car. They're also responsible for turning that data into actionable information.
"Our team is the best example of real-world engineering that a student can get at UK. Classes are all about learning the fundamentals, but it is expected that students get real-world experience from doing a co-op," Thomas Barber, a senior majoring in computer engineering and computer science, said. "Our team can offer students a leg up on their peers since they can get real-world experience while still being in school and making progress on their degree."
Constructing a solar-powered car isn't cheap. In fact, Gato del Sol VI cost an estimated $120,000. The business team helps secure funding by generating new supporters and maintaining current relationships. Their goal is to ensure that all subsystems have the resources necessary to build the best car possible.
"Building and racing a solar car feels more like operating a small business than a student organization, and one of the first things we learn is how much we rely on one another," Christopher Wheatley, a junior in materials engineering, said. "We are expected to construct a professional vehicle that is as safe to take onto public roads as the cars we use every day, and that level of quality takes a thousand small details."
When tackling those details, Emma Deye, a recent graduate from the Gatton College of Business and Economics, said the benefits of collaboration between multidisciplinary students is invaluable. "Our classes teach us a specific way to evaluate a problem. Being able to have different approaches facilitates a better understanding of the problem, as well as different options on how to solve it."
Deye was also part of the SEAM Honors Pathway, a partnership with Gatton, UK Engineering and the Lewis Honors College.
Having a social media presence is imperative for fundraising. The media team is responsible for running the team's Facebook, Twitter, YouTube and Instagram pages. They also put an emphasis on creating visual media, such as recruitment flyers, posters and apparel.
Grant Sturgill, a graduate student in computer science, said being on the media team provides much-needed hands-on experience.
"There's only so much you can be taught in a lecture hall but working with the solar car team can give you practical engineering experience. From the non-engineering side, it's a great way to build connections with administration and faculty in the university, as well as the wider community of Lexington and Kentucky."
The team has been competing since 1999, and this year's Formula Sun Grand Prix was a fitting end to their 20th anniversary.
"To be able to go out there and not only beat a record but also completely shatter it has been the biggest joy in my life so far," Rahman continued. "I'm just so grateful that I was able to be part of a team that made history."
Looking ahead, the team expects to compete with Gato del Sol VI in the 2020 American Solar Challenge. They will also start the preliminary design phase of their next vehicle, Gato del Sol VII, this fall.