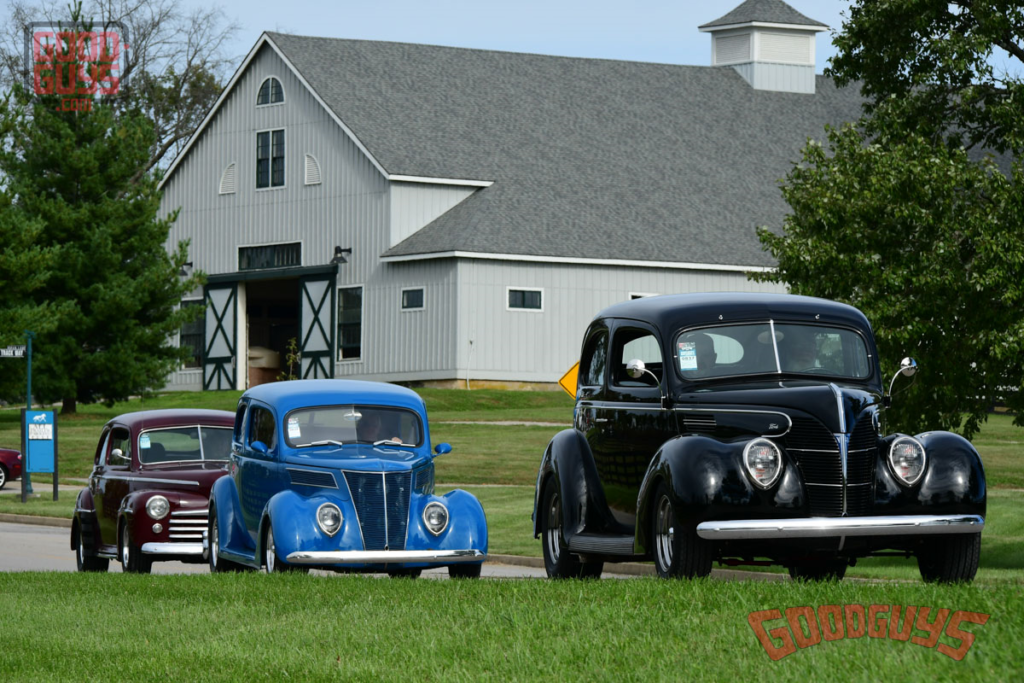 LEXINGTON, Ky. — Goodguys Rod & Custom Association, producers of hot rod & custom car events across the United States, are heading back to Lexington for the Goodguys 2nd Kentucky Nationals at the Kentucky Horse Park Oct. 11-13. The theme of cool cars, cool people and good times will be in full force as the scenic grounds of the Kentucky Horse Park host this three-day celebration of the American hot rod. This fall gathering brings together over 1,500 candy-colored and chromed hot rods, customs, classics, muscle cars and trucks to the Kentucky Horse Park with all sorts of automotive happenings throughout the weekend. Currently, the event boasts registered cars and trucks from 25 U.S. States and Canadian provinces.
"Goodguys Rod & Custom Association is thrilled to be coming back to the Kentucky Horse Park and the city of Lexington", says Harry Daviess, VP of Event Operations for Goodguys. "The Kentucky Horse Park is a fantastic facility that provides manicured grounds our customer expects, and Alltech Arena has the indoor space for commercial vendors and a beautiful concourse and so much more. This will be our second year and we are excited to see the event grow. Throw in the food booths, Goodguys AutoCross racing, kids' zone, entertainment and you have an amazing automotive festival not to be missed."
At the event car lovers will get a close-up glimpse of just how eclectic the modern-day hot-rodding scene is though in spirit – the Goodguys core message is unchanged after 36 years – having fun with cars. Acres of 1987 and earlier show cars glistening with candy colors will sprawl throughout the grounds of the Kentucky Horse Park, taking many on a trip back in time. The sight of all those classic cars takes us back to a simpler time in our history.
For those who have the need for speed, the shrill sound of rubber meeting pavement will fill the air with excitement as competitors in the Goodguys AutoCross, a closed performance racecourse, offering participants the chance to test their vehicle speed & agility. The Goodguys AutoCross is a wildly popular feature for both participants and spectators at most of our events creating some amazing racing competition. It will be an all-out battle all weekend long and a race against the clock. Again, this year, the Southern Shootout AutoCross event happens on Saturday afternoon. Qualifying will be held on Friday and early Saturday for the AutoCross Shootout. The field will be based strictly on speed so the top 16 will race in two eight-car fields. The winners of each of the events in Southern Shootout will punch their ticket to the Duel in the Desert, the AutoCross Season finale at the Goodguys 22nd Southwest Nationals, November 16 at WestWorld of Scottsdale in Scottsdale, Arizona.
The Goodguys burnout contest comes to the Kentucky Nationals! The burnout contest will go off on Saturday at 12:30, tech will open an hour before. A vehicle must go through tech to compete. Smoke 'Em if you got 'Em! Crowd participation decides the champion!
Added to the event in 2019, the Goodguys Nitro Thunderfest dragster exhibition will bring old school drag racing to life! The Nitro Thunderfest has become a tradition at many of the Goodguys events!  Watch as front-motored, nitro burnin' vintage top fuel dragsters and funny cars fire and roar to life! Drag racing enthusiasts young and old will enjoy the "cackle" of these resurrected pieces of automotive racing history! Bring your earplugs and join us for this blast of racing history! Nitro Thunderfest times are Friday at 1 p.m. and Saturday at noon and 2 pm.
For those who need to do some shopping for a project, there's the midway featuring multi-million-dollar custom big rig tractor trailers (a show in and of themselves) offering high-performance parts and accessories to budding hot rodders and do-it-yourselfers. The Alltech Arena will showcase the indoor vendor exhibits giving event attendees the best of both worlds.  Having the chance to interact directly with manufacturers has long been an appealing aspect of Goodguys events.
Spectre Performance All American Sunday on Sunday, Oct. 13 offers owners of American made or powered show cars and trucks of all years to be a part of the event to show off next to the 1987 and earlier iron. All American Sunday participants are eligible for awards and can join in the AutoCross on Sunday.   Registration for All American Sunday takes place on-site at the Kentucky Horse Park in Alltech Arena beginning at 7 a.m.
The Goodguys 2nd Kentucky Nationals gates are open Friday and Saturday from 8 a.m. to 5 p.m. and Sunday 8 a.m. to 3 p.m. General admission is $22 Friday and Saturday, $17 Sunday, kids 7-12 $10. There is a $5 spectator parking fee charged by the Kentucky Horse Park. Visit www.good-guys.com for more information.